The DOWA group promotes production of eco-products that considers environment throughout their life cycles from the production process to the disposal process.
In four fields of 1) Materials, 2) Parts and Components, 3) Products and 4) Services, we strive to develop and produce eco-products. Eco-products mean those products and services that are eco-friendly considering conservation of resources and environment at each stage of production, usage and disposal. We try to reduce environmental burden when we produce our products. We endeavor to offer parts and components contributing to energy saving of end products and reduction of environmental burden. We try to recycle metals after they are used as well as disposing of waste.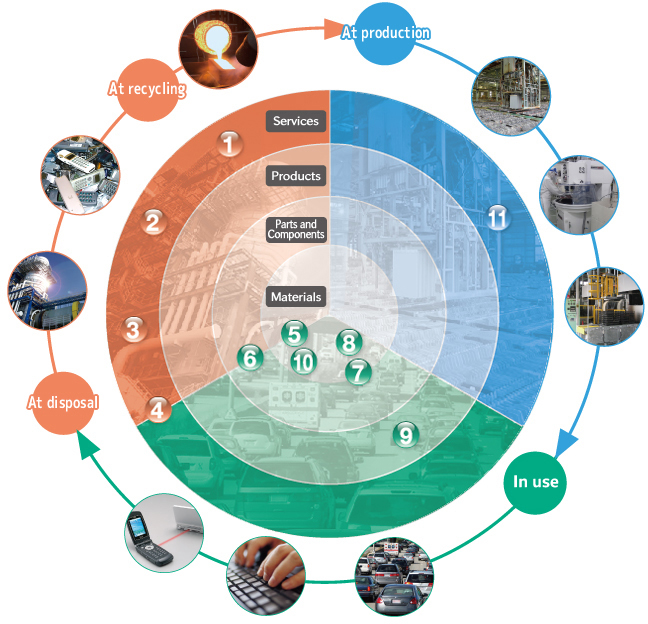 Recycling of heavy and rare metals with bryophytes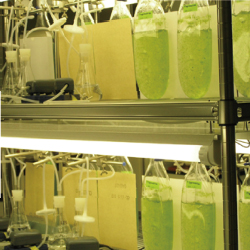 Services

Development of metal recycling technology with funariales (Joint study with German Institute of Physical and Chemical Research)

Targets

Heavy and rare metals (lead and gold, etc.)

Environmental performance

Conservation of resources and water environment/at recycling

Feature

Recycling technology to use completely new function of plants
Recycling of cerium from glass grinding materials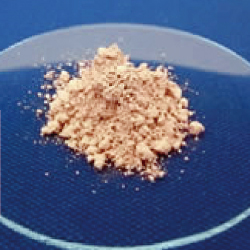 Services and Materials

Recycling of grinding materials for glass and lenses

Targets

Rare earth (cerium)

Environmental performance

Reduction of waste/at disposal Conservation of rare earth resources/at recycling

Feature

Approximately 90% of high recycling rate
Technology to remove radioactive cesium from incinerator fly ash
Services

Effective removal of water soluble cesium from incinerator fly ash. Development of materials and the separation process through joint study with the Jikei University

Targets

Incinerator fly ash generated by burning waste affected by a nuclear power plant accident

Environmental performance

Safe waste disposal/at disposal

Feature

Reduction of concentration of radioactive cesium from 3,800Bq*/kg to 1,500Bq/kg in the demonstration experiment
*Bq: Becquerel (Unit to indicate the amount of radioactivity)
Biodiesel fuel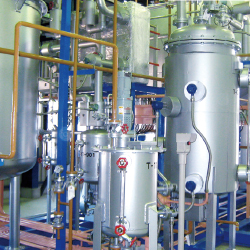 Services

Recycling of diesel engine fuel (alternative fuel for light oil) from used cooking oil jointly with Okayama City

Targets

Used cooking oil from households, restaurants and food manufacturing factories

Environmental performance

Reduction of CO2 emission/in use
Reduction of waste/at disposal

Feature

Okayama City uses the fuel for garbage trucks and buses.
Low lead zinc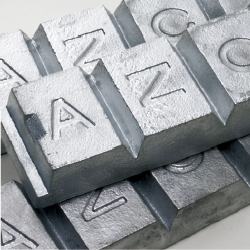 Materials

High quality zinc ingot of 1ppm or less that is one tenth of conventional lead component

Applications

High safety for new applications for medical and food fields

Environmental performance

Improvement of safety/in use
Reduction of hazardous substances/at disposal

Feature

Prevention of environmental contamination and risk to health by lead
Deep ultraviolet LED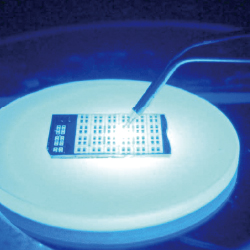 Parts

LED that can output deep ultraviolet of 350 nm or less

Applications

Resin hardening, adhesion, drying, medical treatment, analysis, photocatalyst or water purification

Environmental performance

High efficiency, long life cycle and energy saving/in use
Reduction of hazardous substances (lead-free)/at disposal

Feature

Wavelength (300nm or less) to realize disinfection and sterilization of water or material surface efficiently
Nitride-based HEMT structure epitaxial substrates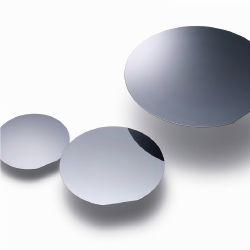 Materials and Parts

Materials for power semiconductor devices

Applications

Power supply of household electric appliances, high output products including servers and antennas for base stations of cell phones, hybrid cars and electric cards

Environmental performance

Energy saving/in use

Feature

Resistant to high voltage and with low electric resistance to reduce power loss to one thirds compared to conventional silicon-based substrates
MR* (laminate) LED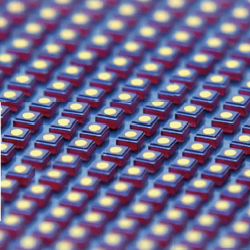 Parts

High output infra-red LED chips with a bonding technology that bonds a highly functionalized epitaxial thin film substrate consisting of several tens of crystalline layers in a nanometer order to the substrate with a metal reflection part.

Applications

Proximity sensors for smart phones

Environmental performance

Energy saving/in use

Feature

Less power consumption by high output
*MR: Metal Reflection
Energy-saving heat treatment furnace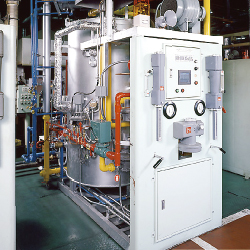 Products

Carburizing furnace for heat treatment of automobile parts

Targets

Automobile parts including engines and transmissions

Environmental performance

Energy saving and reduction of CO2 emission/in use

Feature

Approximately 50% reduction of CO2 emission from existing facilities
Silver powders for solar panels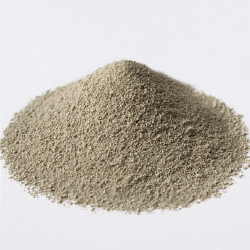 Materials

Silver powders to cater for various particle shapes (spherical and flakes) and distribution of granularity

Applications

Sliver paste used for electrodes of photovoltaic cells (crystal, silicon-based photovoltaic cell)

Environmental performance

Improvement of functions of photovoltaic cells/in use

Feature

World top share of silver powder production for photovoltaic cells
Surface treatment, Cr-Dope-N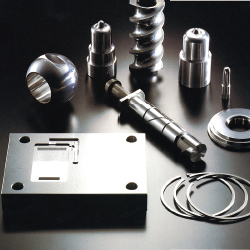 Services

Surface treatment of metal materials (physical vapor deposition)

Targets

Mold to form powder, plastic and rubber

Environmental performance

Energy saving, reduction of CO2 emission and reduction of hazardous substances/at production
Longer life of products/in use

Feature

Safe without hazardous substances such as hexavalent chromium, cadmium and lead