Environmental Report
Policy on Environmental Consideration
The DOWA group set forth its "Basic Environmental Policy," focusing on environmental conservation as a key issue in our business management. We are promoting environmentally-friendly business management across the entire group based on this policy.
In our environmental activities we should respond to environmental and social issues through our main business and at the same time we should reduce the environmental burden produced by our business. We will strive for environmental conservation and at the same time create economic value.
Environmental Management System
The CSR Department of DOWA Holdings is promoting the DOWA group's environment management activity in partnership with the planning office of each operating company that is in charge of environmental conservation. DOWA Holdings is responsible for environment management and compliance of the DOWA group in addition to coordination and improvements among our operating companies.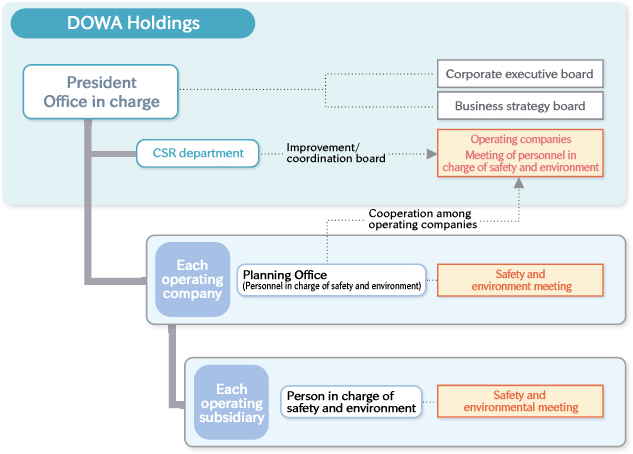 Implementation Status of Environment Management System
The main production facilities in Japan and the overseas business establishments of the DOWA group are ISO 14001 certified. Dowa Tsu-un attained the Green Management Certification to promote environmental conservation in the truck industry.
We conduct internal audits and external audits on a regular basis to ensure proper environmental management. We also offer training courses for internal auditors to foster internal auditors and increase the number of internal auditors.