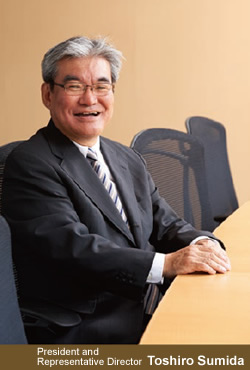 DOWA THERMOTECH's business activities focus on two main activities: heat treatment and industrial furnaces. In the heat treatment business we apply heat treatment to automobile engine parts and gears to improve surface strength, while in the industrial furnace business we manufacture, sell and maintain heat treatment equipment and facilities.
In the heat treatment business, as the temperature of the furnace must be kept very high for heat treatment of products, which uses a large amount of energy. This makes energy saving important for conservation of the environment and it is also one of the major challenges for management. Each plant sets its goals of improvement including reconsideration of its heat treatment conditions and for increased productivity. Our plants have been steadily achieving these goals. Recently we have started to reuse industrial waste such as used oil, and set forth stricter in-house standards than compliance to current relevant laws .
The automobile industry is our important customer who is increasing the shift from domestic market to markets outside of Japan. We set up our business bases in U.S.A, Thailand, China, India and Indonesia to support for local manufacturing of our client companies. We have just started environmental conservation and safety activities abroad. We endeavor to promote these activities in other countries in close partnership with their Japanese counterparts.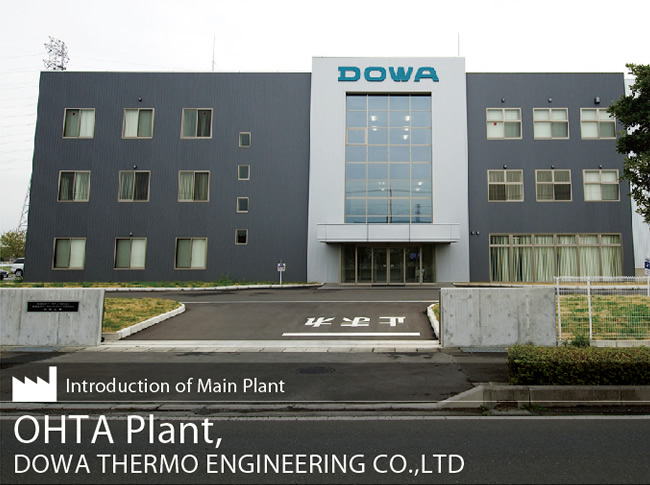 Address: 997-720 Wakiya-cho, Ohta-shi, Gunma Prefecture 373-0031 Japan
Number of Employees: 105 (as of March 31, 2013)
Main Plant of Heat Treatment in Kanto Area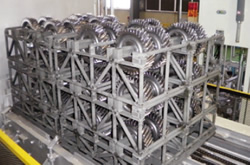 The Ohta Plant of DOWA THERMO ENGINEERING ("Ohta Plant") is located in Ohta-shi, Gunma Prefecture and started operation in 2008. It is a major base of the heat treatment business in the DOWA group (total seven plants) in the Kanto Area.
Heat treatment is applied to metal surfaces to make metals stronger, lighter and last longer. The technology is necessary for automobiles and construction machinery that require resistance to wear and corrosion.
The Ohta Plant has three menus of heat treatment: carbonized treatment, salt bathing (TD) treatment, shot-peening. It is the latest heat treatment plant that adopted the FA system with computer controlled equipment and facilities including the heat treat furnace with monthly 1,000 ton treatment capacity, high raised automatic warehouse and automatic conveyer equipment. The Ohta Plant is actively promoting energy savings and reduction of environmental burdens by developing and introducing energy saving heat treatment equipment and facilities as well as installing 100 kW class solar panels.
Maximizing Energy Efficiency
Processing by heat treatment requires a great amount of energy as it is a technology that requires high temperatures for a long time. We always regard energy saving as our main challenge.
Mainly used for automobile parts, carbonized treatment is the core of DOWA THERMOTEC's heat treatment business,. We use two types of furnaces. The first is a batch feed furnace suitable for products of a small quantity with different treatment conditions or products that require a long treatment time. The second is a continuous feed mini-furnace that processes mass production products efficiently. The Ohta Plant reduces fuel consumption by devising means of improving heat insulating effect of those furnaces and reducing heat emission to the surrounding environment. In 2012, the plant succeeded in improving productivity by equalizing treatment conditions of products to be processed in the continuous mini-furnace. The mini-furnace can reduce energy consumption when it processes a large amount material under the same conditions.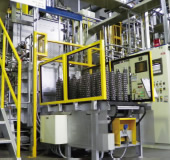 The characteristics of products are influenced by heating speed, temperature and time. Therefore, it used to be difficult to equalize the treatment conditions for diversified products with different characteristics. The Ohta Plant succeeded in setting up proper treatment conditions satisfying the need of customers through trial and error from various angles for products with different materials and standards, capitalizing on its experience and know-how.

Production Technology group, the Production Division


Keita Yoshitomi

We inspect multi-mix products one by one to equalize their heat treatment conditions. It is a very strenuous work. In the Ohta Plant, from the planning stage all organizations cooperated to share the issues of equalization of conditions. This enabled us to proceed to mass production at an early stage in partnership with our customers. Before equalization, we often stopped furnace operation every time modifications were made to the product, the furnace temperature and atmosphere also must be changed. However, at present the furnace operates all the time from Monday to Saturday. We can conduct preventative maintenance of the furnace on Sundays, resulting in visual improvements in the heat treated products.
Highly Accurate Quality Control System
Heat treatment is a business in which the most suitable treatment is applied to the products according to the request from the clients. It requires very strict quality control at every stage from production and inspection to shipment.
Heat-treated products are inspected with various inspection instruments in the Ohta Plant and the inspection results are input into computers by authorized persons before shipment. This is how the quality control work is standardized in the plant, which maintains the quality level. The plant implemented the centrally administered storage in a high-rise warehouse. Highly accurate quality control system is put in place using a layout where incoming and outgoing points of products are clearly separated. This prevents mixture of untreated products and treated ones. For education, the plant holds some study sessions conducted by external lecturers. Other times the employees themselves act as lecturers to one another to teach about heat treatment techniques. The plant endeavors to enhance technological capabilities and improve quality,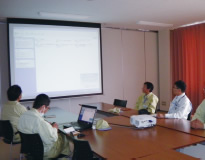 focusing on educating employees. These efforts include study sessions and providing support for them to obtain qualifications. The plant maintains the top level yield rate (the ratio to produce and ship products without defects in the production process) among heat treatment plants of the DOWA group through the diversified efforts including improved systems, facilities and employee education.

Quality Control Division


Takanori Inayoshi

The Ohta Plant is designed to meet the ideal image of a heat treatment plant from the construction stage of the plant. Cutting-edge heat treatment equipment and facilities were introduced. In this plant heat treatment conditions can be monitored all the time to detect abnormalities at an early stage. Using the ideal layout and latest heat treatment equipment, these facilities minimizes problems and offer stable operation to produce quality products. Visualization of problems is put in place in the plant via the Morning Market board. All employees gather every morning in front of the board for a morning meeting to share day-to-day issues. We are committed to resolving problems at an early stage in partnership with each division and section.

The Ohta Plant places the top priority on Safety Control and promotes various activities, from the monthly safety patrol and potential accidents prevention activities to small group activities. We regard "5S" activity as the basis of promoting health and safety: 5S means five S's indicating the capital letter of five words in Japanese referring to Seiri (Organized), Seiton (Put in order), Seiso (Cleaning),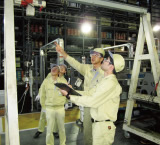 Seiketsu (Clean) and Shitsuke (Training). Each section of the plant starts cleaning its responsible area at 13:00 every day. Hidden problems on site will be discovered through these daily activities. Employees can work more comfortably if their workplace are organized and clean. We achieved the record of no accidents for three consecutive years. We will continue our efforts.