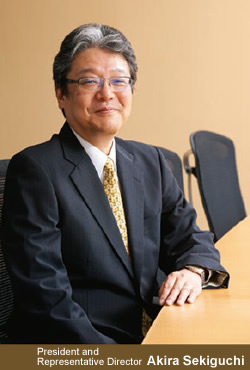 DOWA Metals & Mining takes a central role in mining and smelting which is the core of the DOWA group. Metals & Mining has established a unique environmental and recycling complex and a world unprecedented business model, based on a long cultivated cutting-edge technologies for smelting and refining.
Our major plants of Kosaka Smelting & Refining as well as Akita Zinc are positioned as the core of the group. Each company in the group processes various materials from their core business of mining to recycling materials safely and efficiently. These major plants can recover twenty different substances in partnership with one another, utilizing each unique technology.
In the zinc business, we started full operation of the zinc recycling business from steel waste dust last year and it is working successfully. In Kosaka Smelting & Refining we have developed a low cost, lead-free electric plating technology and placed it into mass production seeking the world's top quality. We will continue to promote recovery of diverse kinds of substances, by securing resources through investment in and financing to mines outside Japan. Kosaka Smelting & Refining also has enhancing the function of its smelting and refining complex. They strive for technical development in partnership with governmental agencies and universities to establish efficient recycling processes; safely supply high quality materials; and contribute to building a resource-recycling society.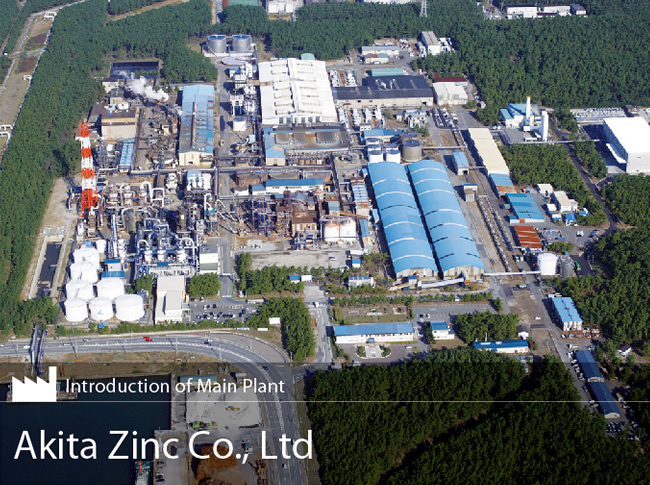 Address: 217-9 Shimokawabata, Furumichi, Iijima, Akita Prefecture, 011-0911 Japan
Number of Employees: 216 (as of March 31, 2013)
Zinc Smelting and Refining Plant Playing the Central Role of Environmental and Recycling Complex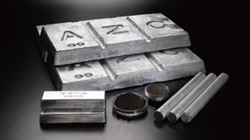 Zinc is an important material to support industries and lives of people. That is, zinc is used for corrosion resistant plating for automobiles, construction materials and home electric appliances as well as corrosion resistant parts for ships and bridges. Akita Zinc is the largest smelting and refining plant of zinc in Japan, producing approximately 20 million tons. The company achieved the world's top metal recovery ratio of useful metals from raw materials.
Concentrates and recycling materials from which zinc is recovered contain various other metal components. Akita Zinc manufactures cadmium and sulfuric acid as byproduct. Akita Zinc has established a resource network with other business establishments of the DOWA group in Akita to extract more resources without much waste and supply them to society. It is possible to recover various kinds of rare metals including gold, silver, indium and gallium more efficiently if companies in the group cooperate with one another and combine technologies and processes of each company. Akita Zinc is committed to realizing the resource-recycling society as the core company of this environmental and recycling complex.
Aimed at Being No. 1 in Quality in the World
Akita Zinc is the largest zinc smelting and refining plant in Japan, aiming to produce the world's top quality zinc. Lead is a trace component contained in zinc ore and the purest unwrought zinc product according to JIS (Japan Industrial Standard) contains 30 ppm of lead. Our company succeeded in the technical development to reduce lead to one tenth in zinc ore compared to traditional methods, and we have produced high quality unwrought zinc products containing 1 ppm or less of lead. We developed the world first technology to produce the purest zinc only through the smelting and refining process. We have already established a stable production system of 200 tons per month.
Zinc is used for many applications. This safer manufacturing method of zinc will widen the scope of its application, including medical and food fields. Zinc is also used for metal plating; therefore disposed metal products contain trace lead component.

In the future, from the viewpoint of preventing environmental pollution and hazard to health, zinc with low lead content will be the standard in addition to proper treatment of wastes. Akita Zinc not only responds to the market needs but also would like to continue to be a smelting and refining plant that could offer new value to society by focusing on quality.

Electroanalysis Dept, Akita Zinc Co., Ltd.


Hirobumi Nakamura

When the project to realize "lead of 1 ppm or less" started four years ago, the quality of zinc was very unstable, and most people felt it impossible to achieve such a high goal. We made many discoveries in the lab. Then we proceeded to a scaled-up test and managed to start the on-site test two years after this. These ambitious goals caused some hardship to the workers in the field as it was completely a new project; however, we finally established a system to stably manufacture zinc with 1 ppm or less of lead last year.
Zinc Recycled from Steel Dust in Partnership with Steel Makers
Zinc is mainly used in the steel industry and iron is recovered from the scrap. Steel dust is produced in that scrap process and the dust contains a large quantity of zinc. The steel dust used to be waste but steel makers succeeded in developing treatment technologies to separate zinc (recover iron) from steel dust. This means that nowadays we can recover high quality zinc dust and recycled iron.
Akita Zinc Recycling Co., Ltd started operation in 2010 with the aim at recovering zinc from high quality zinc dust in the premises of Akita Zinc. The company produces approximately 20,000 tons of zinc annually using the first technology in Japan on an industrial basis that lets zinc seep and then extracts it. It has put the system in place for more stable operation by

constructing an automated high-rise warehouse to store 1,000 tons of steel dust (corresponding to 600 freight conveyors).
Japan lacks in natural resources; therefore, effective utilization of waste is very important to secure stable supply of materials. Akita Zinc and Akita Zinc Recycling are always aware of their important roles in resource recycling and strive to return more resources to society.

Director and Plant Superintendent Akita Zinc Recycling Co., Ltd.


Tadashi Sasaki

We started operation in December 2010 and the Great East Japan Earthquake hit us in March the following year. Despite the hardship, we achieved the planned output of production for 2012. We endeavor to achieve the goal to implement our corporate philosophy of "To contribute to building sustainable society through resource-recycling and realize the world top recycling" day and night together with all employees. We are a young company and the employees are also young. We are trying hard to be close to the ideal for a company, leveraging on our youthfulness.

Akita Zinc held an observation tour for the employees' family members in March 2013. The purposes of the tour are: to offer an opportunity for them to get to know the workplace and the production processes and ask them to check the safety conditions and measures within the premises with their own eyes. A wide range of family members from small children to parents totaling 170 people participated in the event on two buses, divided into eight groups. They were lectured on the business, visited the plant and attended the luncheon meeting.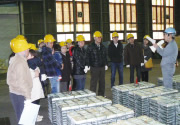 Lecturers, receptionists, car park attendants and bus drivers were all our employees. A kids' space was opened in the gymnasium. Quiz sessions were provided in the lecture sessions. We did our best for them to enjoy the day. We will continue this event aimed at being a company that is understood and supported by the family members of employees.