Environmental Report
Response to Our Stakeholders
Offices and business establishments of the DOWA group in Japan and overseas accept visits of our customers and relevant parties from governmental agencies. We also listen to the comments and requests from our stakeholders in briefing sessions and conferences and explain our future plans.
As part of our efforts in 2012, West Japan Plant of Eco-system Recycling started the survey targeted for our customers who visit the office. DOWA METANIX, DOWA Metaltech (Thailand) Co., Ltd. and ESBEC conducted the survey on customer satisfaction. Sales departments and quality control departments cooperate to respond to customers in our business establishments both in Japan and overseas. PPLi received the BLUE rank of PROPER for 2012 from the Indonesian Ministry of the Environment for its effort for compliance to environmental regulations. GEOTECHNOS was given a letter of appreciation by Tohoku Regional Agricultural Administration Office of the Ministry of Agriculture, Forestry and Fisheries of Japan for its investigation of wells in Miyagi Prefecture after the Great East Japan Earthquake.
We contributed to society through cooperation with and participation in hosting or sponsoring environmental conservation activities of various local communities. Companies of the DOWA group in Akita cooperated and dispatched employees to Akita Eco & Recycling Festival. Volunteers from employees of Hamamatsu Plant of DOWA THERMO ENGINEERING participated in clean-up activities of Lake Hamana. For our other contributions to social issues of local communities, see "Relations with Society".
The DOWA group also cooperates with local organizations for afforestation, mowing and conservation of forests in addition to planting trees in various areas as part of our social contribution activities on environment. DOWA Holdings and Kosaka Smelting & Refining hosted a tree planting festival. BPEC planted young mangrove trees.
Our Efforts towards Environment-friendliness
The DOWA group sets forth the goals and plans on environment-friendliness in production phases appropriate for each line of business and promotes them within the group and also in cooperation with customers.
< Our Initiatives on Environment-friendliness in 2012 >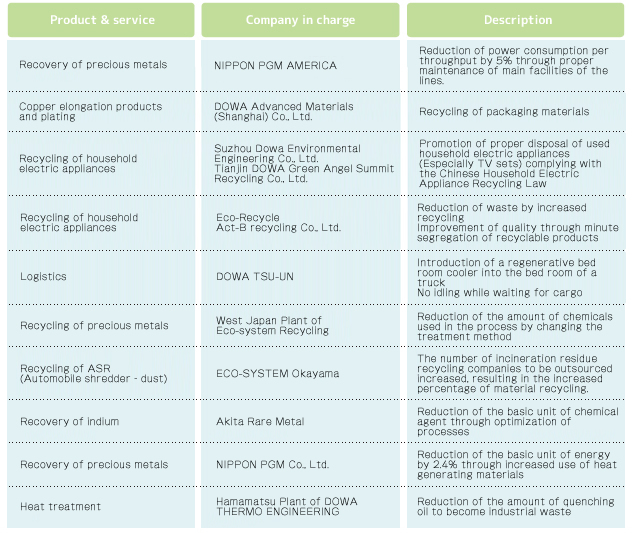 As for the R&D of new technologies related to environment, ten of our business establishments conducted R&D in cooperation with governmental agencies (German Oil, Gas and Metals National Corporation, etc.) and universities (Tohoku University, Iwate University and Okayama University) in 2012.