Questionnaire Results
Comments & Opinions for the DOWA group's CSR Report 2012
We distributed our CSR reports to our stakeholders including shareholders, investors, partners, customers and local people at the general shareholders' meeting, exhibits and environmental events. In addition, we also post all of our CSR reports published so far on our website. We send out a printed report to those who wish to have one.
We also deliver the report to all employees of the DOWA group every year. We position the CSR report as a tool for each employee to deepen his/her understanding on our CSR and environmental efforts.
The DOWA group conducted a survey to ask comments and opinions from the readers of our CSR reports to reflect them in our activities and improving our reports. We also asked comments and opinions on our CSR activities and reports from newly recruited employees in our training sessions. We reflected those valuable comments and the opinion of a third party expert of last year in preparation for this report as follows.

We received many replies from readers and we appreciate those replies very much. Those comments and opinions are analyzed and main comments were summarized as follows.

The DOWA group offers educational programs on CSR to raise awareness of CSR in our comprehensive training programs for newly recruited employees and share our CSR activities with them.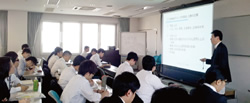 This year we offered lectures on "For what purpose does a company exist?" and "What are good companies?" from a corporate point of view. We also evaluated explicitness and details of our CSR Report 2012 and prepared a report on "Important activities in terms of corporate social responsibilities" and "What CSR activities should be enhanced" from the standpoint of newly recruited employees.
About our CSR report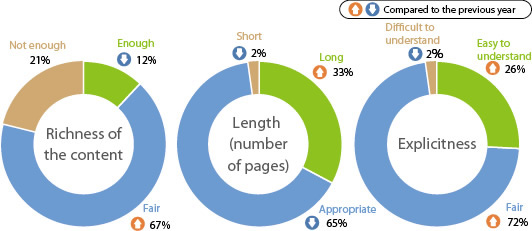 About our efforts for CSR (Top 10 / multiple answers)



Many articles dealt with recycling and I can see DOWA's focus on recycling,
I felt it important that DOWA strives for disclosure of information to the local community in addition to sponsoring events with the local community.
I can really see by DOWA's environmental efforts that DOWA is trying to tackle with the environmental issues as an integral part of its business, and not just as voluntary activities.

Labor safety is an important policy of DOWA, but the report lacks specific descriptions of its provisions for safety.
Many abstract words are used in the description on human rights. More specific and detailed explanation is necessary.
I wanted more specific and detailed description of DOWA's afforestation activities.