CSR Management
The DOWA group set forth the Dowa Group's Values and Standards of Conduct and the DOWA Group's CSR Guidelines so that each employee to be aware that a company is a public institution, comply with laws and regulations and take a sensible course of action.
We also strive to ensure sound business management, focusing on enhancement of corporate governance through internal controls. This is done to improve quality and efficiency of management to implement open, highly transparent management.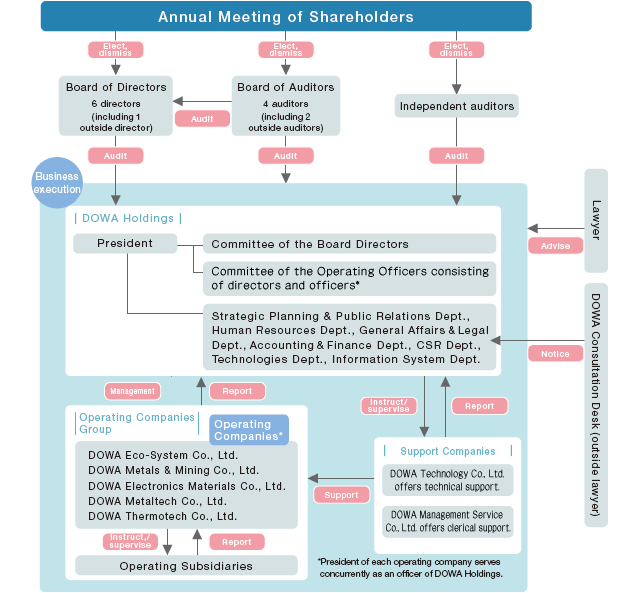 Internal Control Activities
To strengthen corporate governance, we encourage each company in the group to prepare an "About Internal Control System" document, and then place that internal control system into operation.
As part of implementing and operating internal control, we also prepare written procedures and workflows on accounting, identify risks of errors and unfair conduct. We also observe and evaluate processes by internal auditing. To improve efficiency of auditing in 2012, we integrated overlapping internal auditing activities but only to the extent of not to hindering audit effectiveness.
We also conducted auditing of newly-consolidated, foreign operating companies and interviews on the status of internal control and CSR activities in local communities, including preparation of standards of conduct and other rules.
We will continue to promote internal control activities for risk management and better business performance to further increase our corporate value.