Economic Report & Environmental Accounting
Social Aspects of Environmentally-friendly Management
For our efforts for responding to important social issues, see "Social Performance.
Economic Aspects of Environmentally-friendly Management
Financial Highlights
The DOWA group has been responding to the changing business environment by actively deploying its business in expanding waste, recycling and automobile markets in Asia. We are increasing recovery of new metals due to the expanding sales for multi-functional cell phones. Metal prices have repeatedly fluctuated due to financial situation, but as a whole it has remained weak. Basically, the yen remained strong in the exchange market until the end of the year, when the trend was reversed.
In our Environmental & Recycling business, disposal of low level PCB waste and waste disposal in South East Japan proceeded smoothly. In our Nonferrous Materials business, each plant that ceased operation due to the Great East Japan Earthquake has restarted operation successfully and recovery of new metals such as tin and antimony was strengthened. In our Electronic Materials business, we strived to expand sale of new products and to obtain new customers. In our Metal Processing business, we successfully responded to the increasing demand for multi-functional cell phones. In our Heat Treatment business, we endeavored to gain competitiveness by consolidating the production systems in Japan and enhancing our capabilities to respond to the increasing demand other countries.
As a result, our consolidated sales for the current term increased by 7% compared to the previous year, amounting to 419.3 billion yen, while our consolidated recurring profits increased by 30% compared to the previous year, amounting 27.2 billion yen.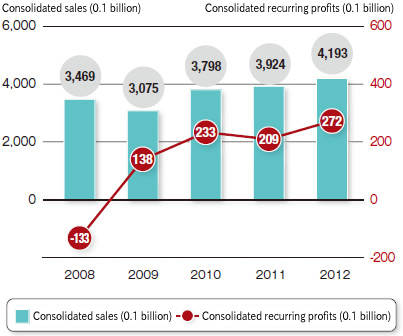 Economic Aspects of Our Business Establishments
Each of our business establishments took measures to save electricity and energy as well as to reduce the amount of waste produced, responding to the increase of energy costs due to the nuclear power plants that ceased operations after the Great East Japan Earthquake. In 2012, the costs of our environmental management efforts (environmental costs) decreased compared to the previous year, while the sales income from recycled resources increased from the previous year. In our Environmental & Recycling business, we are expanding the menu items of disposal and treatment of refractory waste even though industrial waste produced in Japan remained low. Each business establishment strives to convert waste produced to valuable resources and to increase added-value of recovered valuable resources.
Title
Subtitle
Main expenses item

Expenses and depreciation and amortization in 2012 (million yen)

Main investments

Amount posted to fixed assets in 2012 (million yen)

In-house cost
Cost related to pollution prevention
Purchasing neutralization materials, maintenance of dust collecting equipment and analysis of exhaust gases, etc.
2,439
Purchasing vehicles mounted with urea SCR equipment and cloth filter bags, and construction work of effluent treatment facilities
344
Cost related to the environmental conservation
Cost for outsourcing CFC disposal, implementation of LED lighting systems, etc.
159
Introduction of highly efficient compressors and high performance insulating materials, etc.
260
Cost related to resource-recycling
Outsourcing of recycling of ash and disposal of used oil, etc
1,797
Modification of conveyors
102
Cost related to the upper and lower streams of supply chain
Transportation cost of returning pallets, cost related to recycling of packaging materials, etc
19
-
3
Cost related to management activities
ISO related or work environment measurement, etc.
375
Upgrading of automatic measurement instruments
12
Cost related to R & D
Development and streamlining of processes, etc.
315
Cost related to social activities
Membership fees, etc.
64
Cost related to repairing environmental damage
Reserve for covering dumps with soil and planting
27
Total
5,194
722
Environmental Costs
For the environmental costs in 2012, total expenses were 5,194 million yen and total investments were 722 million yen.
| Main efforts for prospective environmental improvement effects | Expected amount of environmental improvement per year |
| --- | --- |
| Energy-saving for air conditioning by introducing air cooling chillers | 1,596MWh |
| Controlling high voltage motors using inverters | 533MWh |
| Improving insulation of furnaces | 45 kL as converted to crude oil |
Sales Income from Recycled Resources
We gained 7,526 million yen for the sale of recycled raw materials, including metals, scrap and sediment containing metals from processed discharged water.
| | Main products sold | Quantity (1,000 t) | Sales income (Million yen) |
| --- | --- | --- | --- |
| Japan | Gold, silver, copper and iron scrap, etc. | 61 | 7,140 |
| Other counties | Iron, aluminum and copper, etc. | 15 | 386 |
Economic Aspects in Society
The DOWA group is engaged in environmental and recycling business that includes: Resource recycling, detoxification and stabilization by means of properly treating and disposing waste and destruction of CFC and CFC substitutes.
We evaluated the effects of these activities over society and the environment by using the concept of External Economical Benefit Evaluation (EEBE®)*1
EEBE® Total: 11.97 billion yen
EEBE® through Waste Treatment: 26 billion yen
Acceptance of ash (35,000 t increase from the previous year), sludge (32,000 t increase from the previous year) and PCB contaminated waste requiring special control (5,000 t increase from the previous year) from our customers increased in 2012. As a result, EEBE through detoxification was found higher than EEBE through reduction of the volume similar to the previous year.
EEBE® through Metal Recycling: 93.1 billion yen
In evaluation of the EEBE of our metal recycling, we included both the value of recovered metals (calculated using LME price as international quoted market price) and the effect of expanding the life of landfill disposal site through reducing the volume of waste that contain metals. EEBE® through metal recycling increased compared to the previous year due to the appreciation of yen and the price increase of palladium and gold as of March 31, 2013, in addition to the increase of recovered zinc by 4,000 tons compared to the previous year.
EEBE® through Destruction of CFC and CFC Substitutes: 0.62 billion yen
For evaluating effects of preventing the loss of the ozone layer and global warming, we have adopted the LIME (Life-cycle Impact Assessment Method based on Endpoint modeling)*2 to convert these effects into EEBE®. Although the amount of processed HCFC-22 used as coolant of room air conditioners and storage warehouses of frozen foods increased, the amount of CFC substitute HFC-134a used for car air conditioning catalyst decreased, contributing to reduction of EEBE from the previous year.
*1 EEBE® refers to a quantitative index created by Club ECOFACTURE that evaluates business activities, by converting the effects that a company strives and achieves to reduce environmental load to a specific monetary value. The research group, Club ECOFACTURE, is comprised of Japan's four largest auditing firms, large enterprises and university professors who are studying this index.
*2 LIME refers to "Life-cycle Impact Assessment Method based on Endpoint Modeling" that was developed by the National Institute of Advanced Industrial Science and Technology (AIST) and others. It is an index that evaluates the impact of substances on human health and social capital, considering their life-cycle.
Notes:
As for the EEBE® on destroying CFC and CFC substitutes, we calculated the effect of preventing global warming and destruction of the ozone layer targeted for CFCs for which LIME factors are set.
In calculating EEBE®, only EEBE from our companies in Japan was included.