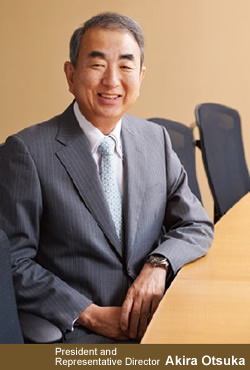 DOWA Electronics Materials responds to the market needs by developing materials for semiconductors, conductive and magnetic materials and battery materials. DOWA capitalizes on its long-cultivated, hi-tech technologies for producing thin film, crystal growth, manufacturing fine particles and particle shape control.
One of our products with the world's top share is LEDs (light-emitting diode). Having a long life, less power consumption and high response speed, these LEDs , are used for various applications such as displays, transmission and sensors. As a proximity sensor for smart phones, the demand for LEDs is increasing. We are enhancing our production to respond to this increasing demand.
The market for solar cells also remain strong. We are planning to increase the production capacity of spherical silver powders that are used for the electrodes of solar cells. We are also considering increasing the capacity of facilities by closely watching the demand trends.
We aim at being the top company in a wide variety of fields, building on our product families that are backed up by our cutting-edge technologies. We also strive to develop new businesses for those newly developed products through active investment in order to contribute to building an eco-friendly society through energy saving and reduction of CO2.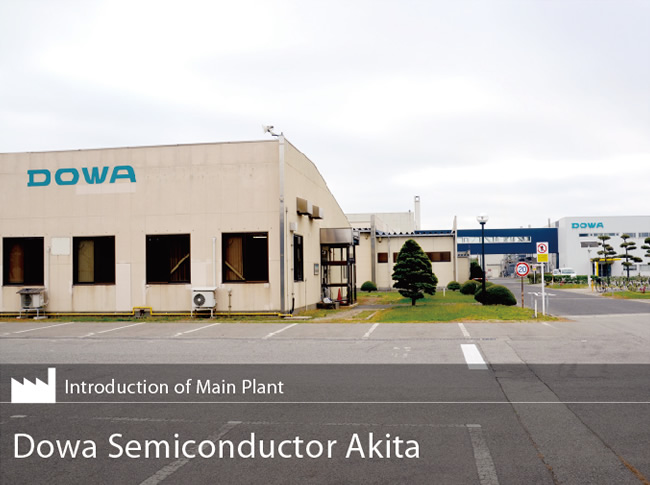 Address: 1 Aza Sunada, Iijima, Akita City, Akita Prefecture, 011-0911 Japan
Number of Employees: 266 (as of March 31, 2013)
Resource-recycling Plant for Semiconductor Production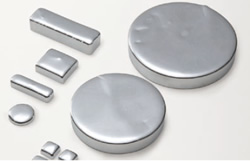 DOWA Semiconductor Akita was founded in 1993 to manufacture semiconductor products. It produces highly pure gallium, gallium arsenide wafers, LEDs and nitride-based HEMT epitaxial substrates.
Highly pure gallium is produced from the byproduct of zinc smelting and refining by Akita Zinc or recycled and refined within our company. Gallium arsenide wafers are produced using highly pure gallium that is refined in the gallium plant. LEDs are produced by making chips from the wafers we manufacture in our substrate plant. In this respect, our company is resource-recycling facility where products are manufactured and processed all in-house. 
Our LED products are applied to the promising growth fields in the future, including blood sensors, cutting-edge medical instruments for cancer treatment and sensors for the latest ink jet printers. Our nitride plant that started operation in 2007 manufactures nitride-based HEMT epitaxial substrates that are promising as a new semiconductor material.
The Next Generation Nitride-based HEMT Epitaxial Substrates
A promising next generation material for power semiconductor devices (that control or supply power) is nitride-based HEMT epitaxial substances. To help the global warming countermeasures and rising awareness on environment, these next-generation substances provide for further energy savings.
Nitride-based HEMT epitaxial substrates withstand higher voltages and their electric resistance is lower than silicon-based substrates that are presently used.and can reduce power loss to one third. They can contribute to improve the energy saving effect dramatically. Our HEMT epitaxial substrates have the world's top level performance that can withstand 1,000 volts. As they produce little heat during operation, the heat dissipation required for silicon-base substrates can be simplified, thereby contributing to reducing device size.
They can be used for a wide range of applications from power semiconductors for PCs,

air conditioning, household electrical appliances equipped with inverters such as refrigerators, hybrid cars and electric cars. They can also be used for applications employing high frequency waves such as antennas for base stations of mobile phones. We would like to contribute to our energy-saving society by providing materials for semiconductors.

Production Division, the Nitride Epitaxial Production Department


Kohei Yoshizawa

I believe that the nitride-based HEMT epitaxial substrate is promising to meet the needs of our age for energy savings and more and more compact electronic devices. I have to learn many new things every day as I am in charge of introducing, managing and setting up manufacturing equipment. With the help of people around me, I feel I am steadily progressing. As a member of the Nitride Epitaxial Production Department,
I will do my best to improve productivity and quality to speedily expand the use of this promising product.
Enhancing Energy Saving Measures by Introducing Air Cooling Chillers
While our products contribute to energy saving of electronic devices, their production requires a large amount of electricity. We are committed to actively introduce highly efficient equipment and to promote energy saving at our facilities.
For example, power consumption of the turbo refrigerator that supplies cool water to the temperature control equipment accounts for slightly over 10% of the power used in the LED plant. In the nitride plant air conditioning equipment accounts for approximately 50% of the power consumption. In November last year, the LED plant introduced an air cooling chiller to keep the temperature to the specified degrees through circulation of water for energy saving. The nitride plant introduced the facilities equipped with cooling functions to mist water to improve efficiency of the existing air cooling chiller. Introduction of the chiller reduced power consumption of the equipment in the LED plant by approximately 25%. Introduction of the facilities dramatically reduced power consumption in summer in the nitride plant,

reducing approximately 20,000 kwh/month at the peak time. The nitride plant used to use a thermo-electric ammonium removal device to clean exhaust gases generated in the process of manufacturing semiconductor compounds. It was replaced with the latest, more efficient LPG gas-based device, succeeding in reduction of power consumption of approximately 26,000 kwh/month.

Production Division Head, the Nitride Epitaxial Production Department


Yoshikazu Ohga

The semiconductor plant uses the air conditioning equipment dedicated to the clean room and has a rule that it cannot stop its operation. Our plant is appointed as an energy controlled plant. Reduction of power consumption of air conditioning equipment and production facilities will help the presently dire electricity situation in Japan as well as a reduction of production energy requirements and safer operation. The whole plant will continue to implement total energy management and work at continued reduction of environmental burdens.

DOWA Semiconductor Akita receives local students on internship every year as part of our activities to foster human resources and to contribute to local communities in partnership with universities.
A total of four students from Tohoku University, Akita University and Akita College of Technology participated in the program and addressed the challenges in the LED plant,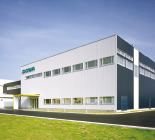 the substrate plant and the nitride plant for approximately two weeks. We hope the actual experience on the manufacturing site will help them to decide their career paths and select their jobs. We will continue to promote the program as part of our social contribution activities through education.