"Safety is the Top Priority." "No Shortcut to Safety." These are the slogans long shouted in every industry, but unfortunately there seems no end to serious accident incidents. The accident frequency rate and severity rate* of the DOWA group's bases of production were lower than that of another company of a similar scale listed in the occupational accident statistics by the Ministry of Health, Labour and Welfare, and yet we are only half way to completely creating a culture of the safety. The DOWA group started the Safety Activity Project across the Group to further carry out our social responsibilities of:  "Safety is the Top Priority."
*Frequency rate: The number of casualties by accident incident per 1 million hours of labor (frequency of accident incidents)
*Severity rate: The number of days lost from work per 10 million hours of labor (severity of an accident incident)

Aimed at Raising the Safety Activity Level
The DOWA group put in place a health and safety committee in every business establishment in Japan and other countries to promote various safety activities according to the annual health and safety plan, under the health and safety policy of "All employees will take part in safety activities with their own initiatives to improve the level of health and safety in the workplace, based on our basic philosophy of "Safety is the top priority." We also implemented safety checking mechanisms by third parties and also mutual safety checking mechanisms such as: support for risk experience educational courses, safety patrols jointly with local community people, safety audits and instructions within each operating company in addition to independent activities in each business establishment. Despite these efforts, each of our business establishments has its own questions as follows: Are these activities really contributing to preventing accidents from happening or raising awareness of employees? Have these activities become routine and uninspiring? Business bases are increasing especially overseas in connection with our recent, rapid expansion of business. The needs are increasing to support for putting safety organizations in place and safety education in newly opened business bases.
Under such circumstances, the DOWA group started the Safety Activity Project across the Group by appointing the director of board in charge of safety as chief responsible person in August 2012. With the slogan of "No One Is Hurt. No One Hurts Others.", this project is intended to raise the level of safety activities across the group. A person in charge of safety activities in major business establishments in Japan is appointed as member of the project. They are called for the meeting, where they discuss the ideal image of safety activities including potential accident prevention measures, risk assessment and safety patrol. They are working hard towards full deployment of the project across the group at the middle of 2013. We adopt excellent (advanced) cases of safety activities in each business establishment actively and strive to share them across the entire group.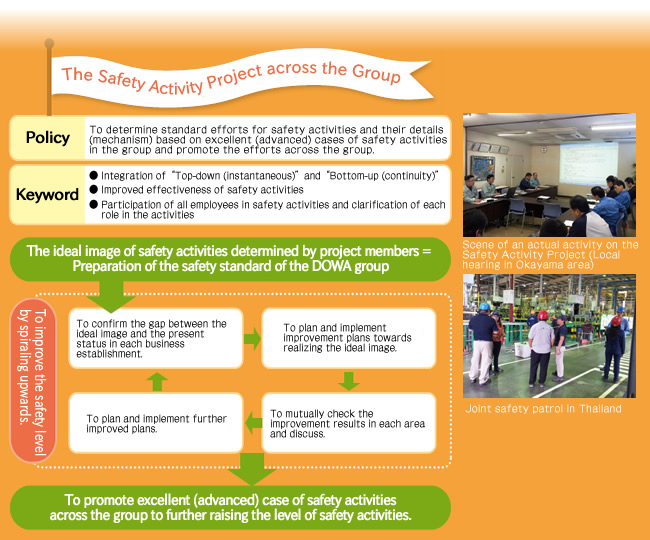 Promotion of Safety Activities Overseas – Learning Each Other Beyond the Sea
Firstly the Safety Activity Project will be deployed in Japan. However, we have already started our efforts to raise the level of safety activities in overseas business bases. In Asian countries where our business bases are increasing rapidly, we are focusing on communication on safety activities between business bases in Thailand and China.
Joint safety patrols and study sessions are held in each establishment in turn for mutual learning, aimed at raising the level of safety activities in each country and region basically in a similar way to the Safety Activity Project in Japan. Under the cultural, business and labor environments different from those in Japan, each overseas business base is promoting its activities through trial and error, trying to raise awareness of local employees for safety, maintain the activities as routines and further activate them. We aim at building the "DOWA Global Safety Standard" by not only deploying the Japanese cases or know how overseas but also introducing excellent cases in each country back to Japan actively beyond the sea.
No Shortcut to Safety – Social Responsibility for "Safety is the Top Priority."
Safety culture cannot be built in a day. It requires day-to-day, steady efforts. Business entities must continue to secure safety as long as they continue business. Therefore, a company must make efforts together with all employees to realize effective safety activities. More specifically, as described in the keyword of the Safety Activity Project, the "Top-down" by a strong leadership of the management and the "Bottom-up" by employees on site must be integrated.
Employees are important stakeholders in terms of CSR of the DOWA group. Therefore, securing safety of labor is an important issue of the group. Securing safety is the major premise of safe operation and also the basis of trust from local communities and society. The DOWA group is committed to carrying out social responsibilities of "Safety is the top priority." through the efforts focusing on the Safety Activity Project.