Social report
Together with Employees - DOWAfs Way of Developing Human Resources
Basic Philosophy of DOWA on Developing Human Resources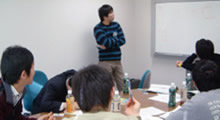 Our basic philosophy for developing human resources is that talents and skills of individual employees must be developed in two directions; horizontal direction - activity field and vertical direction - activity goal.
Targeted at all the employees of the group (employees, leaders, managers, the management), we design and offer educational programs fitting each employee.
DOWAfs programs to develop human resources : Educational programs are designed with four goals.
To develop human resources with high level of expertise

The training will gradually shift from risk management to increasing profit.
We have training courses that combine themes of corporate accounting, labor law, corporate survey and creation of new businesses.

These are very high level courses. Participants in these courses should have a high level of skill and knowledge. Our system is working well as an educational scheme, but there is always an issue of, gHow knowledge and understanding gained from these courses can be applied to workplace,h

To enhance onsite power

We strive to support jobs at the forefront of production, sales and development and to promote education to enhance corporate competitiveness including cost accounting, patent law, statistical quality control (SQC). Also we support improvement activities of each group company and offer them consulting.

Education is an important issue that should be tackled in cooperation with production sites, but operational priorities can easily cause education to be deprioritized. Consequently, our educational programs focus on educating human resources who will possibly become the core of our company in the future. We also offer consulting on improvement activities at production sites. We strive to expand these activities across the entire group in the future.

To make new recruits independent in three years

For half a year after joining the company newly recruited employees receive training at production sites. They are scheduled to learn basic knowledge in April and have work experience at production sites and improve their skills during the period from May through August. These long term training sessions are based on the DOWA groupfs philosophy of nurturing new employees: To make them think onsite and nurture them with patience. They are designed for new employees to develop an eye for the forefront and actual products, find issues from actual problems on site and develop ability to find solutions for improvement.

We are challenging to design the collective OJT and follow-up training sessions after the new employeesf education is over. A favorable corporate culture is being created in that experienced employees and the newly hired together are trying to make training programs better than those of the previous year through active participation in education of the newly recruited by employees who joined the company in the previous year.

To nurture the next generation management candidates

To select and nurture human resources who should be stepped up from manager to the management team. This educational program completes in three years for ten employees per year. We have launched and are operating a training session titled as gBusiness Leader Training Courseh since 2007. We offered the educational program once a month using outside lecture courses for the first year in order for them to gain broad knowledge.

Participants in the training course submitted their comments saying, gI have never taken a course outside of my specialtyh or gI could use my knowledge gained through these courses in my workplace.h We believe these courses helped participants to be aware of what it is to be part of the management team.
@
The HR and HR Development Department has started since 2008. I have devoted myself to preparing educational programs, but from now on I will be considering gdeveloping human resourcesh in the entire HR cycle from recruitment to nurturing, evaluation, relocation, advancement and promotion. @I will be working in the larger framework than before, but developing human resources must be tailored to each employee. Ifll do my best to offer proper programs that meet needs of our people.
The HR and HR Development Department, DOWA Holdings Co., Ltd.
Yosuke Tanaka