Overview of DOWA group
Our Operating Companies

Smelting and Refining Department: DOWA Metals & Mining Co., Ltd. - Top Zinc Company in East Asia, Aimed at Further Recycling
Business description: Production and sales of non-ferrous metal including gold, silver, copper, zinc, lead, zinc-alloy, platinum and indium.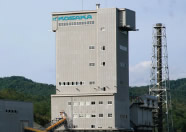 New Furnace for Recycled Materials@Construction of the Top Submerged Lance melting furnace that started in May 2006 completed in August 2007. After several commissioning and adjustments, the new furnace started production this spring. This new furnace processes various recycled materials, refractory materials, intermediate products produced by smelting, mineral concentrates containing high rate of gold and silver, contributing to effective recycling of valuable metals and reduction of wastes, and will help us further develop our resource-recycling business. We strive to expand our business and improve our competitiveness by strengthening the smelting and refining capacity of zinc, in partnership with Akita Smelting and Refining and also with the DOWA ECO-SYSTEM for collection of raw materials.


DOWA Metals and Mining, located in Kosaka, the birthplace of DOWA, is engaged in production and sales of base metals including copper, lead and zinc, precious metals and rare metals, contributing to society as the core industry. Leveraging our technologies long esteemed and developed in our history, we are actively processing raw materials including electronic substrates from PCs and cell phones that are referred to as gurban mineh, in addition to imported ores. Our new furnace is now in operation and we are moving to a new stage of our business. We believe we can contribute to the society by being part of resource-recycling society through effective use and recycling of resources; coexisting with local communities; and continuing to supply recycled metals in the resource scarce society from the resource-security standpoint.
President@Nobuo Yamazaki
Environment and Recycling Department: DOWA Eco-System Co., Ltd. - To be A Leading Company in East Asia in the Environmental Business Field
Business description: Waste management, soil remediation, recycling of metals, consulting and controlled final disposal site and cargo transportation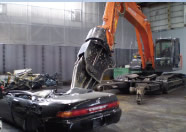 Construction of bicycle recycling and wet-type precious metal recovery plants in Kosaka area in Akita Prefecture@As part of Northern Akita Eco Town business (certified as an enterprise invited by Akita Prefecture), we started operations of Auto Recycle Akita and the Ecosystem Recycling Northern Japan plant. The former is engaged in disassembling and recycling used cars, and the latter in recovering precious metals in a wet way. Auto Recycle Akita strives to achieve effective recycling through reuse of automobile parts from disassembled cars and recycling rare metals and plastics in addition to iron, non-ferrous metals. Both plants endeavor to seek synergistic effect with Northern Akita Eco Town business and to enhance recycling business by functioning as preprocessing plants of Kosaka Smelting and Refining.

DOWA Ecosystem offers environmental solutions such as integrated environmental consulting business, catering to a wide range of business needs, focusing on waste processing, soil and groundwater remediation and recycling. To secure wellbeing of our customers, we are also committed to promoting a socially-contributing environmental business by strengthening our safety and compliance system in-house. In this way we can respond to our customers in a proper and secure way while reducing their environmental load. We strive to expand our business bases both in Japan and overseas, aimed at being a leading integrated environmental business enterprise in East Asia and contributing to building a sustainable society through proper processing and resource-recycling.

President@Yoshito Koga
Electronics Materials Department: DOWA Electronics Materials Co., Ltd. - Creating New Businesses, Aimed at being a Global Top-Niche Company
Business description: Electronic materials including high purity gallium for composite semiconductor manufacturing, composite semiconductor for electronic and optical devices, LED for transmission and medical use, metal powder for data storage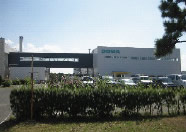 Development of High-Power Deep-Ultraviolet LED@We succeeded in development of the state of art, high-power deep-ultraviolet LED with longer wavelength (325 - 350 nm) than other products in the market, by combining the AIN template technology we own with the epitaxial growth technology of a US company. This LED is expected to be applied to a variety of applications including hardening of resins, photo catalyst, water purification and sterilization, creating the market value of ten billions yen in the future.
Commercialization of Silver Nanoparticles@We see the light at the end of the tunnel for developing low temperature crystal nanoparticles (particle size of 10 nm) and proceeding with its commercialization in a couple of years as electrode materials for FPD. These particles draw electrodes directly on the required area only on the glass substrate, using printing technology. This enables a lower manufacturing cost than the existing method, leading to a large-scale market in the future.

DOWA Electronics Materials responds to the market needs by supplying semiconductors, electronic materials and magnetic materials. We aim at being the top company in a wide variety of fields, building on our product families that are backed up by our cutting-edge technologies. We also strive to develop new businesses through active investment. Our customers all have long standing reputations as powerful, cutting-edge companies that are competing on a global basis. In such competitive business environments, we are together committed to responding rapidly changing market environments flexibly, aiming at higher levels for our further development and growth.
President@Akira Otsuka
Metal Processing Department: DOWA Metaltech Co., Ltd. - Aiming at Being the Global Top Company in Automotive Electronic Components, Semiconductors, Electronic Parts through Business Expansion
Business description: Manufacturing and sales of copper-elongation ribbon products including copper, brass and high functional copper-alloy, nickel-alloy ribbon products, brass bars, forged, processed and plated products and circuit boards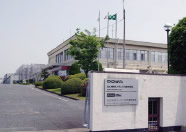 DOWA METANIX Co., LTD. and DOWA-OLIN METAL CORPORATION Joined the Group@At the end of November 2007, we acquired 100% of Yamaha Metanicsf shares and 50% of Yamaha Olin Metalsf shares from Yamaha Corporation and they are now under the control of the DOWA METALTECH group. (New Corporate Name: DOWA METANIX CO., LTD. and DOWA-OLIN METAL CORPORATION)
The acquisition enabled us to expand our product lines to include high strength alloy such as high quality lead frame materials for semiconductors, in addition to the existing product families of automotive components and connectors that use copper elongation goods. We are committed to respond to the requests from our customers with these expanded product lines.

@DOWA METALTECH is a technology company engaged in metal processing, plating and manufacturing of circuit boards. We strive to respond to the needs of our customers and the market with our high specialty products and a wide range of technological services. Fusion of existing fields with new fields brought about by DOWA METANIX and DOWA-OLIN METAL will strengthen the manufacturing and development forefront of our company and enable us to be the top supplier in the field of automotive electronic components, semiconductors and electronic parts. In order to do so, we value enthusiasm and speed, promoting improvement and innovation without being content with the status quo. We also value our attitude of challenging the problems. DOWA METALTECH aims at being a company providing customers with a one stop solution in the metal technology field with diversified product lines. We look forward to serving our customers in the field.
President@Yukio Ishibashi
Heat Treatment Department: DOWA Thermotech Co., Ltd. - Global Expansion through Active Investments as a Pioneer of Heat Treatment Technology
Business description: Heat treatment, surface treatment, surface improvement treatment and designing, manufacturing, sales and maintenance of heat treatment equipment and facilities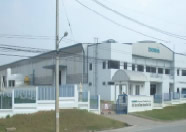 New Furnace for Recycled Materials@We established DOWA Thermotech (Thailand) in the Eastern Sea Boat Industrial Complex in Southern Rayong, Thailand in April 2007. Japanese automobile companies are rapidly expanding their bases on a global scale and the demand for local procurement is increasing in Thailand. DOWA Thermotech, as one of the top Japanese manufacturers, strives to serve for those companies under its global expansion policy. We started our maintenance and metal surface treatment services in December 2007 and will expand our activities to include carbonizing and carbo-nitriding treatments in summer 2008. In the future, we are committed to expand distribution channels in South East Asia, focusing on Thailand as a center of heat treatment in Asia.

@As our industry uses thermal energy as means of manufacturing, our efforts for fighting global warming are very important. We have been promoting implementation and improvement of energy saving equipment. We achieved 10% reduction of CO2 emission (specific productivity) in 2006 compared to that of 2002. We also focus on development of energy saving heat treatment equipment. In 2002, we succeeded in developing epoch-making equipment that releases 52% less CO2 and the equipment is well recognized by automobile manufacturers that are fighting global warming.
@ We are collaborating with automobile manufactures under the motto of gHuman-friendly and Environmental-friendly.h We will further strive to conduct our business with conservation of the earthfs environment in mind.
President@Mineo Hagino