CSR of DOWA(DOWA Corporate Social Responsibility)
Enhancing Development of Human Resources who Have Access to gOutsideh - DOWAfs Career Support - Graduate School for Adults
While many education programs are prepared mainly by the HR and HR Development Department in the DOWA group, some are put in place by each operating company. Now, we are going to introduce our program where our employees can study in the graduate school for adults in Environmental Science Department of Tohoku University. This program is under control of the Environmental Department of DOWA Eco-System.

A Class Scene at Tohoku University

Here, students from various fields, including business, public administrations and mass media hold heated debates. One third of the lectures offered are in English by foreign professors.
Opportunity offered to those who are eager and ambitious - Selection through an open in-house application system
gYou work and also study in the graduate school. What made you to do so?h
In 2005, Tohoku University opened the graduate school for adults, offering environmental classes. As DOWA has a close relationship with Tohoku University, we decided to send a few employees there. At that time I was working in the planning office of the Environmental Department. Our company offered an opportunity to every employee who wants to take an opportunity to study. As a result of the open application system, two including me were selected and we started to study there.
gWhat did you learn in the graduate school?h
To put it simply, these classes aim at promoting understanding of genvironmentalh issues that are happening all over the world and helping resolve them from technical, economic, cultural, political and human standpoints. Rather than just studies as part of systematic education, various global efforts for environment were introduced in the classes. Or the classes aimed at finding solutions and developing human resources to handle environmental issues through debate.
The Best Harvest - Communication with Others
gDid you get good experience there that you could not gain in daily business activities?h
Yes, first of all I was able to gain in-depth understanding of the gEnvironment.h Before attending the classes, all of my understanding of the environment was the DOWAfs environmental field., but I learned there are more issues and fields of environment other than our environmental business. That means there will be many more business opportunities for DOWA too. Among others, I believe the best benefit was what I gained through communication and debate with people from other fields. I found different ways of thinking and different values. I also learned how other people saw DOWA and what they expect from us.
| | |
| --- | --- |
| | In addition to attending classes, lectures on the Internet (video lectures) are also well planned. However, I have had a hard time working and at the same time working on 7 or 8 reports to submit. |
Even after graduation we maintain contacts with my classmates through active exchange of information and study groups. My friends and acquaintances bring in some interesting people and the exchange expands.
Learning into Practice
gThe last question is how do you use what you learned in the graduate school into work?h
My theme for a thesis of the graduate study was, "How to improve DOWAfs corporate value through the eEnvironmentf.h DOWA is steadily building up its position as a top runner of environmental businesses, but we are not known well enough to build our gbrand.h Ifm surprised to know we are not at all known to general public. I decided to tell people of the details of DOWAfs businesses, in an easily comprehensive way, try to gain recognition of our brand and improve our corporate value. That was my study.
Now I'm making jewelry made of 100% recycled gold. I designed a ring made of recycled gold as a starting point to let people know that recycling of metals are directly connected to our sustainable life styles. When I showed the recycled gold ring at shareholders meetings and other events, people showed great interest in this ring asking, gWhat is it?h First we must attract people in order to explain and making people understand what DOWA is doing and the necessity and meaning of recycling. Ifll be more than happy if I could connect what I learned at the graduate school to my job on environment and public relations.
Jewelry made of 100% recycled gold for sustainable life style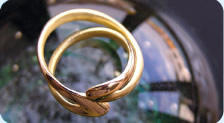 The jewelry made of 100% recycled gold is estimated to reduce the environmental load to just three hundredth of that made originally from mined ore.
Now we exhibit these rings in environmental exhibitions or shareholders meetings, and some people want us to sell these rings as gEnvironmentally-friendly jewelry.h
@
In the interview, I mentioned a success story, but in reality it is not actually that easy (laugh). My desire is to sell this jewelry in collaboration with the famous brands and designers and improve DOWAfs brand power. But, there are many problems ahead of me. I want to develop this project, listening to the advice and opinions from various people.
I think it necessary for DOWA to increase opportunities to have access to the gexternalh world, not to mention Tohoku University.
The Planning and Public Relations Department, DOWA Holdings Co., Ltd.
Takanobu Tachikawa