CSR Topics
Serious Global Effort - DOWAfs Measures to Fight Global Warming
The global warming has a great impact on human life and ecosystems of countries regardless whether they are developed or under developed. It is a problem that we must all endeavor to resolve on a daily basis together. The first commitment period of the Kyoto Protocol started in 2008. It is anticipated that importance of the activities of fighting global warming will increase. The DOWA group strives to reduce emission from its facilities and is committed to prevent global warming through our business activities as follows:
Destruction process of chlorofluorocarbon (CFC) using rotary kilns
| | | |
| --- | --- | --- |
| | | |
| ECO-SYSTEM AKITA | CFC gasification and spray equipment | Rotary kiln section |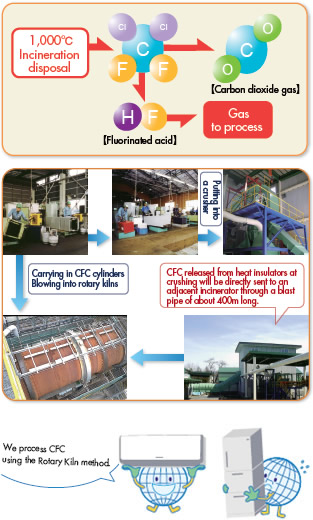 Greenhouse effect gas of CFC and HCFC is used as a cooling media of refrigerator and air conditioning and also as a heat insulator in things such as Styrofoam.
Included in these gases are HFC with greenhouse effect of 12 to 12,000 times CO2, and CFC of 4,600 - 14,000 times. DOWA has been engaged in destruction of these greenhouse effect gasses since the former Environmental Agency and Akita Prefecture out-sourced the greenhouse effect gas destruction business (verification test) to it in 1996.
DOWA adopted a rotary kiln method that takes advantage of the heat generated when wastes are burnt to destroy greenhouse effect gasses. This method does not require additional energy to destroy these gases.
99% of CFC can be processed at temperatures 1,000Ž or higher.
Based on the destruction test results by DOWA, the CFC Destruction Processing Guideline Using Rotary Kiln was prepared. This has contributed to disseminating the knowledge of how to process CFC.
In 2007 the DOWA group collected and processed CFC and HCFC that correspond to 21,600 t converted to CO2. This is equivalent to greenhouse effect gas emission from about 42,000 households.
¦ Note: CO2 emission from households:Approximately 5,300kg of CO2 was extracted according to the Japan Center for climate Change Actionsf website at http://www.jccca.org/index.php.