Environmental report
Environmental Performance - OUTPUT
Wastes
Wastes generated in 2007 were about 49 million t, a decrease by about 5% compared to last year. Specific waste productivity per sale decreased slightly by 8%.
Slag from smelting and mining business accounts for about 45% of all the wastes, followed by sludge and burnt residue.
We strive to make improvement and change by recycling byproducts from our production processes, improving processes and yields as part of our efforts to reduce wastes.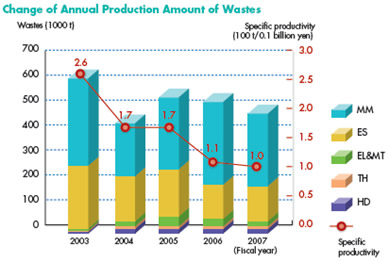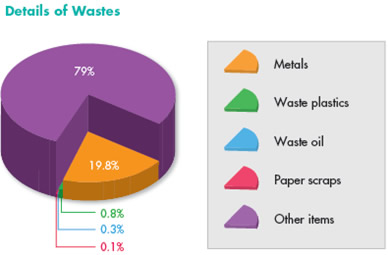 Recycling
Amount of recycling in 2007 was about 105,000 t, an increase by about 18% compared to last year.
We conduct metal recycling, pallet recycling and recycling of burnt residues in use for cement materials as part of our efforts to improve recycling rate. We promoted recycling of waste plastics as we installed new equipment in 2007.