Social report
Together with Local Communities - Aiming at Contributing to Our Community
Activities Contributing to Society
People are very concerned about the future of human beings, facing global warming and ecological destruction. People feel that each individual must do something for the future of the Earth, and public awareness is increasing. DOWA believes that it can truly contribute to society only by looking at the outside world proactively, initiating an environmental activity in local communities by organizing individual environmental efforts into a stronger power and fostering it to a larger scale environmental activity.
The following introduces our main efforts in 2007.
Activities Contributing to Local Communities
Company Name
Activities Contributing to Local Communities
Period/Frequency
MIM Metals & Mining Co., Ltd.
Akita Rare Metal
Cleaning-up Matsubara area at the sun set
September 2007
Akita Zinc Co., Ltd.
Cleaning-up activity (in front of the plant and public roads, etc.)
November 2007
Full blossom movement
April 2007
Tree planting ceremony
October 2007
Exciting scientific project
December 2007, February 2007
Akita Zinc Solutions Co., Ltd.
Periodic cleaning
November 2007
Kosaka Smelting and Refining Co., Ltd.
Welcoming visitors
Case by case
Local cleaning activity
One or twice a month
Afforestation activity
June 2007, October 2007
DOWA Cup ski festival
One a year
ES Eco-System
ECO-SYSTEM Hanaoka
Northern Akita branchfs fighting illegal dumping campaign
July 2007
ECO-SYSTEM Sanyo
Removal of illegally dumped wastes (Cleaning operations)
November 2007
Work-study program for local junior high school students
June 2007
ECO-SYSTEM AKITA@
Full blossom movement
April 2007
Tree planting ceremony
October 2007
Exciting scientific project
December 2007, February 2007
ECO-SYSTEM Chiba@

Sodegaura-City Environmental Coordinating Council
One a month
Cleaning ocean road

Four times a year
Eco Recycle
Welcoming plant visitors

Weekdays
Cleaning-up around plants
October 2007
Dowa Tsu-un Co., Ltd.
Cleaning along public road and weeding of the greenbelt
One a year
Cooperation with local events
Three times a year
ECO- SYSTEM Japan Co., Ltd.
Cleaning-up operations
Five times a year
Full blossom movement
May 2007
GEOTECHNOS Co., Ltd
Environmental exhibit
One a year
Ecosystem Recycling Higashi Nihon
Tree planting ceremony by Bizen Sewer Cherry Club
March 2008
Cleaning the Bizen Sewer
December 2007
Ecosystem Recycling Nishi Nihon
Local cleaning activity
December 2007
Act-B Recycling Co., Ltd
Cleaning activity
July 2007, March 2008
Welcoming visitors
All year
Visiting music club concert
All year
ECO-SYSTEM Okayama
Southern Okayama green road cleaning work
December 2007
Green Fill Kosaka
Welcoming visitors
Upon request
ECO-SYSTEM KOSAKA
Life forest (afforestation)
One a year
3S Activity
Twice a year
EL Electronics
DOWA Electronics Okayama
Asahikawa Adapt Programfs wide range cleaning work sponsored by the NOP
Irregular/ three or four times a year
Southern Okayama green road cleaning work
December 2007
Lake Kojima Blossom Corridor project
Irregular
Dowa Semiconductor Co., Ltd.
Akita Bay Environmental Conservation Council
April 2007
DOWA IP Creation Co., Ltd.
Eco voluntary activity
Twice a year
DOWA F-TEC Co., Ltd.
Contribution to local communities (cleaning local area)
Twice a year
MT Metaltech Co., Ltd.
DOWA Metal Co., Ltd.
Artificial pruning of Japanese cedars
March 2008
DOWA Power Device Co., Ltd.
Small kindness movement
Twice a year
Dowa Hightech Co., Ltd.
Plant visit by local OBs
August 2007
Local beautification promotion activity
Twice a year
New Nippon Brass Co., Ltd.
Cleaning of the Bizen Sewer River
December 2007
Hoei Shoji Co., Ltd.
Cleaning of the Tone river banks
April 2007
Cleaning road around plants
Three times a year
DOWA METANIX Co., Ltd.
Local summer festival
August 2007
Company visit by local elementary school students
October 2007
Local cleaning-up operations
Twice a year
TH Thermotech Co., Ltd.
DOWA Thermoengineering Co., Ltd.
Lake Hamana cleaning operations (Hamamatsu Plant)
One a year
Local cleaning activity (each plant)
Case by case
CEMM Co., Ltd.
Local cleaning activity
One a month
HD Holdings Akita
DOWA Techno Engineering Co., Ltd.
Participation in summer festival
Seven times a year
Cooperation with young people
October 2007
The DOWA group is engaged in various activities of planting flowers and trees together with local people in the land it owns or local public sites in Kosaka and Okayama where DOWAfs main business operations are located. We are going to introduce our main efforts in 2007.
Lake Kojima Blossom Corridor project in Okayama City - Letfs have 3,000 Kawazu cherry trees blossom together!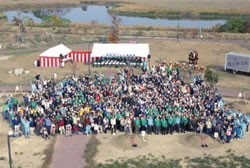 What is Lake Kojima Blossom Corridor project?
Baron Denzaburo Fujita, founder of the DOWA group, reclaimed the Kojima Bay to make a vast farm land and a artificial water lake (Lake Kojima) for irrigation in the southern part of Okayama City. This area has been developed to become one of the major residential, commercial and industrial areas in Okayama City now. It is the second largest base of the DOWA group, with 10 of its companies operating there.
Last April, the DOWA group started a project to plant 3,000 Kawazu cherry trees along the DOWA groupfs land and the public roads around Lake Kojima and adjacent areas. Kawazu cherry trees is famous that blossoms can be enjoyed longer and earlier than other cherry trees, as it blooms around mid-February and lasts about a month. We also planted mustards and cosmea plants around the cherry trees so that the visitors can enjoy flowers all year round to create a new landmark of natural environment and blossom corridor in the Okayama district.
¡Foundation of the Lake Kojima Blossom Corridor Supporters Club
Now 2,300 members participate in this activity and support planting and maintaining Kawazu cherry trees and flowers not only in and out of the local district, extending many areas of Okayama Prefecture.
¡We planted total 1,700 young trees last year on the first year of this project.
This year we held four tree planting ceremonies. Total of 1,500 supporters participated in these ceremonies. Every tree has a name plate of a person who planted that tree. We are planning to complete planting 3,000 young trees within three years.
¡We publish the circular report "Lake Kojima Blossom Corridor" six times a year and hold the Lake Kojima Blossom Corridor Charity Golf Tournament.
This project is contributing to the promotion of interactions and communications in local communities.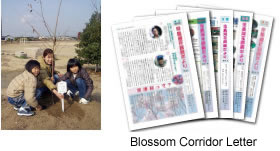 Local people, with strong aspirations of handing over sound and healthy environments to their children and grandchildren, and letting them know the importance of living things, gathered in this project to create a blossom corridor together with DOWA.
Afforestation to Create DOWAfs Home Forestsh, Kosaka-machi, Akita Prefecture - Tree planting ceremonies held in the land owned by DOWA together with local people
We endeavor to recover vegetation that was lost as a result of our past mining and smelting businesses in Kosaka, DOWAfs home town. Through tree planting ceremonies and forest classes we can help foster an eco attitude in local communities. Last year we held a large-scale tree planting ceremony at the former mine site, attended by 400 people, including local elementary school students and people from local communities together with DOWA employees.
We invited Professor Akira Miyawaki (Honorary Professor at Yokohama National University), a well-known botanist in Japan, to make natural forests that are specific to this area, planting 6,000 naturally grown hardwoods including beech, crispula, maple and rowan wood, etc.
These young trees planted by local elementary school students will be expected to grow to forests with trees about 8 m high in ten years, surviving harsh environment of this area. We will continue afforestation to create DOWAfs forests as part of our environmental activity aimed at the wonderful future of local children.
(Chairman Yosikawa planting a young tree with children in Kosaka)
(Professor Akira Miyawaki and Mr. Hiroshi Kawaguchi, Town Mayor of Kosaka)