Relationship with Society
The DOWA group conducts business, considering its relationship with stakeholders. We would like to introduce some of our initiatives aimed at sustainable growth of both society and business.
Feature DOWA Cup Jr. Cross Country Ski Festival - At Lake Towada To grow with local communities and their children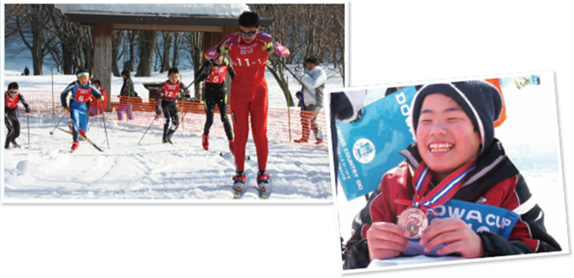 Every year we hold a DOWA Cup Towada Lake Junior Cross Country Ski Festival in Akita Prefecture.

The 20th Festival Held in Cooperation with Local Communities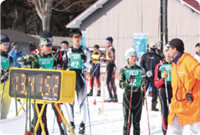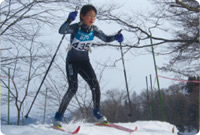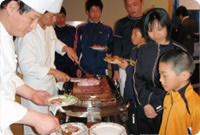 The DOWA Cup is held mainly by employees of the DOWA group and members of local ski clubs, but with support from many parties including administrations, educational institutions and other local people. This event is one of the largest ski festivals in Japan for elementary school and junior high school students. A past participant in this event was selected as a representative of Nordic combined skiing for the Vancouver Winter Olympics.
Total 526 elementary and junior high school students from three prefectures participated in this memorable 20th event this year. The event lasted for two days, including sprint (short distance), cross country, interscholastic relay by schools participating in the 20th Cup and a sit ski event by disabled people. Forty-one schools entered the interscholastic relay and they enjoyed exciting events on the pristine snow.
On the first day we held a traditional welcoming party to communicate with participants, their parents and local people. The MVP-the most valuable player-was given as a reward an invitation to the 30th Vasaloppet Japan to be held in Asahikawa, Hokkaido.
The DOWA group started this event, hoping to contribute to fostering of young people in local communities and for better communication with local people. We continue to promote sports activities rooted in local communities, responding to enthusiasm of skiers with support from and cooperation with local people.
About Sit Skis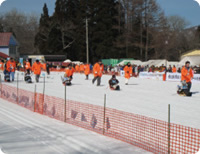 Although the Paralympics have raised awareness of sit skis, competitions for junior high school students have been seldom held.
In the course of organizing the DOWA Cup, it naturally came to our mind that all young people should be able to participate in the event and enjoy it whether or not they are handicapped. We considered how we could do that and the answer was sit ski competition. This year was the 4th sit ski competition that was held.
What is Sit Ski?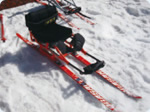 Sit ski is an official sport of the Winter Paralympics and devised as ski for disabled people who need a wheelchair to move around. A seat is attached on two skis and a skier use crutch outriggers to push and guide the sit ski. Nordic cross-country and biathlon are two sit ski events at the Paralympics. At the DOWA Cup, 100m sprint race is run.
Voice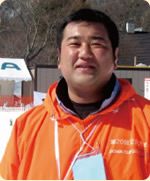 Takashi Kameda, DMS Kosaka
A race that anyone can complete
In the course of organizing the DOWA Cup, we first encountered sit ski. We considered what would be the best race in which any young people could participate in and enjoy whether or not they are handicapped. We found a wheelchair manufacturer in Chiba that makes ski sets and asked the company to make sit ski sets tailored for those handicapped children. Only four participated in the sit ski race for the first year, but in this 4th event 16 children participated and we needed to split them into 3 races according to age.
Place to grow together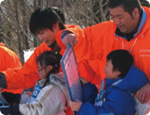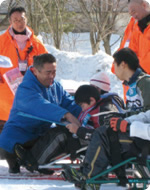 We put a system in place where one staff dedicated to each participant in the sit ski race picks up each player at their home and them brings them back. These experiences give us a very valuable opportunity to get to know children with different types and severities of disability. When they crossed the goal line, we felt so happy and tears came out of our eyes. We hope we could offer a place where any person can join and support each other, and to grow together.
Building on the sit ski
As we own more sit ski sets now, we lend them to the school for the disabled. We also hold training and exercise sessions for sit skis, where more handicapped children who cannot participate in races can enjoy skiing on a daily basis. We hope sit skis could offer those children an opportunity to enjoy sports and participate in outdoor exercises in winter. On the other hand, participating in sit ski races offers participants an opportunity to compete against one another and make efforts to win since records are taken and rankings are announced. One of the past participants is now challenging Alpine skiing. We hope the number of participants continues to increase.
Here are some of the voices from sit skiers for the past four years.
Player's voice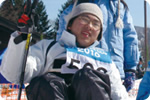 Shunta Kimura (junior high, 3rd year)
He participated in the 2009 Summer Sports Festival for the Disabled held in Akita Prefecture and won first place in the 100m and 200m wheelchair sprint (track and field) races.
I wasn't sure if I could do it for the first year (four years ago), but now I feel my skiing improved a lot. For me, the best thing is that sit ski has increased my shoulder muscles a lot. When I go to senior high school, I want to try archery.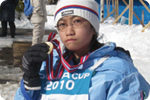 Mayuko Eno (elementary school, 6th grade)
She won the first place for sit ski this year. She also recorded good results in the past races held in Hokkaido.
I'm glad I started sit skiing, as I can participate in ski classes at school with my class mates. When I go to junior high school, I want to try ping pong competitively.
Since 18th Ski Festival, we have invited Mr. Eiji Nozawa, the silver medalist of the Paralympics, as a guest to teach school students before and after the sit ski races and to speak to them at the welcoming party.

Voice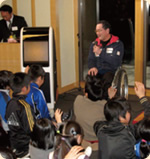 Mr. Eiji Nozawa
(former skier of the Nagano Paralympics)
I hope sit skiing could be a motivator for the disabled to start something new or to gain confidence in themselves and overcome difficulties. Some handicapped kids tend to stay home as they need a wheelchair to move around. Sports could offer those kids confidence and pleasure. Of course, race is challenging, but if disabled kids can move about in their wheelchairs 100m more today than yesterday, it makes a great difference in their lives. They can find something similar to sports just moving around in everyday life. If they can enjoy sports on a daily basis, that will enrich their lives greatly.
I became disabled in an accident when I was 30 years old. I tried very hard to overcome my difficulties and finally I won a silver medal as a skier in the Paralympics. I experienced cancer and subarachnoid hemorrhage, but I overcame them and I'm here. Dreams come true if you can make an effort for your dream. I hope the disabled kids will realize their dreams.
Sports have power to make people together beyond age, sex and handicaps. DOWA continues SCR activities, aimed at growing together and sharing pleasure and experiences with skiers and local people, not just giving one way support. We believe we can better accomplish our SCR if we can continue to hold the ski festival, which now is deep rooted in the area's local communities.