CSR Management
Management System
Corporate Governance
The DOWA group set forth the Dowa Group's Values and Standards of Conduct in order to make every employee is aware that a company is a public institution; comply with laws and regulations; and to take sensible course actions for the betterment of our society.
We also strive to ensure sound business management, focusing on enhancement of corporate governance through internal control and improve quality and efficiency of management to implement open, highly transparent management.

Internal control activities
To strengthen corporate governance, we encourage each company in the group to prepare a document titled "About Internal Control System," and to promote establishment and operation of each of those internal control systems.
As part of implementation and operation of internal controls, we also prepare written procedures and workflows on accounting; create visualization of workflows; identify risks of errors and unfair conduct; and observe and evaluate processes by internal audits. In 2009 we integrated overlapping audit activities to the extent not to impair the effectiveness of audits, and we improved the efficiency of audits.
We also conducted audit on overseas subsidiaries that newly joined the DOWA group by studying their standards of conduct, the conditions of their internal controls such as the regulation of their working environments and CSR activities in local communities. We continue to improve our corporate significance by further promoting internal control for risk management and more effective improvement of operations.
Voice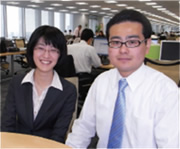 Accounting Department DOWA Management Service
Eri Nomi and Yohei Nishi
We have been engaged in internal control audit activities to ensure accuracy and adequacy of our financial reports required by the Financial Instruments and Exchange Act. Our work is not just point out errors and mistakes in ledger sheets. We feel it very difficult to fully understanding environments surrounding our business and workplace to ensure that the errors and mistakes we pointed out will be reflected upon and instigate an improvement in each section. Despite the difficulty, we feel that getting to know other sections and the specifics of their work will also help our section.