Relationship with Employees
Health and Safety
The DOWA group continues to offer educational programs on health and safety of workplace to employees and those of partner companies to raise awareness and prevent accidents. We also offer study sessions on risk assessment and accident cases in addition to various training and educational programs, especially in production-related departments where environmental and safety education is an absolute necessity.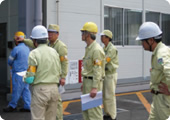 Safety patrols
In 2009 we offered safety cross patrol sessions and safety environmental compliance training sessions. Personnel in charge of safety patrols are trained under the idea that, "safety must be seen from the eyes of others." The compliance training sessions were offered to deepen understanding of ISO 14001 from the environmental standpoint.

The 2009 accident incidents at the DOWA group's bases of production
The 2009 frequency rate of the DOWA group's bases of production was compared to that of another company of a similar scale listed in the occupational accident statistics by the Ministry of Health, Labour and Welfare and the figures are 1.74 vs. 2.34. DOWA's severity rate was 0.04 compared to that of the other company of 0.14. DOWA's figures are all lower than those of the other company in the accident statistics.
Note: These rates are compared to those confirmed values of the accident statistics in 2008 for a company with 100 to 299 employees.
Compliance
Aiming at making a safer and more comfortable working environment, we set up the DOWA Hotline Desk and advertised its availability through in-house posters. The DOWA Hotline Desk is open even for customers and partners so that we can build up sound relations with those outside our company.