Environmental Management
Our Efforts toward Biodiversity------------------------------------------------------------------------------------
Kosaka Town, Akita Prefecture Biodiversity Survey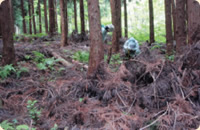 Thinned zelkova trees:
a pile of thinned branches and twigs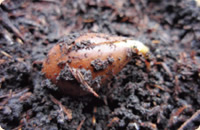 Japanese oak seedlings taking root
under a pile of dead twigs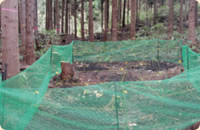 Setting up an area for experiment
The DOWA group is promoting forest management and afforestation activities in order to create flourishing forests. The forest management activity includes pruning and thinning at the Japanese cedar plantation that DOWA owns. Afforestation activities includes tree planting at Mt. Karami near Kosaka Smelting and Refining and planting broadleaf trees such as Japanese oak (Mizunara) and zelkova trees in the forest with only a single species of locust trees in Kosaka.
In 2009, in addition to existing activities, we started a vegetation management experiment to review our forest management method, taking biodiversity into consideration.
In this experiment, we consider proper management method that corresponds to the ways of nature, aimed at making this zelkova plantation a mixed forest with broadleaf and conifer trees, where Japanese oak and zelkova trees spread in multiple canopies to form a forest with biodiversity.
Plant seeds are blown by wind or eaten and carried by birds and animals to distant places. There, they rest in the soil, waiting for the optimum timing to pollinate as buried seeds. In this experiment we observe the conditions of their budding and growth in the zelkova plantation to identify optimum methods for forest management, using natural methods that take less time.
The DOWA group strives to make Kosaka area a place with biological diversity where variety of creatures can live together.
------------------------------------------------------------------------------------------