Relationship with Society
Working together with Local Communities
The DOWA group is engaged in various activities to contribute to local communities and grow together as a member of society. Each company of the DOWA group actively participate in activities that are rooted in each community, including: sponsorship for tree planting festivals, afforestation, visits to plants, dialogues with stakeholders, promotion of sports.

TOPICS------------------------------------------------------------------------------------
The First Lake Kojima Blossom Corridor Cherry Blossom Festival was held.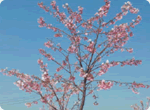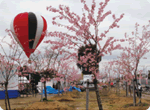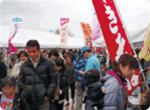 Baron Denzaburo Fujita, founder of the DOWA group, promoted reclamation of the Kojima Bay. Lake Kojima is a fresh water lake that is a product of his passion. In 2007, the DOWA group started a project to plant Kawazu cherry trees along Lake Kojima and areas around the lake, and planted a total of 3,900 trees so far, in collaboration with local supporters. Each tree has a nameplate of its sponsor and that sponsor takes care of the tree. In this way we can work together with local people.
In March 2010, the first Lake Kojima Blossom Corridor Cherry Blossom Festival was held in cooperation with local neighborhood associations from 9 school districts in the southern part of Okayama City. In the venue of Blossom Corridor Golf Course, visitors could try a flight in a balloon and enjoy food from food booths. More than 10,000 people visited the festival. A total of approximately 700 people, including DOWA employees and local people participated in the festival as steering staff, food booth operators, musicians and baton twirlers. The festival offered an important opportunity for human exchange and communication.

Biodiesel Okayama Co., Ltd of the DOWA group promotes recycling of used cooking oil with Okayama City as part of ecological activities with local communities. Biodiesel Okayama participated in the festival and asked visitors to cooperate with collection of used cooking oil. Approximately 300 visitors brought used cooking oil with them and they were presented with a gift of flowers or plants. Approximately 100 liters of used cooking oil collected were recycled to biodiesel fuel, which ultimately was used for running the garbage trucks in Okayama City.
Lake Kojima Blossom Corridor Supporter's Club
http://www.dowa.co.jp/kojimako-hana-kairo/supporter.html
"Kojima Lake Flower Corridor Supporters' Club" was selected as Person of Merit for Cherry Blossoms in April 2009. Japan Cherry Blossom Association offers the Person of Merit for Cherry Blossoms award to an individual or a group who has contributed to preservation, cultivation and research of cherry blossoms. The association recognized planting and fostering activities of Kawazu cherry trees by the supporters' club.
Japan Cherry Blossom Association http://www.sakuranokai.or.jp
The 3rd Kosaka Home Town Afforestation Planting Ceremony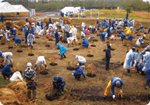 In October 2009, approximately 300 people including DOWA employees, retired former employees, and local elementary school students gathered to a site DOWA owns in Kosaka town in Akita Prefecture and planted 1,500 saplings of 12 different species.
Visit to Biotope Type Waste Disposal System, "Bio Palette"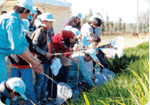 In November 2009, we arranged a visit for elementary school students to our biotope waste disposal system, "Bio Pallete" that are installed in DOWA Hightech in Saitama Prefecture and also our plant. Approximately 40 students and their parents visited "Bio Pallete" and our plant. They observed creatures such as Japanese rice fish and dragonfly larva using a microscope.
------------------------------------------------------------------------------------------