Environmental Management
The DOWA group positions its commitment to environmental conservation as important issues in conducting our business. We prepared the Basic Environmental Policy and positions and we promote this policy as the basis of our business activities across the entire group.
We must engage ourselves in environmental and social efforts and at the same time we must reduce the load on the environment caused by our business activities. That is, we will create economic value while pursuing environmental conservation.
Eco-management System
The CSR Department of DOWA Holdings Co., Ltd. is promoting the DOWA group's environment management activity in partnership with the planning office of each operating company that is in charge of environmental conservation. DOWA Holdings is responsible for environment management and compliance control of the DOWA group in addition to coordination and adjustment among operating companies.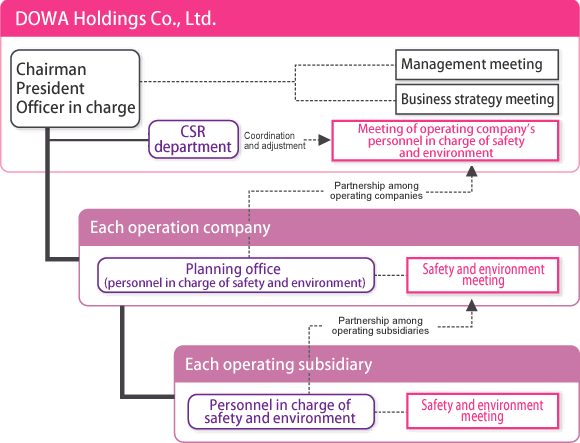 Implementation Status of Environment Management System
Thirty-four business establishments of our main production bases in the DOWA group (and six outside of Japan) are ISO 14001 certified. Dowa Tsu-un Co., Ltd. attained the Green Management Certification to promote environmental conservation in the trucking industry.

Conducting Environmental Audits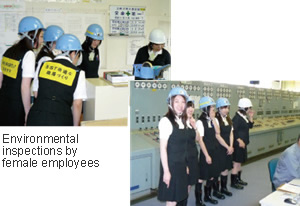 The DOWA group conducts periodic internal and external audits for proper environmental management. In internal audits, we also conduct cross-checking to deepen our understanding of the objectivity of audit and the environmental management system. Also we offer our internal auditors training courses to foster the development of our internal auditors and increase their number.
In Akita Zinc, female employees go on inspections so that their viewpoints can be reflected in the workplace.
Environmental Education
We strive to raise employees' awareness of the environment and enhance their abilities in reducing environmental impacts by actively promoting the instruction of our environmental management system (EMS).
We are also actively engaged in environmental education in each of our businesses, including participation in training for ISO 14001 certification inspectors, lectures on how to pass the examination to be a pollution control manager (Eco-System Okayama), training on environmental compliance (DOWA Hightech) and participation in eco-technology study sessions by Okayama City (Eco-System Okayama).
The "Summer Environmental Event for Families" following the theme of Biological Diversity was held by the CSR department of the DOWA head office during the summer vacation, aimed at raising awareness of employees on the environment and promoting understanding and enlightenment of their families.
E&E solutions, Inc., promoted the activity called "Eco activity you can do in-house and at home" to encourage employees to think about the environment at home.
Column------------------------------------------------------------------------------------
Environmental Education Aimed at the Next Generation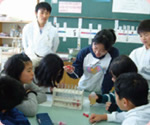 Odate Exciting Science Project
The DOWA group puts much effort on environmental education targeted for the next generation in addition to that for employees.
In 2009, DOWA Eco-System and Eco Recycling taught subjects on the environment or science in elementary school classes in five elementary schools in Odate City, in cooperation with one of the educational support projects by the Ministry of Economy, Trade and Industry, where professionals teach students (Odate Exciting Science Project). The subjects were "Humans and the environment" and "Properties of water and its function." We also actively accept local elementary, junior and senior high school students' visits to our plants. We offer lectures on the environment and provide them with work experiences.
------------------------------------------------------------------------------------------