To Carry out Responsibility as a Cooperate Citizen
Society

The DOWA group recognizes that explaining corporate and business management information to our stakeholders including shareholders and investors is one of the important points in terms of our corporate governance and we are committed to timely and proper disclosure of the information.
Our management holds results briefings on quarterly basis. We also offer opportunities to communicate with both Japanese and international investors directly on our business information. We try to make proper and highly transparent disclosure of information, by publishing our annual report and IR reports in Japanese, English and Chinese.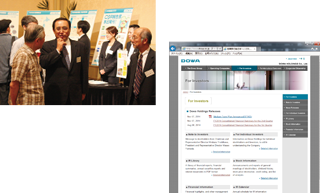 General Shareholders' Meeting
The DOWA group holds a general shareholders' meeting in June at the Four Seasons Hotel Chinzanso, Tokyo every year and approximately 500 shareholders attended the meeting in 2013. After the meeting we hold a party so that we can better communicate with shareholders and they can talk to our directors. We have a booth at the venue exhibiting our products.
DOWA HD website (IR Information)
Information on DOWA Holdings is posted in this website in an easy-to understand way to our shareholders and investors.

The DOWA group set up a Great Eastern Japan earthquake reconstruction team in Sendai City in May 2011 as part of our support initiative for the earthquake and has been supporting disposal and decontamination of wastes from the disaster. Each business entity continues support activities in 2013. Following are some of the examples:
Support for the Mobile Library Project with Our Original Eco Bag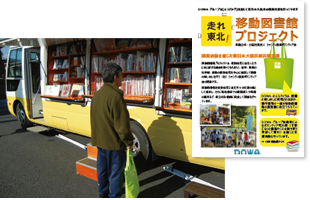 The DOWA group supports activities of the Shanti Volunteer Association that operates mobile libraries in areas affected by disaster. These mobile libraries deliver books and provide opportunities for communication to the temporary housing in Miyagi Prefecture and Fukushima Prefecture in addition to the drastically affected area along the coast of Iwate Prefecture. The DOWA group delivers a CSR report to shareholders in an eco-bag at the Annual General Meeting of Shareholders every year, so we used these original eco-bags for the visitors to put the borrowed book from the mobile libraries, Part of the expense for production of these eco-bags were donated.
Support for the Great Eastern Japan Earthquake
Miyagi Child Raising Fund at the In-house Bazaar.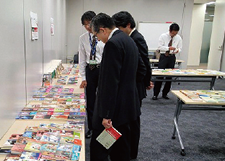 E&E Solutions, Inc. has been supporting reconstruction from the earthquake since 2011. All employees participate in the support activities for the affected people with their own initiatives. In 2013, they brought in used books and held an in-house book bazaar for two days. They gathered more than 500 books for the bazaar and many employees visited the bazaar. The money was donated to the Miyagi Child Raising Fund together with the monetary donation from the company for orphans from the earthquake.

The DOWA group positions contribution to local communities as a focus measure in our relationship with society. Every business establishment both in and out of Japan are actively participating in CSR activities including: participation in local get-togethers for communication and tree planting festivals, sponsorship and support for sports events, accepting visitors and interns to our plants, sponsoring various sports events, aimed at growing together with local communities.
Our Activities in 2013
Sponsoring Local Events
| | |
| --- | --- |
| July | The seventh Kosaka Household Town Afforestation Planting Ceremony and the "Akita Northern Happinets" basketball clinic (Akita Prefecture) |
| November | The 3rd Kojima Lake Blossom Corridor Exciting Health Marathon (Okayama Prefecture) |
| February | The twenty-fourth DOWA Cup Jr. Cross Country Ski Competition at Lake Towada (Akita Prefecture) |
| March | The 5th Kojima Lake Blossom Corridor Cherry Blossom Festival (Okayama Prefecture) |
In addition to the above mentioned we take part in a wide range of activities rooted in local communities, including: cleaning of public spaces, planting trees, cooperation with traffi c safety campaigns, and voluntary participation in local festivals and sports events by employees.
Corporate Visits
Company visits by high school students on their school excursion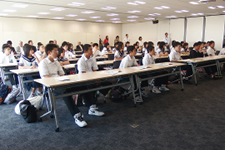 Thirty-nine third graders of Kosaka Jr. High School, Kosaka-machi, Akita Prefecture visited the headquarters of DOWA in Tokyo in May 2013 on their school excursion. The educational goal of the school is to, "grow up strong, spiritually rich, communicate with friends and nurture dreams." The school sends students on their school excursion to companies where the graduates of the school work to deliver a presentation on a predetermined topic as part of its social education. DOWA, being a locally oriented company, was chosen for this in 2013.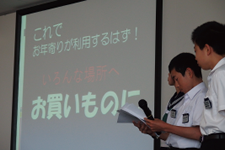 After a briefing session and visiting inside the building of the headquarters, the students delivered the group presentation on the topic of, "How do we want to change Kosaka-machi in ten years' time?" Their ingenious presentation was full of ideas to make their hometown better. Kosaka- machi was the place of foundation of the DOWA group. In addition to the DOWA's main plant of Kosaka Smelting and Refining, many of our business entities engaged in environmental and recycling business gather there. We learned and were stimulated a lot from those next generation students who have concrete ideas on the future of their town.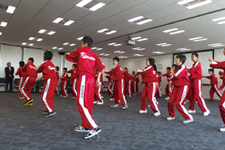 After the presentation, all students performed their original dance named "ONE". It was an excellent performance like a professional. A Hip Hop teacher of the school choreographed the music composed by Mr. Jiro Oma, a musician of famous Japanese Pop group "Off Course".
We will continue to accept visits of students as part of our support for school education to make students understand what companies are.
Evaluation from Society
"Contribution to Beautifying Local Environment Award"
to Kojima Blossom Corridor Supporters Club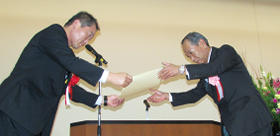 Bizen Citizen Bureau of Okayama Prefecture conferred the "Contribution to beautifying Local Environment Award" to Kojima Blossom Corridor Supporters Club in November 2013. Planting Kawazu cherry trees (4,703 trees) and spider lilies (120,000 bulbs) together with local people was recognized as contribution to environmental improvement along Lake Kojima in Okayama City. We will continue those activities to beautify and revitalize local communities through events such as the Blossom Corridor marathon race.