DOWA Electronics Materials started its business through development of new applications of diversified metal by-products that were collected in mining, refining and smelting business and making them into very fine powders with very high purity. Electronics Materials is now developing them for advanced electronic appliances, providing materials for semiconductors, conductive and magnetic materials that require high performance and function. DOWA accounts for a large share of these materials in the world.
Business Fields
Semiconductor
business
Electronic materials
business
Functional materials
business
Main Products and Services
Highly pure gallium, indium, compound semiconductor wafers, LED, silver powder, copper powder, silver oxide, metal powder, Carrier powder, ferrite powder, etc.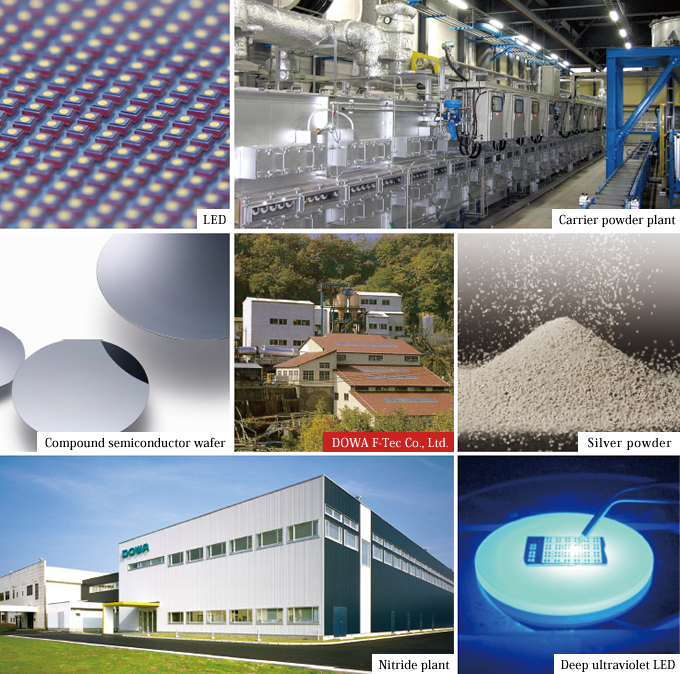 <Introduction of one of Main Plants of DOWA Electronics>
World Top Magnetic Property
Using Ferrite Powder for Bonding
Magnetic ferrite is indispensable for manufacture of automobile and electric appliances. We are leading the world by deploying advanced technologies gained in our long history of making ferrite powder. We respond to the global needs for high performance products and innovative applications with our world's top technology of ferrite for bonding.
DOWA F-Tec Co., Ltd.
Address : 1045, Kichigahara, Misaki-cho, Kume-gun, Okayama 708-1523
Employees : 36 (As of March 31, 2014)
Contributing to Automobile Environmental Performance
with Its Proprietary Technology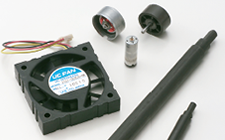 DOWA F-Tec uses hard ferrite powders for bonding magnets suitable for use mixed with resin. The powders are widely used for magnet rollers of printers and copying machines and for magnets for motor sensors of automobiles and home appliances. They have more advantages compared to the universally used sintered magnets in that it has:
1. More precise dimensioning
2. More flexible shaping
3. Hardly cracked or chipped
These properties enables them for use in an electrically driven water pump that is used for cooling engines of eco-friendly cars such as hybrid automobiles. Casting into one form enables to reduce the number and volume of pump parts to achieve a smaller size and less noise. Smaller size resulted in better fuel consumption and reduction of CO2. Many motors and sensors are installed in automobiles for high environmental performance and comfort. F-Tec will continue to contribute to developing comfort and environmental performance through ferrite technologies.
Our Challenge for Energy Reduction
through Heat Recovery System of Our Own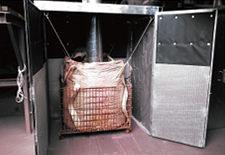 Ferrite powders are made by heating ferric oxide and then making them react with alkali earth metals. This process requires a large amount of fossil fuel, which causes a major problem in terms of energy saving and reduction of CO2. To solve this problem, F-Tec has developed its own heat recovery system to recover heat to the maximum extent.
There were a variety of problems to solve at the start of development; however after repeated trial productions and improvements F-Tec started the full operation in the summer of 2013. The system recovers exhaust heat made in the process of treating raw materials under high temperature. This heat is used to preheat combustion air required in the other process, resulting in less fuel consumption. It is also used to dry the sediment recovered from effluent and this action contributed to reducing wastes from production. Combination of F-Tec' s creative and innovative mind-set and manufacturing technologies enabled energy saving and reduction of CO2.

<Development Department>
Yasunobu Mishima, Department Manager

Ferrite powders developed and manufactured by F-Tec are only used for compound that is mixed with resin. Developing ferrite powders with high flow properties using particle size distribution and particle shape control technologies enabled dense filling and high orientation (higher magnetic intensity brought by aligning orientations of crystal faces) improved by approximately 20%. These powders are now being used in the fields where only ferrite sintered magnets and rare earth magnets can be used. We will try to widen the possibility of ferrite powders through continuous improvement.

<Production Department>
Hideki Katayama, Department Manager

A large amount of heat and electricity are used for reaction and crushing in the production process of ferrite powders. Not only the cost but also the environmental burdens could change, depending on how effectively energy is used. In addition to the improvements in heat recovery we made last year, this year we will try to improve our quality control system by further achieving energy savings. to meet the increasingly rigorous demands from customers. We would like to remain a company that can contribute to society, by manufacturing world-leading products both in cost and quality while reducing environmental burdens.

Risk Assessment Initiative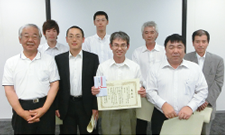 DOWA F-Tec is committed to improving workplace environment by our risk assessment method of sampling and improving hazardous facilities and equipment, and endeavors to achieve employees' safety. In June 2013 F-Tec's "Measures Preventing from Being Caught in and Stuck in when Demineralized Pellets are Recovered and Returned from Bucket Conveyers" was awarded as the best measure among 69 applicants in the DOWA group's risk assessment presentation. We will continue to make improvements, aimed at achieving safety workplace without any accident or disaster.