Raising the Level of Safety Activity across the Group
Safety
Our Efforts for Occupational Health and Safety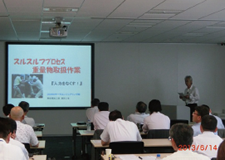 Risk assessment presentationWe had offered "Joint Cross-Checking Safety Patrol" sessions, safety environmental compliance seminars and risk assessment presentations jointly with our business entities in Japan every year on a periodic basis and promote safety activities throughout the whole Holdings group even before the this Safety Activity Project started.
Our activities in Japan
Environment and Safety Compliance Seminars
We strive to raise awareness of employees on the environment and safety through Compliance Seminars for safety and environment by outside lecturers, through case studies of environmental accidents of other companies, and role-play exercises of environmental accidents. These compliance seminars have been held since 2010. In 2013 we held them at four places and a total of 81 persons participated.
| Place | Date | No. of Participants |
| --- | --- | --- |
| Eco-System Chiba | July 27 | 23 |
| Eco-System Sanyo | September 10 | 13 |
| Kosaka Smelting and Refining | November 28 | 30 |
| CEMM | January 22 | 15 |
Details of 2013 compliance seminars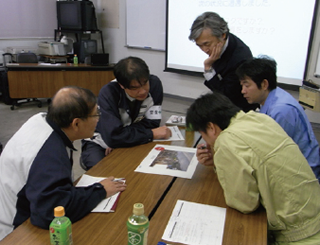 Environmental safety compliance seminar
Joint Cross-Checking Safety Patrols
Joint safety patrol sessions are held jointly with our business entities in the Northern, Kanto, Chukyo and Western districts in Japan once a year as a rule. We try to raise the safety level of each establishment and increase sensitivity to risks of participants in safety patrol by identifying un-safe situations and behaviors from the third party's viewpoint. This patrol is organized beyond the boundary of an operating company to which each business belongs. Sixty-one participated in the patrol in 2013.
| Place | Date | No. of Participants |
| --- | --- | --- |
| Eco-System Chiba | August 23 | 17 |
| Kosaka Smelting and Refining | September 19 | 13 |
| DOWA Hightech | October 29 | 17 |
| Handa Plant, Thermotech, | December 17 | 14 |
Description of 2013 safety patrol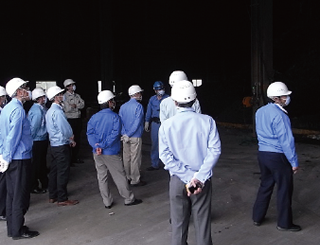 Joint Cross-Checking Safety Patrols
Our activities outside Japan
The DOWA group promotes safety activities also outside Japan, especially in Asia where our presence has increased dramatically. We promote exchange and communication on safety activities among our business entities outside Japan, especially in Thailand and China.
Thailand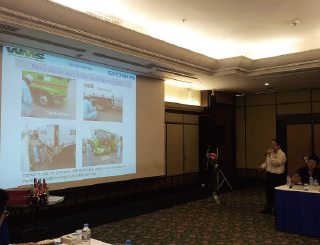 DOWA Safety Award in Thailand
The four operating companies of the DOWA operate in five different places in Thailand, where many industries gather as a major marketplace in South East Asia. Safety activities similar to those in Japan also started as a joint activity of all five companies in Thailand. Each company organizes joint safety patrol and holds safety related conferences in turn. Local employees in charge of safety have built a human network beyond the boundaries of the company they belong to. Concluding the activities of last year, a conference to present the results of safety activities called "DOWA Safety Award" was held in a hotel in Bangkok, Thailand. Some applications for this award were from Indonesia and China. All participants rated the presentations and top three were awarded. We shall continue to promote exchange and communication programs among those companies and we are committed to raising the level of safety all over Thailand.
China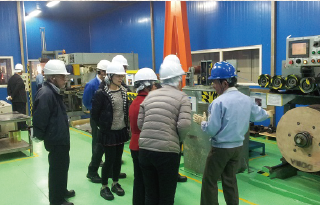 Joint Cross-Checking Safety Patrols (China)
The DOWA group has seven business entities in China. They have held the "Safety Conference in China" in turn two or three times a year since 2011. The management and employees in charge of safety in all DOWA businesses in China participate in the conference. There they deliver presentations about joint safety patrols and recent cases of accidents from each company and discuss the problems. The CSR department of DOWA Holdings sent people to the conference in 2013 and delivered a presentation on the safety activities in Japan and exchanged opinions with local employees. We will further promote exchange programs on common issues and concerns among all of those companies and joint study session for local employees.
Status of Occupational Accidents
[2013 accident incidents at the DOWA group's production sites]
The frequency of accidents at DOWA group's production sites was compared to that of other companies of similar scale listed in the occupational accident statistics by the Ministry of Health, Labor and Welfare. DOWA's frequency rate was 1.30 compared to that of the 2.89 of other companies and the severity rate was 0.06 which other same scale companies was 0.28, which showed that the accident rates were lower than the same scale companies.
Note:
These rates are compared to those confirmed values of the accident statistics in 2012 for a company with 30 to 99 employees (average number of employees in each one of DOWA group's production bases).
Evaluation from Society
The Industrial Safety and Health Administrator Award for Groups Conferred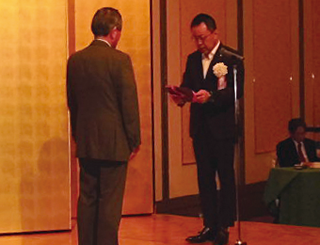 DOWA Okayama (9 operating subsidiaries in the same site) received the Group Industrial Safety and Health Administrator Group Award from the Okayama branch of the Okayama Labor Standards Associations in May 2013. The DOWA Okayama was awarded because there were no occupational accident occurred in 2012. Also recognized was its contribution to preventing labor accidents in constituent production sites, including presentation on supervisor education by a unique curriculum and studies on risk assessment of shipment of fuming sulfuric acid in the National Safety and Health Conference held in Toyama that the company delivered last year.
The Labor Standards Associations Chairman Award for Individuals Conferred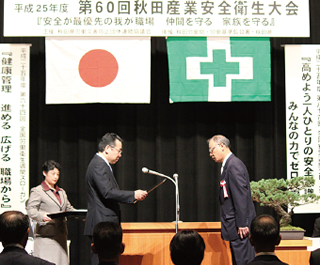 The 60th Akita Industrial Safety and Health Conference was held in October 2013. Mr. Sato, Work Group Leader, Production Department, Akita Zinc Solutions received the Labor Standards Associations Chairman Award for Individuals. Mr. Sato, in charge of safety and health has been engaged in planning and implementing the annual activity plan since 2002. He has been promoting safety education such as risk assessment to employees enthusiastically and endeavored to prevent accidents. His dedication is the reason of the award.