To Carry out Responsibility as a Cooperate Citizen
Society
Relations with Society
The DOWA group promotes communication with major stakeholders including our customers, shareholders, investors, partners, local people and employees using various tools in each business entity and department.

The DOWA group endeavors to contribute to realization of a better society and also making good relationship with our customers through our products and services. We strive to improve satisfaction of our customers by providing products and services of high quality.
Quality control
The DOWA group positions "quality" as the core of our business in manufacturing products. The group's major plants obtained the ISO9001 certificates, the international standard on quality management system. We endeavor to improve quality of products and services by continuously operating this quality management system based on PDCA (Plan Do Check Act).
Technology Center
Products provided by DOWA range from smelting to powdering, plating, semiconductor, heat treatment and recycling. We must respond to defects, improve quality and develop new products with high level evaluation technology to maintain top class quality in each area mentioned above. For this purpose, we have a technology center within each business entity with advanced analytical and evaluation facilities and human resources to conduct chemical analysis, surface analysis and physical property evaluation.
Contact and Response to Comments and Opinions
We make improvement responding immediately to opinions and comments from our customers and strive to offer products that satisfy them. We put the information sharing and management system in place, classify, analyze and evaluate information collected from each entity for improvement and development of products and services.
Technology
Our clients are assemblers who assemble parts and components as end products or those who manufacture parts and manufactures who manufactures components required for assembling. We endeavor to provide technology in advance of needs from our clients, looking ahead of future markets of our clients and future needs of consumers.
[ Technical Areas and Element Technologies of the DOWA Group ]
In our business management policy we set forth that we positions our cutting-edge technologies as the main driving force of our business. We seek for technologies that strengthen our competitiveness. We believe that R & D is one of the most important corporate differentiation strategies.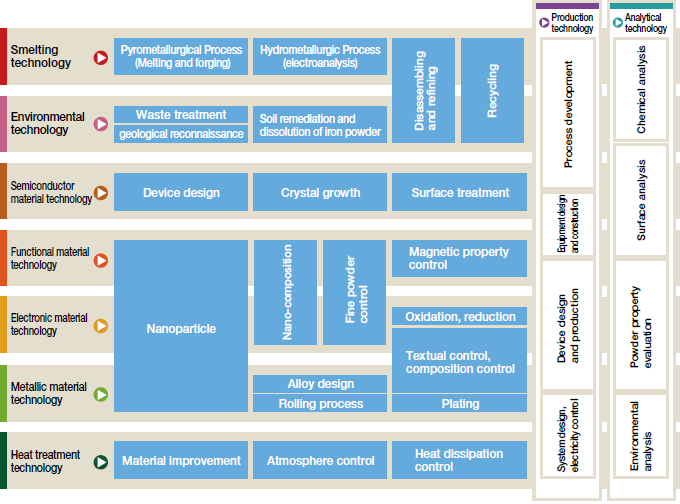 Evaluation from Society
The Japan Institute of Metals and Materials
Technical Development Award Received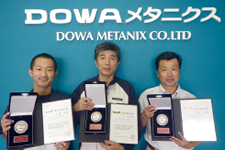 The technology center of DOWA Metaltech received the Technical Development Award by the Japan Institute of Metals and Materials for "Development of the Technology to Control the Texture of Precipitation Hardening Copper Alloy" in September 2013. The institute is one of the largest in Japan for materials. Every year this award is given to excellent new technologies and products selected among applicants who submitted articles on their new technologies and products. This control technology of texture is an important technology to improve trading-off properties to achieve strength versus workability required for copper alloy used for connectors of electronic parts.