Relations with employees
Developing Human Resources
We put up the basic philosophy of developing human resources that talents and skills of individual employees will expand in two directions; a horizontal - behaviors and vertical - goals.
Targeted at all the employees of the group (employees, leaders, managers, the management), we design and offer educational programs fitting each employee.
DOWAfs programs to develop human resources
- Educational programs are designed with four goals. -
–Ú•W1
To develop human resources with high level of expertise
The training will be gradually shifted from risk management to increasing profits.
In 2008, we implemented a program to combine marketing and creation of new business. Our next goal is how to make new employees to put their knowledge acquired through the training into practice. It is also our goal to make the contents and output of the training as close as to actual practice.
–Ú•W2
To enhance onsite power
We strive to support jobs at the forefront of production, sales and development and to promote education to enhance corporate competitiveness including cost accounting, patent law, statistical quality control (SQC). Also we support improvement activities of each group company and offer them consulting.
We also continued offering an onsite improvement program to leaders in the forefront and future core employees in 2008. We also prepared teaching materials that can be used onsite and skill maps that can be used across the company.
–Ú•W3

To make new recruits independent in three years
For half a year after joining the company newly recruited employees receive training at production sites. Reflected in the training is the philosophy of the DOWA group to make them think onsite and nurture them with patience. They are designed for new employees to develop an eye for the forefront and actual products, find issues from actual problems on site and develop ability to find solutions for improvement.

In 2008 we endeavored to offer training focusing on autonomy and well-thought action. In addition to lecture style learning, mutual enlightening learning is added to the training styles that include brainstorming and group work. Among others we enhanced programs related to manners and communication.
–Ú•W4

To nurture the next generation management candidates
It is intended to select and nurture human resources who should move up from the manager level to the management team.

We launched and were operating a training session titled as gBusiness Leader Training Courseh since 2007, but in 2008, this session was only offered to the top managers in the forefront due to renewal of the contents of the training.
Topics of 2008
Training of Newly Recruited Employees
Renewed or added items from the previous year
Training to improve work skills was added - manners, communication, greport, communicate and consulth, and career planning
Staff orientation period was extended - from one month to two months
Training by comparing plants was terminated.

Purpose of renewal and addition
To become familiar with front positions - greeting, manners, reporting, communication and consulting
To implement proposed improvement plans and confirm their effects
To get to know one plant thoroughly
In the 2008 training of newly recruited employees, we tried to offer training focusing on making a basis of personal growth by own capacity. Key ideas focused on in the training are gaccumulating small successesh and gautonomy.h
Many brainstorming and group work sessions are included in the training programs. The purpose of the training programs is to learn from mutual experiences and recognize some important points from each experience and make them as part of his/her own. Therefore, we enhanced the programs related to manners and communication, which are the basis of mutual learning. As we consider training courses and on-the-job training to be very important to put the knowledge gained through training into practice, we try to create an environment where newly recruited employees can put their knowledge into practice as a routine basis.
As a result, complaints such as bad manners or improper conversation, against our newly recruited employees were prevented. We believe we were able to train newly recruited employees so that they could smoothly integrate into their work environments.
CSR Seminar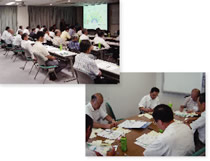 Seminar scene
Mini-workshop
The CSR department held a lecture session for the management on changing CSR environments and best practices of CSR, by inviting President Peter D. Pedersen of E-SQUARE as a lecturer of the Top Seminar in July.
We also held a mini-workshop titled as gEnvironmentally-Conscious Business Management of the DOWA grouph and discussed the future CSR image of the DOWA group in five to ten years through the SWOT analysis.
The lecture was a good educational opportunity not only for the management who participated in the lecture but also for the CSR department that planed the lecture.
DOWAfs Work Life Balance
What is DOWAfs work life balance?
The DOWA groupfs work life balance is positioned as aiming at both gImprovement of Skill and Engagementh and gWork Life Balance.h
Through our gengagementsh in life, linking with various HR systems, we strive to create the working environment where every employee can actively participate in his/her work and improve his/her quality and quantity of performance, and to continue to create a commendable cycle of contributing the growth of the DOWA group.
Our Efforts for 200 8
- Towards Realization of the DOWA version of Work Life Balance -
Details of the Accumulated Annual Paid Leaves System
For Sick Child Care
Employees can use this system when they need to take consecutive five days of leave for taking care of their sick children of preschool age. This system only applies after all the days of leave in the Child Care System have been exhausted.
For Disaster Restoration Voluntary Support
Employees can use this system up to five days a year when they participate in support activities disaster relief set by national or regional public organizations without pay in case of large scale natural disasters including earthquake, typhoon or eruption.
We continue to implement and steadily promoting our efforts of proper management of working hours and effective working as part of work life balance engagement.
In 2008 we started our work life balance efforts to expand the scope of requirements that allows expired days of the annual paid leaves of the gAccumulated Annual Paid Leaves Systemh and take leaves for sick child care or a disaster restoration volunteering.
We are committed to creating a strong base on which every employee can build his/her future career and improving organizational structures and promoting activities to help to create an open workplace where both long-time and newer employees can communicate and cooperate with one another.
Health and safety
The DOWA group offers educational programs on health and safety of workplace to employees and those of partner companies to raise awareness and prevent accidents.
We also offer study sessions on risk assessment and accident cases in addition to various training and educational programs, especially in production-related departments where environmental and safety education is prerequisite.
Frequency rate and severity rate
The 2008 severity rate of the DOWA group production bases was compared to that of another similar-scale company listed in the accident statistics and the figures are 0.65 vs 2.61. DOWAfs frequency rate was 0.02 compared to that of the other company of 0.16. DOWAfs figures are all lower than those of the other company in the accident statistics.
Note: These rates are compared to those confirmed values of the accident statistics in 2007 for a company with 100 to 299 employees.
Compliance
DOWA Hotline Desk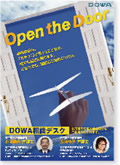 Aiming at making a safer and more comfortable working environment, we set up the DOWA Hotline Desk and advertise the desk through in-house posters.
The DOWA Hotline Desk is open even for customers and partners so that we can build up sound relations with outside our company.