Environmentally Conscious Business Management
The DOWA group aim to attain a sustainable society by reducing environmental loads and conserving the environment. This can only be achieved by balancing our environmental conservation activities with our business activities. We must engage ourselves in environmental and social efforts and at the same time we must reduce the load on the environment caused by our main business activities.
The DOWA group will contribute to build sustainable society by promoting environment-conscious business management.
Eco-management System
The CSR Department of DOWA Holdings Co., Ltd. is promoting the DOWA groupfs environment management activity in partnership with the planning office of each operating company that is in charge of environmental conservation. DOWA Holdings is responsible for environment management and compliance control of the DOWA group in addition to coordination and adjustment among operating companies.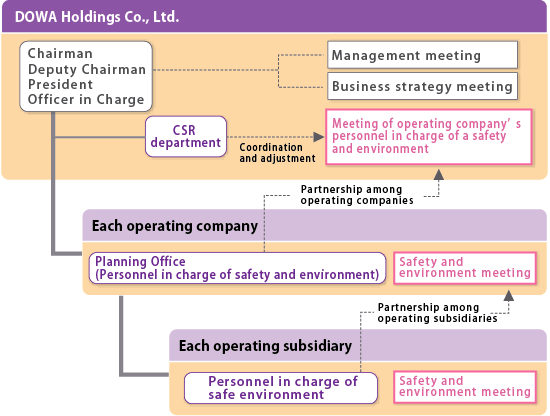 Implementation Status of Environment Management System
Twenty-seven business establishments of our main production bases in the DOWA group (and one outside of Japan) are ISO 14001 certified. Dowa Tsu-un Co., Ltd attained the Green Management Certification to promote environmental conservation in the truck transportation industry.
Conducting Environmental Audits
The DOWA group conducts periodic internal and external audit for proper environment management. Also we offer our internal auditors training courses to foster and increase their skills.
Environmental Education
We strive to raise employeesf awareness of the environment and enhance their abilities in reducing environmental impacts by actively promoting education of our environment management system (EMS). We are also actively engaged in environmental education in each of our businesses, including participation in training for ISO 14001 certification inspectors, and lectures on energy-saving technologies (New Nippon Brass) and reduction of external risks associated with transportation/study sessions of drivers (Eco-System Recycling Higashi-Nihon) and participation in eco-technology study sessions by Okayama City (Eco-System Okayama).
R&D
The DOWA group regards the environmental field as one of the main fields of business, and is now actively promoting the R&D relating to environment to develop advanced, unique technologies, in addition to strengthening of existing core businesses of waste management, recycling and soil remediation.
Topics
Disposal of Waste Containing Heavy Metal with Moss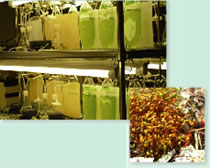 Cultivation of hyoutan-goke moss
Hyotan-goke moss
We are now developing heavy metal waste disposal facilities using moss jointly with RIKEN, RIKEN, an independent administrative institution. gHyoutan-gokeiFunaria hygrometricajh,a moss species, accumulates lead, which is a hazardous heavy metal, in its body. As these facilities do not use chemicals required for existing heavy metal waste disposal, significant cost reduction can be expected. We are also aiming at developing future technologies to recover rare metals (precious metals) that are necessary for high technology products including automobiles and cell phone.
Waste Disposal of Selenium by Electrolysis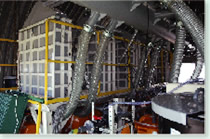 Pilot experimental waste disposal facilities of selenium
It is known that purification of waste containing highly hazardous selenium is very difficult using existing disposal methods.
At the same time, a large amount of sludge generated in the course of wastewater treatment is one of the reasons of the increase of the final disposal cost. Jointly with Akita Prefectural University we succeeded in the full scale experiment of an electrolysis method using oxidized titanium electrodes. This method enables to recover selenium as a metal and recycle it. This method consumes less power and generates fewer residues.