We distributed our CSR reports to our stakeholders including shareholders, investors, partners, customers and local people at the general shareholders' meeting, exhibits and environmental events. In addition, we also post all of our CSR reports published so far on our website.
The DOWA group conducted a survey to ask comments and opinions from the readers of our CSR reports. We reflect them and the opinion of a third party expert of last year in preparation for this report as follows.
Comments and Opinions for the Questionnaire
We received many valuable comments and opinions from readers and we appreciate those replies very much. Following are those comments and opinions (overall comments were summarized).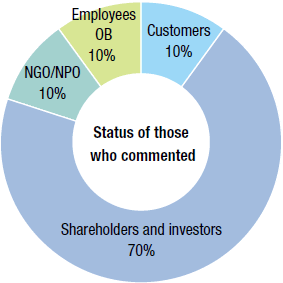 About our CSR Report
What is Expected from Our Efforts for CSR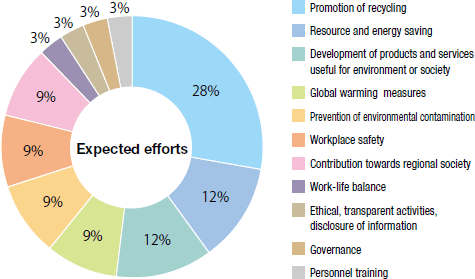 Main Opinions
Page of efforts towards society shows approach of information disclosure of the business.
It was business of raw materials. But, introduce them as products that we feel familiar with.
Company that society needs.
Main Improvements in CSR Report 2015, Reflecting Comments from Our Stakeholders
From Questionnaire Results
Very little has been written about work-life balance than other fields. Also wish to know situation of use of system.
"With the employees" page is increasing and thoroughness of information such as diverse efforts, graph of situation of availing of annual holidays was achieved.(more)
Third Party's Opinion
Only items were mentioned in the list of activity results as target. Hence, concrete target with mention of arrival point may be stated.
Mid to long-term target "Ideal situation of Year 2020" was set along with reviewing CSR plan in FY2014. Objectives and targets and activity plan for achieving the same for a single year was published.(more)
A report on how to concretely expand CSR supply plan is desired.
Current situation and future plans regarding important policy of governance for "CSR supply" were mentioned.(more)