The DOWA Group is engaged in "Nonferrous metals business", where we extract useful metals from natural resources, "Metal Processing Business" and "Heat Processing Business" where we add value to the extracted metals. Also, our "Electronic Materials Business" we further improve the functions of metal materials and, in our "Environmental Management & Recycling Business" we detoxify waste, separate and collect metals from waste. We are committed to resolving social problems such as global issues of the environment and resources through our unique resource-recycling business—from production of non-ferrous metals, highly valueadded products and to their recycling.
Corporate Profile
Name
DOWA Holdings, Co., Ltd.
Incorporated
March 11, 1937
Head Office
22nd Floor, Akihabara UDX Bldg,
4-14-1 Sotokanda, Chiyoda-ku,
Tokyo 101-0021 JAPAN
President and Representative Director
Masao Yamada
Common Stock
36,437 million yen
Employees
Approximately 8,700 persons
(As of March 31, 2015)
FY2014 Financial Highlights
In FY2014, demand for automotive products remained strong worldwide. In addition, demand for smart phones and renewable energy also remained strong. Zinc prices remained strong, while precious metals and copper fell against the background of strong US dollar and cheap crude oil.
Against this backdrop, the consolidated net sales of DOWA group for the March 2015 period were 464.2 billion Yen, up 5% YOY, whereas the consolidated operating profit, consolidated ordinary profit, and consolidated net profit were 39 billion Yen, 42 billion Yen, and 26.5 billion Yen, up 23%, 20%, and 14% respectively.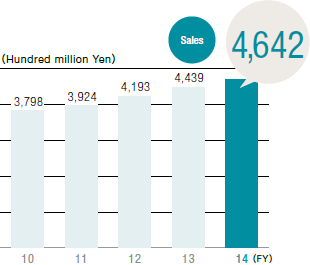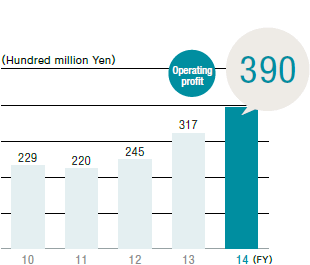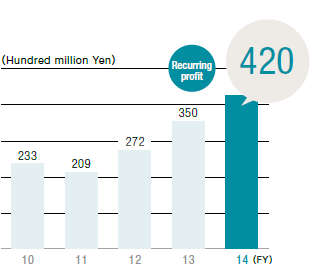 Business areas of DOWA group
The DOWA group has globally developed a recycling business consisting of five core businesses.
Environmental management & Recycling business DOWA ECO-SYSTEM
Sales constituent ratio 19.6%Operating profit constituent ratio 19.4% (FY2014 ended March 31, 2015)
Waste treatment business

Integrated services from collection and transportation to intermediate and final processing of municipal and industrial waste

Soil remediation business

Total support from survey to remediation and monitoring of soil contamination

Recycling business

Collection of valuable metal from used products such as scrap generated from factories and production processes, electrical appliances and automobiles
Nonferrous metals business DOWA Metals & Mining
Sales constituent ratio 44.9% Operating profit constituent ratio 35.8% (FY2014 ended March 31, 2015)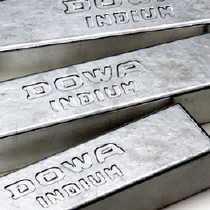 Precious metals and copper business

World's leading recyce-smelting that can collect a variety of metals such as gold, silver, and copper

Rare metals business

Recovery of platinum group metals such as platinum from used automobile exhaust gas catalysts

Zinc business

Integrated business development from resource development to ingots production and sales of processed products, centered on Akita Zinc Co., Ltd. that boasts of largest zinc smelter of 200,000 tons in Japan
Electronic materials business DOWA Electronics Materials
Sales constituent ratio 13.9% Operating profit constituent ratio 23.3% (FY2014 ended March 31, 2015)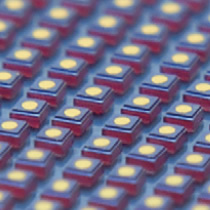 Semiconductors business

Leading manufacturer of high-purity gallium indium semiconductor materials, compound semiconductor wafers, and high luminance and high output LED

Electronic materials business

Manufactures silver powder used in renewable energy applications, copper powder used in electronic components, zinc powder and silver oxide used in batteries etc.

Functional materials business

Manufacturer boasting wWorld's dominant market shareleading manufacturer of ferrite powder used in metal powder for high-capacity recording tapes, carrier powder for copiers, printers etc.
Metal processing business DOWA Metaltech
Sales constituent ratio 16.5% Operating profit constituent ratio 15.3% (FY2014 ended March 31, 2015)
Metal processing business

Manufacturer of copper, brass, and copper alloys used in terminals and connectors for automobile and semiconductor, and brass bars and forgings

Plating business

Precious metal plating processing of components such as connectors and switches of automobiles, mobile phones and consumer electronics products

Substrates business

Manufacturer of metal ceramic substrates used in power control equipment such as industrial machinery, high-speed rail, wind-power generation, and solar power
Heat treatment business DOWA Thermotech
Sales constituent ratio 5.1% Operating profit constituent ratio 6.2% (FY2014 ended March 31, 2015)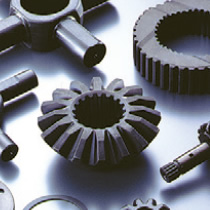 Industrial furnace business

Provides total service from design and erection of furnaces to maintenance, leveraging the know-how of heat treatment processing

Heat treatment processing business

Application specific surface treatment such as improvement of abrasion resistance, fatigue resistance and heat resistance