Human Resource Development
As a vision for human resources and the organization, the DOWA Group aims to foster human resources and an organization that will continue providing new value to society, by respecting a social and free corporate culture and building a foundation for long-term growth. We are also developing various human resource development and utilization measures for all employees.
Fair Evaluation and Treatment
At the DOWA Group, based on the principle of evaluating employees on their ability to work autonomously, we are working for fair evaluation and treatment under the following policies.
For evaluators and those being evaluated, deepen understanding of the standards and structure of the system and utilize appropriate evaluations and training.
While sharing organizational goals and getting an understanding of the abilities and behavior required of employees' according to their position, try to improve their work performance.
The training of evaluators and those being evaluated is positioned as a Groupwide initiative, and we therefore strive to create opportunities for continued learning, with appropriate evaluation, treatment, and training.
Education and Training System
From new employees to managers, the DOWA Group has established stratified education according to job classification and has set up an educational system of selective education in order to nurture the next generation of leaders at each level of the organization.
TOPICS
Pre-Assignment Training for New Employees
Every year, DOWA Holdings hires approximately 50 new employees. The first form of education for these employees is new-hire training. This is an important program that forms the basis for our human resource development, a support structure for the Company. Our basic policy for this training is to cultivate full-fledged people within three years of joining the Company, with the goal of developing autonomous human resources. The Company does not hire for any specific job type or business. Since people joining the Company will branch off into a variety of careers, we treat the first three years of employment as an intensive training period for new employees. To facilitate future career development after this period, we have also systematically established a human resource development system that combines a curated collection of group training programs with on-the-job training (OJT).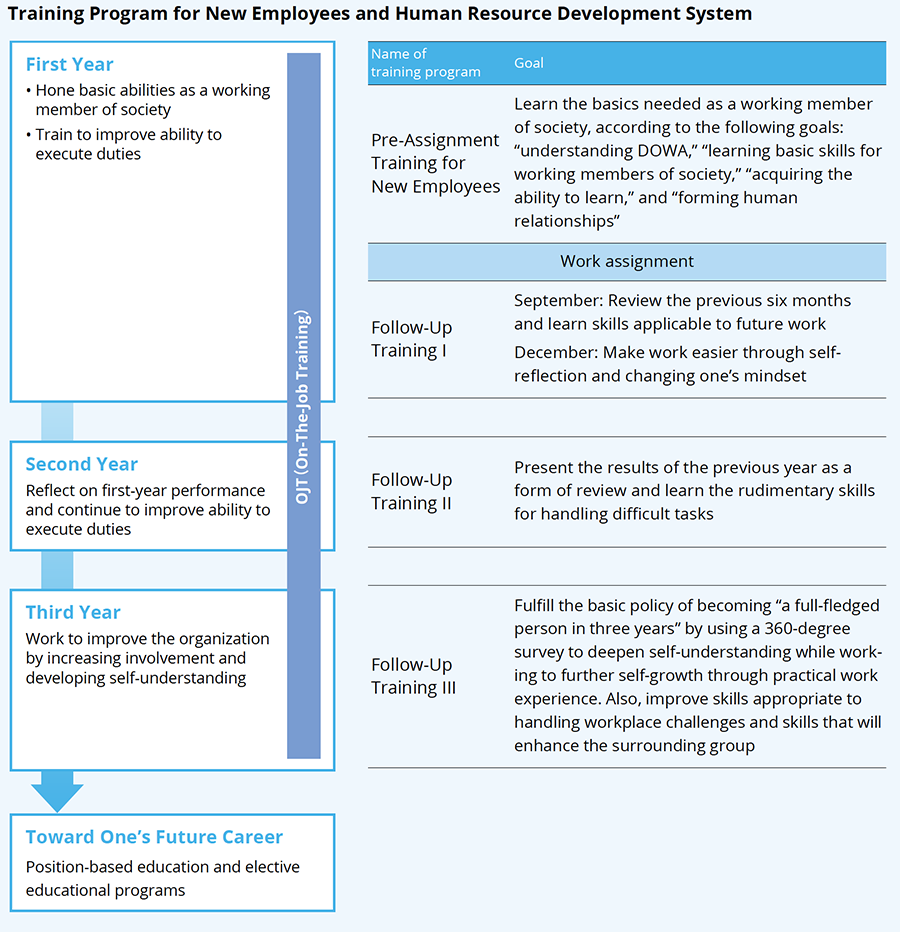 New Employee Training Themes
First Year : Hone Basic Abilities as a Working Member of Society and Train to Improve Ability to Execute Duties
The DOWA Group has prepared a program for roughly the first two months of new employee training aimed at giving these employees the knowledge and skills necessary as working members of society and DOWA employees, which covers topics such as business content, work procedures, and the giving of presentations. In Follow-Up Training I, which takes place after work is assigned, new employees reflect on their previous six months since joining the Company and learn skills applicable in future work. After using these acquired skills, these employees receive feedback, self-reflect, and continue to utilize their first year as a time to develop the ability to perform necessary duties through study and practice.
Second Year : Reflect on the First Year and Continue to Improve Ability to Execute Duties
Employees taking Follow-Up Training II during their second year and participate in a poster session for new employees (now their juniors). This results presentation conveys what they learned and the issues they faced during their first year. Follow-Up Training II also includes planning training, which imparts skills and knowledge for tackling difficult work. After training, these employees develop a plan to improve their work based on the advice of their supervisors and outside lecturers and present this plan to the Human Resources Department. Employees review this plan after two to three months.
Third Year : Work to Improve the Organization by Increasing Involvement and Developing Self-Understanding
Follow-Up Training III focuses on enabling employees to learn skills that involve other departments and workers and enhancing their practical skills. During this training program, employees reference a 360-degree survey provided by their supervisors and seniors to encourage them to think of actions that utilize their strengths for contributing to the workplace. After this program is complete, they put these actions into practice. During this practice period, employees also join monthly online meetings with their training group. At the end of a given fiscal year, there is a final group training session that reviews training in its entirety, marking the end of intensive training.
On-the-Job Training (OJT)
During intensive training, employees also take part in OJT, with an emphasis on making a habit of utilizing the PDCA cycle. For the first year, the new employee, an OJT instructor, and a supervisor in charge of training work together in a three-person system to develop an educational plan and goals. Every month, these three individuals will review their annual plan and its implementation. In the second year, the employee and supervisor are in charge of OJT. In addition, a member of the Human Resources Department is assigned to each new employee and confirms records of monthly meetings while providing training support. This member is also available for day-to-day consultations as part of the DOWA Group's follow-up system.