Social
Health and Safety
Work-Related Accidents
The number of work-related accidents at the DOWA Group as a whole has been declining over the long term. The frequency rate of accidents in fiscal 2020 was lower than in the previous fiscal year and lower than the average for companies of a similar size, according to statistics from the Ministry of Health, Labor and Welfare. However, due to an increase in major accidents overseas, the degree of accident severity in fiscal 2020 was higher than that of the previous fiscal year.
The Environment and Safety Department conducts an analysis of accidents to determine what types of work, what age demographics, and which locations are prone to work-related accidents and then gives guidance as a priority task.
In fiscal 2020, we ramped up our efforts to conduct safety audits and engage in safety education with the goal of preventing serious accidents during activities necessary for proper operations. As a result, the number of serious accidents requiring four or more days of leave was the lowest it has been in 10 years. The accident category with the largest number of incidents in fiscal 2020, including accidents not requiring the taking of any leave, occurred under the contact with harmful substance category, which accounted for nearly 30% of the total. The only category of accidents requiring over four days of leave that increased compared with fiscal 2019 was falls, with many of the injuries being suffered by employees aged 50 years or older. We are focused on preventing the recurrence of these incidents.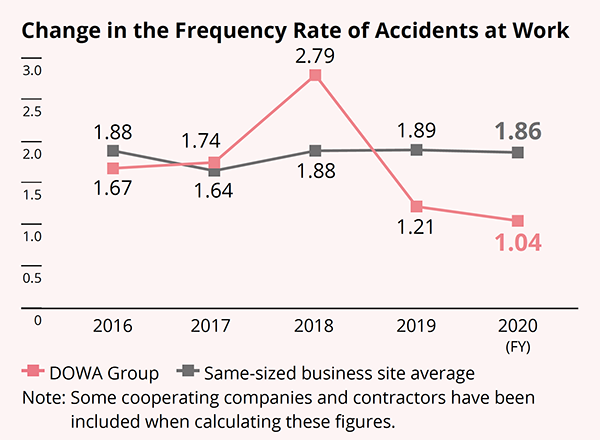 Change in the Frequency of Accidents at Work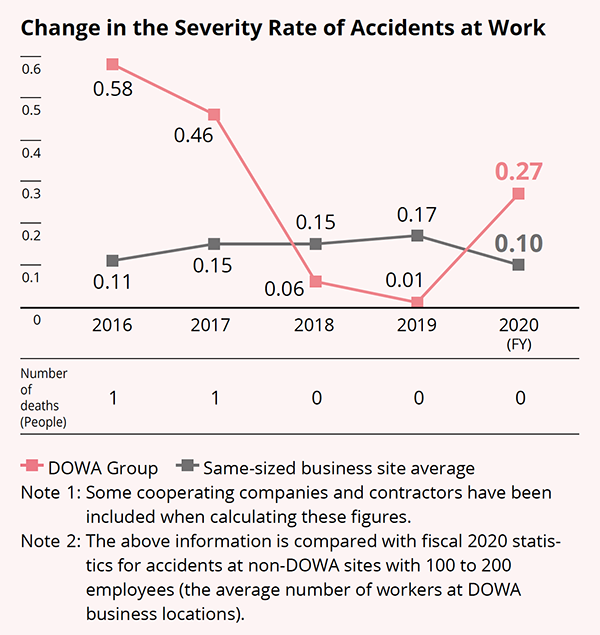 Change in the Severity of Accidents at Work
Employment
Number of Employees by Region (People)
(including non-consolidated)
Region
FY2016
FY2017
FY2018
FY2019
FY2020
Japan
6,072
6,094
6,359
6,491
6,810
Overseas
Asia

(besides Japan)

2,899
3,092
3,148
3,217
3,558
Europe
23
14
14
12
27
North America
96
131
166
128
128
Latin America
1
4
4
52
68
Overseas
3,019
3,241
3,332
3,409
3,781
Total
9,091
9,335
9,691
9,900
10,591
Ratio of male to female employees in Japan
(Full-time Employees)
Employment Situation in Japan
FY2016
FY2017
FY2018
FY2019
FY2020
Men
People
3,787
3,851
4,049
4,193
4,341
%
92.2%
92.0%
92.3%
90.7%
90.3%
Women
People
321
337
338
429
464
%
7.8%
8.0%
7.7%
9.3%
9.7%
Total
People
4,108
4,188
4,387
4,622
4,805
Employment statistics 
(including non-consolidated)
| FY2020 | Men | Women |
| --- | --- | --- |
| Average age (years old) | 41 | 39 |
| Average length of employment (years) | 14 | 12 |
| Number of employees hired (people) | 307 | 70 |
| Number of employees who left Company at own request (people) | 90 | 24 |
| Number of employees who left Company due to retirement (people) | 8 | 1 |
| Employee retention rate: employees employed for 10 years or longer (among employees hired as new graduates for the holding company) | 78% | 64% |
Percentage of people employed as mid-career employees under the Comprehensive Labor Policy Promotion Act
| | FY2019 | FY2020 | FY2021 |
| --- | --- | --- | --- |
| Percentage of people employed as mid-career employees that became permanent employees | 11% | 10% | 9% |
Optimizing Working Hours
We strive to prevent long working hours and promote the use of annual paid leave to enable employees to maintain their physical and mental health and work energetically. The average overtime hours in FY2020 were approximately 19 hours per month, which is about the same as in FY2019.
Employees took 14 days of annual paid leave on average, which were 70.8% of the 20 days of paid leave granted to them, in FY2020. The days of annual paid leave taken declined slightly from the level in FY2019.
The Company has a volunteer leave plan, but no employees took volunteer leave in FY2020, partly due to COVID-19.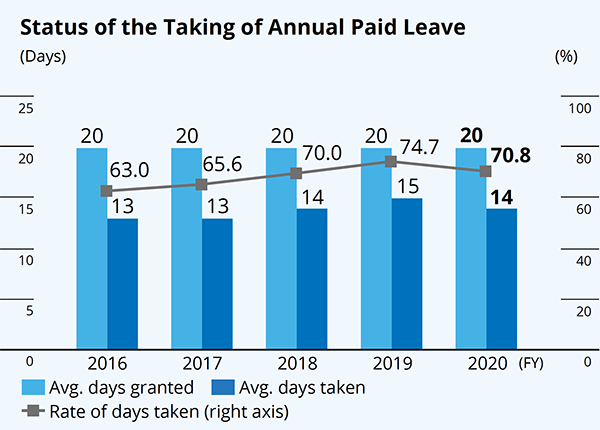 Status of the Taking of Annual Paid Leave
Diversity in the workforce
At DOWA, there is no gender distinction in terms of workstyles, and female employees are active in a wide range of fields, including manufacturing, R&D, production control, planning and sales. In matters of hiring, promotion and advancement, assessments are made purely according to ability. The number of women in management roles is low, at 2.4%, but it is increasing each year due to changes in the business and work environment. In addition, five female employees were hired in fiscal 2020 for management-track positions at DOWA Holdings, comprising 10% of new employees hired by the Company, and we plan to increase the percentage of female hires in the future.
Percentage of Female Workers by Position (%)
| Position | FY2016 | FY2017 | FY2018 | FY2019 | FY2020 |
| --- | --- | --- | --- | --- | --- |
| General employees | 9.7 | 10.0 | 10.5 | 11.2 | 11.4 |
| Management employees | 1.2 | 1.3 | 1.7 | 1.4 | 2.4 |
| Executive officers | 0.8 | 0.8 | 0.8 | 0.9 | 0.9 |
One problem we face, however, is that our retention rate of women is lower than that of men. Therefore, we are making efforts to increase the percentage of women who remain employed by the Company for over 10 fiscal years to 80%, the same as that for men.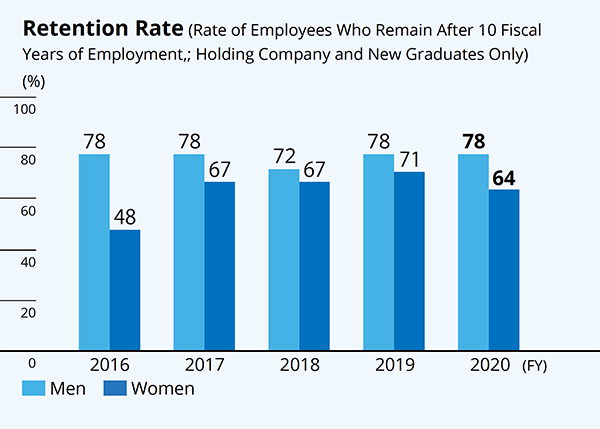 Retention Rate (Rate of Employees Who Remain After 10 Fiscal Years of Employment, Holding Company and New Graduates Only)
To increase this retention rate, we are developing a system that will support women in both their child-rearing and work duties. This system includes a flextime system and assistance for child-rearing costs and expands the scope of employees who can work shortened hours for child-rearing purposes. In addition, from fiscal 2017 to fiscal 2020 we worked on reforms to expand education and awareness, such as diversity and career training for women and diversity management training for managers. Going forward, DOWA will continue to support the development of women's careers and become a company that anyone, regardless of gender, will want to work for over the long term.
Training to Promote the Diversity of Human Resources
| Training (FY2017–FY2020) | Total time (hours) | Attendance rate (total) |
| --- | --- | --- |
| Diversity and career training (for female employees) | 218 | 64% |
| Diversity management training (for management employees) | 80 | 57% |
In fiscal 2020, five men (of 125 eligible) and 33 women took childcare leave, and 76 men and 27 women took time off work to care for their sick children. All of these figures increased from the previous fiscal year.
Number of Employees Taking Childcare Leave and Leave to Care for Sick Children (People)
Type of leave taken
FY2016
FY2017
FY2018
FY2019
FY2020
Childcare leave
Men
0
2
2
0
5
Women
28
32
31
22
33
Leave to care for sick children
Men
24
27
35
64
76
Women
24
26
28
24
27
| FY2020 | Results |
| --- | --- |
| Percentage of employees who returned to work after childcare leave | 100% |
| Number of employees who left the Group during childcare leave | 0 |
| Ratio of the people employed by the Group at end of fiscal year to employees who took childcare leave in previous year | 100% |
Employment of People With Disabilities
In fiscal 2020, the employment rate of people with disabilities was 2.1% for DOWA Holdings and 1.4% for the entire Group. We will continue our efforts to create acceptable conditions allowing us to reach the statutory rate of employment of people with disabilities and to create workplace environments where these people can work comfortably and actively.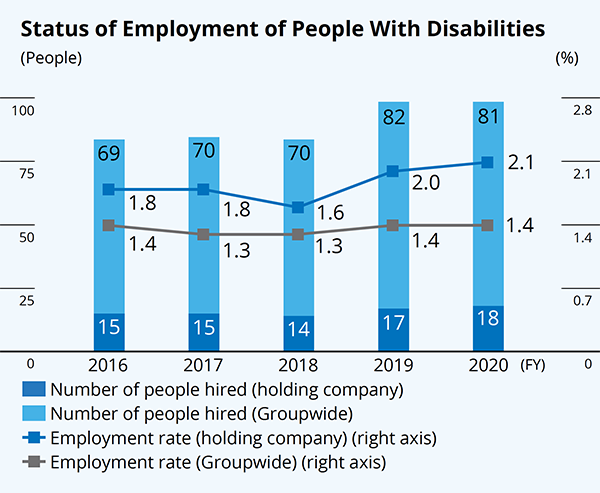 Status of Employment of People With Disabilities
The employment rate of people with disabilities
| Status of Employment of People with Disabilities | Rate |
| --- | --- |
| Employment rate (holding company) | 2.1% |
| Employment rate (Groupwide) | 1.4% |
Re-Employment of Retired Workers
In fiscal 2020, a total of 42 retired workers were rehired, a minor decrease from the previous fiscal year. To address the coming contraction of the working-age population, we have decided to raise the age of retirement from 60 to 65. This decision, which will be in effect from fiscal 2021 to fiscal 2025, was introduced at some Group companies in April 2021 and will be rolled out to other companies in the future.
The DOWA Group is also continuing with an initiative that started in fiscal 2019 to hold life-planning seminars for employees who reach a certain age, with the goal of giving these employees information on embarking on a second, post-retirement career.
Number of Re-Employed (Retired Workers)
| Number of Re-Employed (Retired Workers) | FY2017 | FY2018 | FY2019 | FY2020 |
| --- | --- | --- | --- | --- |
| Men | 44 | 46 | 55 | 40 |
| Women | 3 | 2 | 2 | 2 |
Human Resource Development
Education and Training
Some of our educational programs were canceled in fiscal 2020 to prevent the spread of COVID-19, we made an active effort to leverage online events, e-learning, and video distribution to provide programs that were easy to take part in, free from the constraints of time and location. The number of hours of education per person in fiscal 2020 was 20 hours, with 1,546 participants, both of which were down from fiscal 2019.
Status of Training System (Fiscal 2020)
Content
Target employees
No. of participants
Total time
Position-based education and elective education
Training to strengthen middle management
Managers
19
684
Management training, training to strengthen skills for leading subordinates
Managers
55
2,340
Leadership training
Mid-level employees
46
1,656
New employee training
New employees
48
13,824
Follow-up training for new and young people
1st–3rd year employees
146
4,968
Training for on-the-job-training instructors
On-the-job-training instructors
32
256
New recruiters training
New recruiters
34
272
Field-specific training
Language support
English-learning methodology seminar
New employees (pre-assignment training)
48
384
Global
Preparatory training for overseas assignments
Employees receiving new overseas assignments
7
112
Global
Training for overseas base managers
Managers of overseas bases
25
400
Human rights
Stress check training
All applicable persons
32
64
Organizational development
Meetings of staff members responsible for human resource development to improve on-site capabilities
Staff members responsible for human resource development at each base
67
1,608
Evaluation system
In fiscal 2020, we explained our evaluation system using video distribution and switched to an online format for evaluator training. We also expanded the target audience to include employees of Group companies, and more than 500 people took the training course.
Quality Control・Supply Chain Management
Quality Control
At the DOWA Group, we position quality as an important management standard for manufacturing. Major manufacturing plants have obtained ISO 9001 certification for our quality management systems, the international standard for these systems.
Locations That Have Acquired Certification for Quality Management Systems
Number of bases with ISO 9001 certification
Domestic
24
Overseas
13
Supply Chain Management
In fiscal 2020, the DOWA Group distributed self-check questionnaires to approximately 90 major business suppliers to confirm the status of their CSR-related activities, with a response rate of over 90%. We send reports to all respondents with feedback and our evaluation of their current status. Compared with fiscal 2019, several of our business partners managed to achieve our required standard score of 80%. That being said, these questionnaires also highlighted that social contribution efforts in each sector are rather lackluster.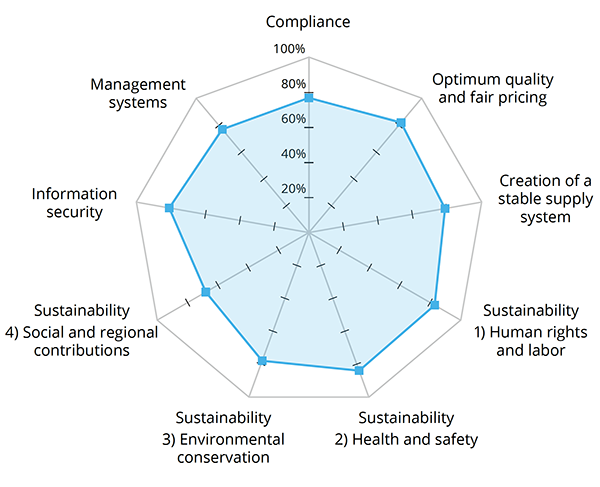 Self-Check Questionnaire Results
Supplier Self-Check Implementation Rate
| Number of check sheets distributed in FY2020 | Response ratio |
| --- | --- |
| 90 companies | Approx. 90% |