Coexistence with Local Communities
Among its society-focused initiatives, the DOWA Group places extra emphasis on initiatives that contribute to local communities. At each of our domestic and overseas bases, we are working actively to develop community-based CSR activities such as plant tours, internships, sports events, and communication with local communities in order to progress and develop alongside these regions.
TOPICS
Donation of a Biodiversity Bookcase to a Local Elementary School (Okayama Prefecture)
In September 2020, the DOWA Group donated a Biodiversity Bookcase with 100 books on biodiversity to Fukushima Elementary School in Okayama City via a program run by the Nature Conservation Society of Japan.
Under this program, children's books selected by the Japan Committee for the United Nations Decade on Biodiversity (UNDB-J) are donated to several parts of Japan, collected as Biodiversity Bookcases. In support of this program, which aims to promote understanding and raise awareness of biodiversity, DOWA Holdings donated a Biodiversity Bookcase to the aforementioned elementary school, which is in the school district where company housing for employees of DOWA Electronics Materials Okayama Co., Ltd. is located.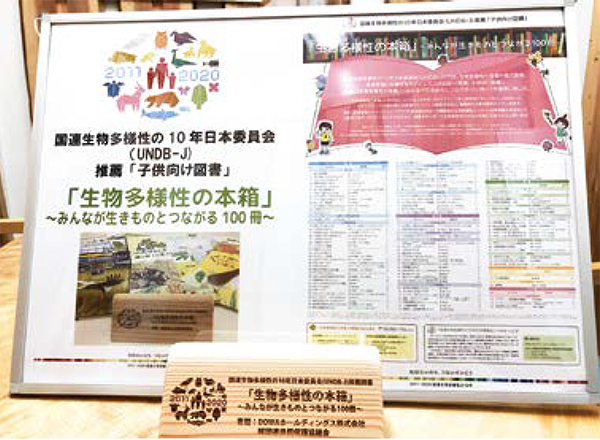 Cleanup Activities (Akita Prefecture)
At Akita Rare Metals Co., Ltd., a subsidiary of the DOWA Group, all employees take part in annual cleanup activities in the local area. In fiscal 2020, these activities were carried out in small groups as a measure to prevent the spread of COVID-19.
These activities targeted areas along bicycle commuting routes, running paths, and other areas often used by local people. During these activities, participants took vigorous infection prevention measures, including wearing double masks, protective glasses, sealed and tethered clothing, and disposable gloves.