Resource Recycling
The DOWA Group is endeavoring to help create a sustainable society by curbing the consumption of natural resources and promoting the reuse of spent resources.
Issues Related to Resource Recycling and Related DOWA Group Initiatives
The continued consumption of ore and similar natural resources will inevitably cause them to run out. Recycling is one solution that can promote the effective use of these resources. However, this requires technology to recover metals efficiently as well as the technology and infrastructure for safely processing harmful and non-useful substances generated in the recycling process. Recycling also brings with it other technological and economic issues that need to be addressed, such as the need to create an efficient collection system for recycling raw materials and a means of addressing the labor and costs associated with processing this wide variety of raw materials. Bearing this in mind, the DOWA Group is striving to promote the sustainable use of metal resources while taking on the various challenges present in resource recycling.
We operate a broad range of recycling businesses that handle precious metals, home appliances (including discarded small household appliances), and automobiles. Rather than recycling each type of object in a fragmented chain, we improve resource efficiency by combining processes, taking into account our facilities and the technological characteristics and geographical conditions of our bases.
In addition, the Company's departments—which incorporate its waste treatment facilities, transportation, and research institutes — coordinate with one another to ensure that we promote the effective use of resources in a way that is compatible with environmental conservation and safety.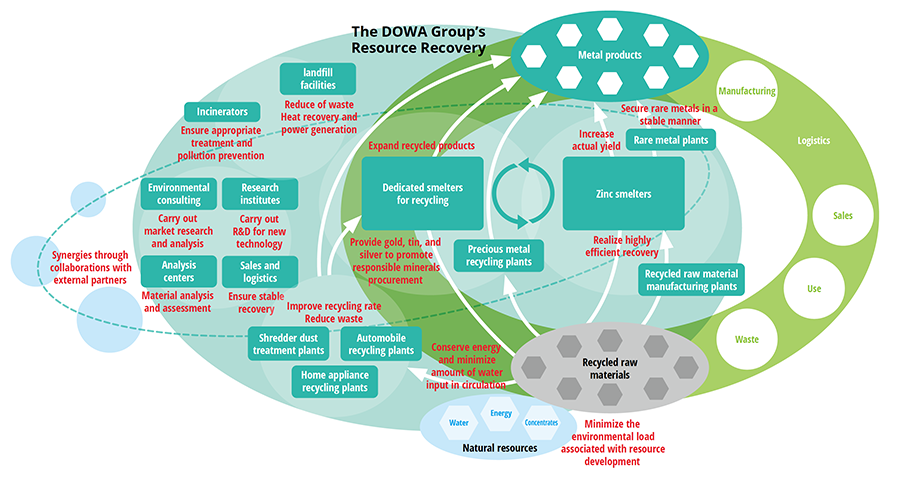 Three main loops of resource recycling

At the DOWA Group, among the SDGs goals, goal 12, securing sustainable patterns of consumption and production, is the area in which we are most closely involved, and we believe that we can contribute greatly towards the achievement of the goal. By working on resource recycling through our technology and resources, we aim to achieve goal No. 12.
In the resource recycling of the DOWA Group there are three main loops.
First is in-house generation and usage, for the waste generated in the manufacturing business, such as our smelting and metal processing. It is recycled in the environmental business and the smelting business Besides selling it as metallic material, we re-use it as raw material for our company.
Second, is accepting and recycling scrap metal generated from the processes of the manufacturing plants of other companies. In this case, it is from client factories that supply our materials or parts, and things such as reusing the accepted waste as raw materials leads to a reduction of new resources input into the system.
Third is the recycling of used end products. Through electrical appliance recycling, automobile recycling and the recycling of small household appliances, used products widely recovered from society will be returned to society as metallic materials again.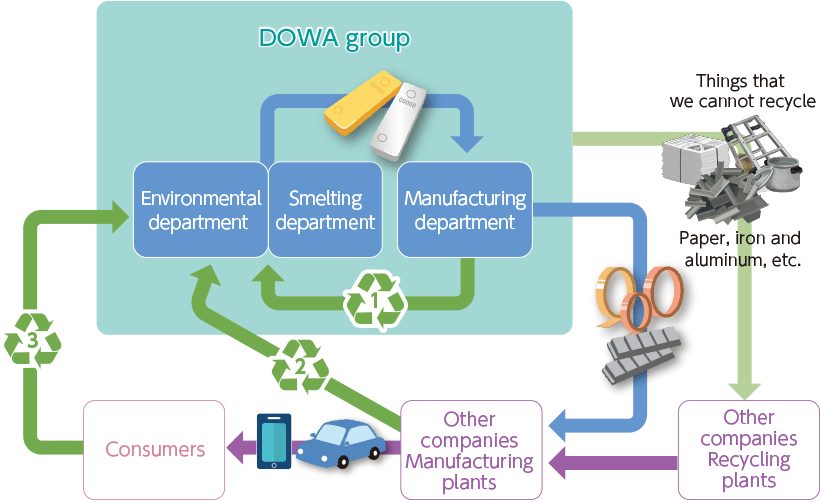 In addition, we strive to appropriately recycle paper, iron and aluminum, etc. that we cannot recycle through the recycling processes of other companies.
Promoting the appropriate processing of waste
For many years we have worked on improving recycling technology and are working on building a recycling-oriented society through the recycling of metals. However, in reality, there is waste that cannot be reused or recycled. Waste incineration facilities and final disposal landfill sites tend to be kept at a distance, but if they cannot be built, there is no place for the waste to go, and public health cannot be guaranteed. We believe that our waste disposal treatment business, which develops technically safe facilities, performs appropriate maintenance, sufficiently communicates with residents and plays an important role in society.
The landfill site is a facility that supports the foundation of resource recycling. The DOWA Group will continue to develop landfill sites that are necessary for society by enhancing waste disposal treatment technology and reliably ensuring their safety and security.