Environment
Environmental Management System
Regarding our transportation operations, in fiscal 2020, we became certified under the Green Management Certification System established by Japan's Foundation for Promoting Personal Mobility and Ecological Transportation, under the jurisdiction of the Ministry of Land, Infrastructure and Transport, for promoting environmental conservation in the trucking industry. These actions, combined with the PDCA cycle used in the Groupwide environmental management system, are part of our ongoing efforts to improve the environment.
Certification acquired
Number of locations with certification
Acquisition rate
ISO14001
30 domestic locations, 13 overseas locations
About 70% of major production bases
Eco-Action 21
4 domestic locations
Green Management Certification
1 domestic location
Material Balance
Item
Unit
FY2019
FY2020
Versus previous FY
INPUT
Total energy input
PJ
18.2
17.4
-4%
Fossil fuel consumption
Thousand kL
121
115
Purchased electric power
GWh
1,352
1,296
Thermal power generation
GWh
4.6
1.3
Hydroelectric power generation
GWh
38.7
47.9
Solar power generation
MWh
335
388
Purchased steam flow
GJ
388
300
Water resources
Million m3
106
100
-5%
Seawater
Million m3
93
88
Besides seawater
Million m3
13
13
Raw material use
Thousand tons
1,058
953
-10%
Raw materials
Thousand tons
806
715
Auxiliary materials
Thousand tons
162
160
Heat treatment of items received
Thousand tons
89
77
Packaging materials
Thousand tons
1.7
1.4
Amount of waste received
Thousand tons
1,556
1,440
-7%
Waste
Thousand tons
1,420
1,304
Statutory recycled items received
Thousand tons
96
98
Contaminated soil
Thousand tons
40
38
Fluorocarbon throughput
tons
552
604
Item
Unit
FY2019
FY2020
Versus previous FY
Within business areas
Waste heat power generation
GWh
83
80
-4%
Waste heat utilization
TJ
427
443
+4%
Item
Unit
FY2019
FY2020
Versus previous FY
OUT
PUT
Total greenhouse gas emissions
Thousand tons (CO2 equivalent)
1,788
1,695
-5%
Electric power source
Thousand tons (CO2 equivalent)
716
670
Fossil fuel source
Thousand tons (CO2 equivalent)
342
327
Waste source
Thousand tons (CO2 equivalent)
730
698
Amount of electric energy sold
GWh
0.8
1.2
+62%
Product quantity
Thousand tons
945
881
-7%
Chemical substance emissions
tons
1,773
1,542
-13%
Drainage water discharge
Million m3
117
114
-2%
Amount of waste
Thousand tons
367
473
29%
Waste source
Thousand tons
634
612
-3%
Thermal recycling
Thousand tons
352
344
Material recycling
Thousand tons
282
269
Note: Regarding CO2 emissions, in principle, the DOWA Group multiplies the amounts of electricity purchased, fossil fuel consumed and waste received by the emission factors stated in the Law Concerning the Promotion of Measures to Cope with Global Warming. Regarding CO2 emissions derived from waste received, because the calculation terms are as of the time this report is prepared, numbers may not necessarily match those reported to government agencies, which are calculated at a different time. In addition, due to differences in the classification of waste in Japan and overseas and to the difficulty in setting an appropriate emission factor for waste received at overseas business sites, only the portion of CO2 emissions originating from waste from domestic business locations is given. Some of the figures stated in this report have also been revised to coincide with revisions of aggregate numbers.
Atmosphere and Water Management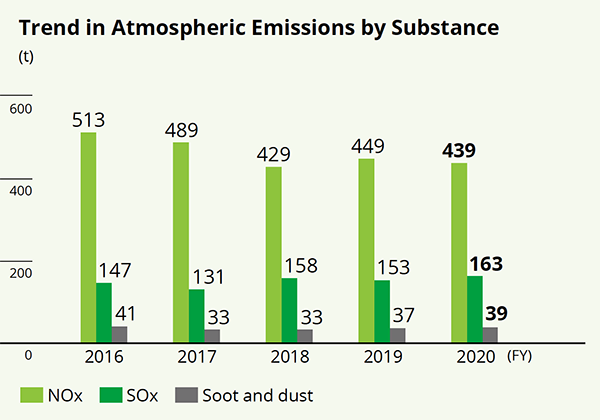 Trend in Atmospheric Emissions by Substance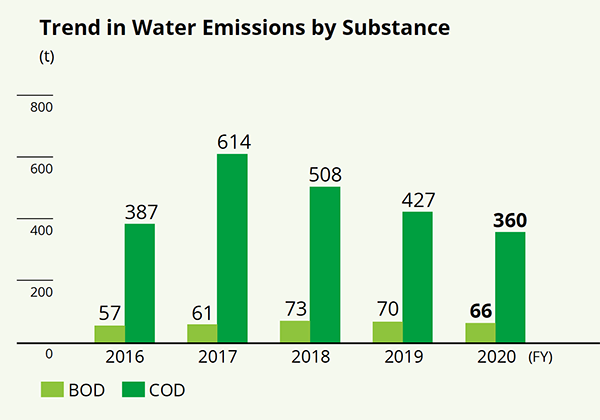 Trend in Water Emissions by Substance
Use of Water Resources
In fiscal 2020, water resource input amounted to 100 million m3, a year-on-year decrease of approximately 5%.
The DOWA Group worked to reduce water consumption via thorough efforts to curtail use, which included changing processes to promote the recirculation of water and installing flow meters. The majority of the water resources used by the Group is seawater that the Nonferrous Metals Business utilizes for cooling purposes. Freshwater comprised 13% of all water use, with use on a par with fiscal 2019, at 13 million m3.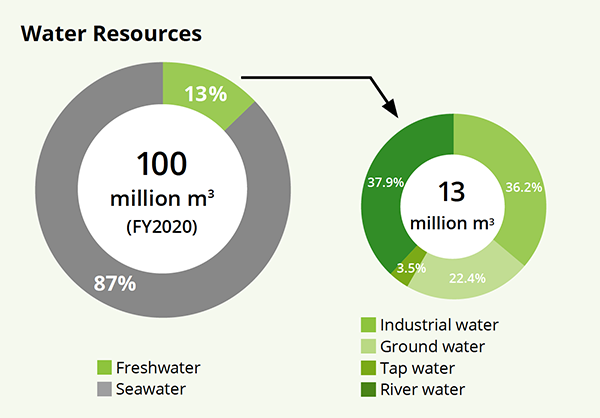 Water Resources
Drainage Water
In fiscal 2020, total drainage water amounted to 114 million m3, a year-on-year decrease of approximately 2%.
Similar to other water use, the majority of drainage water is used by the Nonferrous Metals Business for cooling purposes. After being checked for quality, this water is returned to its original source.
The DOWA Group is committed to water quality, and its efforts to do so include water management at each business location and compliance with strict, self-imposed standards in addition to drainage water regulations.
Climate Change
Trend in CO2 Emissions
Greenhouse gas emissions for the entire DOWA Group in fiscal 2020 decreased approximately 1,695 thousand tons, a reduction of about 5% from the previous fiscal year.
Emissions from electric power and emissions from waste each accounted for approximately 40% of total emissions, whereas fossil fuels accounted for roughly 20% of emissions. CO2 emissions can fluctuate greatly depending on the volume and composition of waste from outside the Company disposed of via incineration. Since it is difficult to control externally generated waste, we are working to prevent global warming by promoting thermal recycling that uses the heat generated during incineration for power generation and steam production.
Electric Power Source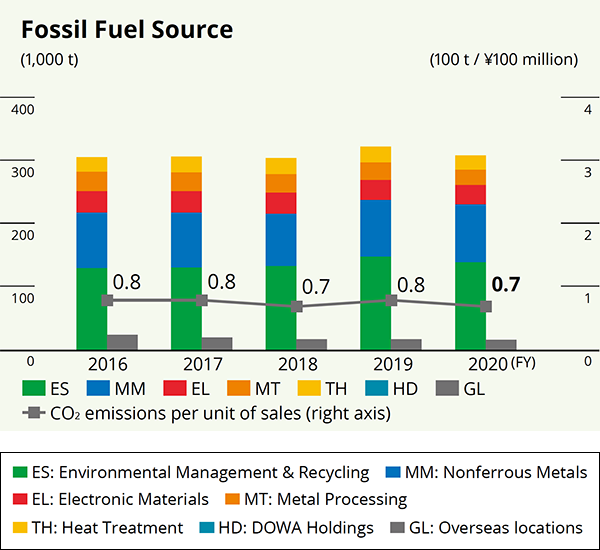 Fossil Fuel Source
Renewable Energy Use
The DOWA Group is working to combat global warming with measures that include using privately generated power derived from renewable energy sources and leveraging its businesses to increase the use of renewable energy.
Hydroelectric Power
Kosaka Smelting & Refining Co., Ltd., based in Akita Prefecture, began operating its second domestic hydroelectric plant in 1897 for use in mine development. The company has continued to maintain and expand its facilities as its business grows, and it has since increased the number of hydroelectric plants in Akita Prefecture to six.
In fiscal 2020, these plants generated 47.9 GWh of electricity and serve as an important power source for Kosaka Smelting & Refining.
Solar Power
DOWA Thermoengineering Co., Ltd. Ota plant (Gunma Prefecture), Meltec Ltd. (Tochigi Prefecture), DOWA Hightech Co., Ltd. (Saitama Prefecture), Eco-System Sanyo Co., Ltd. (Okayama Prefecture) and Act-B Recycling Co., Ltd. (Kumamoto Prefecture) have each introduced solar power generation systems at their business locations.
In fiscal 2020, the systems at these five companies generated a total of 388 MWh of electricity, which will either be used for business activities or sold.
Waste heat power generation
Currently, the DOWA Group produces thermal power at five domestic locations and one overseas location, for a total of six. In fiscal 2020, 80 GWh of thermal power was generated.
Thermal power generation involves the use of heat released into the atmosphere to produce high-temperature, high-pressure steam, which turns a turbine to generate electricity. In the case of DOWA, this heat is mainly generated from the incineration of waste. Since thermal power generated in this manner utilizes combustible waste as fuel, it does not require fossil fuels, as is usually the case for thermal power generation. Treating waste with heat is therefore an efficient use of energy because it leads to more energy being produced.
Resource Recycling
INPUT
Input
In fiscal 2020, raw material use amounted to 953 thousand tons, a year-on-year decrease of approximately 10%. Of this, approximately 25% was recycled raw materials.
Waste Received
In fiscal 2020, the amount of waste received by the Company came to 1,440 thousand tons, of which approximately 86% was waste received from outside the Company. Although a 7% reduction from fiscal 2019, this can be mainly attributed to the impact of the COVID-19 pandemic, which caused a decrease in waste received from customers at waste treatment businesses overseas.
OUTPUT
Recycling
In fiscal 2020, thermal recycling amounted to 344 thousand tons, a year-on-year decrease of roughly 2%, while material recycling totaled 269 thousand tons, a contraction of approximately 5%.
Waste Generated
In fiscal 2020, the Company treated 473 thousand tons of waste, a year-on-year increase of approximately 29%. This increase is due to a waste treatment facility being newly included in total figures and to a rise in the amount of contaminated soil treated by the soil remediation business. The amount of in-house waste produced by manufacturing processes (excluding the Environmental Management and Recycling Business) decreased by approximately 4%.