Climate Change
Climate change is a major global social issue, and there is a growing worldwide movement toward a decarbonized society. The DOWA Group places the utmost importance on efforts to reduce CO2 emissions, and it believes that the risks and opportunities presented by climate change could potentially affect its profits and costs. DOWA has positioned climate change countermeasures as one of its important management issues and has taken steps to create new business opportunities by enhancing products and services that contribute to the reduction of greenhouse gas emissions.
System for the Promotion of Climate Change Countermeasures
To promote our climate change countermeasures and other sustainability activities, we have established a Sustainability Committee and a Sustainability Subcommittee under the Sustainability Committee.
The Sustainability Committee deliberates on important policies and initiatives related to sustainability, including climate change countermeasures and measures related to our digital transformation, and tracks the progress of the implementation of the policies and initiatives. Important matters are reported to the Board of Directors to seek supervision. The Sustainability Subcommittee regards climate change as an important issue and monitors the DOWA Group's action against climate change. Also, across the DOWA Group, we identify and evaluate risks and opportunities associated with climate change and discuss and make action policies, goals and measures. They are reported to the Sustainability Committee along with important risks and opportunities. The DOWA Group's Climate Change Committee is chaired by the Director in charge of climate change and discusses important group-wide matters, including policies regarding climate change and targets for the reduction of greenhouse gas emissions, and it formulates policies and set targets. To accelerate these discussions, the Group has established the system above to promote sustainability activities and changed its Climate Change Committee into the Climate Change Working Group in April 2022. The working group will formulate specific plans and advance measures as a subcommittee of the Sustainability Subcommittee.
The Climate Change Working Group, which mainly comprises working-level staff members of operating companies and the technology division, will take steps to respond to the TCFD recommendations, monitor greenhouse gas emissions and discuss countermeasures.
Targets
The Group has set the following long-term greenhouse gas (GHG) emissions reduction targets.
Long-Term Target
The DOWA Group aims to achieve carbon neutrality 2050
Intermediate targets
FY2030 GHG Emissions Reduction Targets
The DOWA Group aims to reduce its Scope 1 and 2 GHG emissions(*1) in FY2030 as follows, compared with the baseline of FY2013:
Note that these targets are set in accordance with the targets for each category in the Japanese Government's Plan for Global Warming Countermeasures,(*2) which was formulated to reduce GHG emissions in FY2030 to 46% of the level in FY2013.

*These targets include offsetting through the utilization of carbon credits and other means
The GHG emissions from our overseas business locations are not included in these targets. DOWA HOLDINGS will consider setting overseas emissions targets in the future while continuing to monitor these emissions.
Regarding Scope 3 GHG emissions,(*1) DOWA HOLDINGS will consider their incorporation into its targets in the future after understanding their actual status.
DOWA HOLDINGS will continue monitoring the status of GHG emissions and their reduction, and may review these targets if it is considered necessary after taking into account various factors, such as socioeconomic circumstances and changes in domestic and international political policies towards the realization of a carbon-free society.
(*1)Scopes 1, 2 and 3 are concepts from the corporate GHG emissions accounting and reporting standards stipulated in the GHG Protocol. Each scope is defined as follows:
– Scope 1: Direct emissions from the reporting company itself
– Scope 2: Indirect emissions associated with the use of electricity, heat, and other energy supplied by other companies
– Scope 3: Indirect emissions other than Scopes 1 and 2 (emissions from other companies associated with the activities of the reporting company)
(*2)The Japanese government's comprehensive plan based on the Act on Promotion of Global Warming Countermeasures (Cabinet decision on October 22, 2021)
Initiatives towards Climate Change
Support for TCFD recommendations
Climate change is a serious global issue and moves toward realizing a carbon-free society are expanding worldwide. In August 2021, DOWA HOLDINGS established the DOWA Group's Climate Change Policy and Long-Term Targets. Guided by this policy and the targets, we aim to achieve the sustainable growth of the Group through actions to reduce greenhouse gas (hereinafter "GHG") emissions and the creation of new business opportunities by improving products and services that contribute to the reduction of GHG emissions. To further accelerate these activities, DOWA HOLDINGS has expressed its support for the TCFD recommendations. DOWA HOLDINGS will continue to work on solutions to climate change and other social issues and contribute to the creation of a sustainable future.
Reference: DOWA Group's Strategy for Climate Change
The DOWA Group aims to balance de-carbonization and the sustainable growth of our businesses through the contribution of our products and services and the reduction of GHG emissions.

Information disclosure based on the TCFD recommendations
In FY2021, the Group began to analyze scenarios in accordance with the TCFD recommendations to identify climate-related risks and opportunities impacting business continuity and take steps to address them, assuming a variety of circumstances. In the analysis, the Group used multiple scenarios and discussed primarily the medium- to long-term impact of issues on the Group's business. The Group has put together a TCFD report in line with the TCFD disclosure framework, whose pillars are governance, strategy, risk management and metrics and targets.
The Group will continue to expand its climate-related disclosures and contribute to the establishment of a decarbonized society through its business.
CO2Emissions
The main characteristic of the Group's greenhouse gas emissions is that emissions originating from the electricity used by the Group and the waste emitted by the Group account for a large percentage of total emissions, about 80%. CO2 emissions are significantly impacted by the incineration of the waste received from outside the Group and changes in the amount and composition of this waste. Since it is difficult to control the waste coming from outside the Group, the Group is working to contribute to the mitigation of global warming by promoting thermal recycling which uses the heat generated in the incineration of waste to generate power and steam. At manufacturing facilities, we strive to reduce CO2 emissions by reducing energy consumption by replacing equipment with energy efficient equipment and the appropriate management of operations.
Renewable Energy Use
Hydroelectric Power
The DOWA Group is working to combat global warming with measures that include using privately generated power derived from renewable energy sources and leveraging its businesses to ubiquitize the use of renewable energy.
Kosaka Smelting & Refining Co., Ltd., based in Akita Prefecture, started operating its second domestic hydroelectric plant in 1897 for use in mine development. The company has continued to maintain and expand its facilities as its business grows, and it has since increased the number of hydroelectric plants in Akita Prefecture to six.
Solar Power
DOWA Thermoengineering Co., Ltd. Ota plant (Gunma Prefecture), Meltec Ltd. (Tochigi Prefecture), DOWA Hightech Co., Ltd. (Saitama Prefecture), Eco-System Sanyo Co., Ltd. (Okayama Prefecture), and Act-B Recycling Co., Ltd. (Kumamoto Prefecture) have each introduced solar power generation systems at their business locations.
Thermal Power
Thermal power generation involves the use of heat released into the atmosphere to produce high temperature, high-pressure steam, which turns a turbine to generate electricity.
In the case of DOWA, this heat is mainly generated from the incineration of waste. Since thermal power generated in this manner utilizes combustible waste as fuel, it does not require fossil fuels, as is usually the case for thermal power generation. Treating waste with heat is therefore an efficient use of energy because it leads to more energy being produced.
TOPICS
Launch of Biogas Power Generation Business Using Food Waste as Raw Materials
Reducing the amount of food waste and using whatever food waste is produced efficiently are major global issues to be overcome in the effort to create a sustainable society. In April 2021, Biodiesel Okayama Co., Ltd., a subsidiary of the DOWA Group, began biogas power generation using food scraps and waste produced by food-related business operators as raw materials. The company's biogas power generation plant is the first large-scale commercial plant of its kind in the Chugoku region of Japan, which spans five prefectures. This plant will accept approximately 16,000 tons of food waste annually, which corresponds to the annual power consumption of roughly 1,600 households. The plant has preprocessing equipment for removing packaging, containers, and food waste that are otherwise difficult to recycle into fodder or fertilizer, which will be used as a source of renewable energy.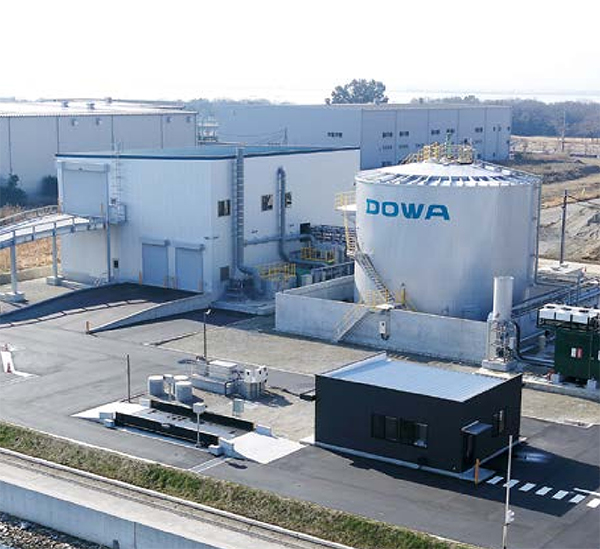 Biodiesel Okayama