We extend our most sincere sympathy to all those affected by the Great East Japan Earthquake. Although we have many business bases of operation in the Tohoku and Kanto areas, we have been fortunate to have only suffered minor damage and be able to continue our business activities. We are making our best efforts for quick recovery and reconstruction of those bases of operation.
We are also determined to further fulfill our role as a supplier and contribute to reconstruction of supply chains, including supplying metals such as copper and zinc indispensable for wiring and automobiles, high value-added products useful for new energy and energy saving, and offering environmental and recycling services.
DOWA HOLDINGS Co., Ltd.
President and the Representative Director
Masao Yamada


Asian countries are now shifting towards building recycle-based society to more effectively utilize the limited resources of the Earth.
The DOWA group, with Kosaka Smelting and Refining Co., Ltd. in Akita Prefecture as the center of the group, has been involved throughout the environmental recycling business activities, from collection of wastes and used products to refining metals. In 2010, based on such long esteemed know-how and technologies in Japan, we were committed to expanding our business activities and services in such regions where resource-recycling needs are increasing. We started recycling of home appliances and soil remediation in China and collection of used automobile catalysts in Europe.
DOWA products are increasingly used along with dissemination of renewable energy to realize more diversified power supplies and energy saving.
We offer silver powders and substrates for solar panels and wind power generators, which is attracting much interest as a source of renewable energy. Nitride semiconductors are expected to further contribute to energy saving of home electrical appliances.
We also produce bio-diesel fuel as a replacement to light petroleum oils. We have so far increased our supply capacity of bio-diesel fuel up to the level where all trucks collecting municipal waste in Okayama City use our bio-fuel. We have also been engaged in a business in Japan to thermally decompose CFC and started operation of our facility that collects and thermally decomposes methane from discharged water from hog farms in the Philippines. Both these projects directly contribute to reduction of greenhouse gases.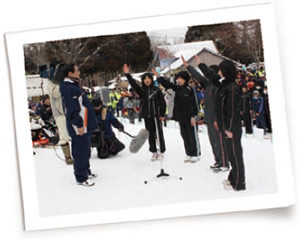 DOWA is committed to actively deploying business operations in international markets focusing on Asia. On the other hand, we cannot just go to these markets to procure raw materials or sell our products alone. The important thing is that we build relationships and trust with communities where we conduct business, respecting their unique culture and values so we may live together to deepen the relationships.
We strive to conduct business, complying with the universal 10 rules of UN Global Compact Guidelines such as human rights, labor standards, environmental protection and corruption prevention in which we announced our participation in 2009. Modern Asia Environmental Holdings Inc., (hereafter "MAEH") has been widely engaged in waste disposal business including the management of final treatment facilities at four bases of operation in three countries of South East Asia. The important thing is that MAEH should strive to communicate with local people to gain trust from them for its activities as we do in Japan. MAEH continues activities closely related to communities, such as support to the local schools and hospitals that local people use every day and sponsor local sports events.
We have gained insights through our on-going activities in Japan, such as tree planting and environmental education. We not only implement these insights in other countries but also make use of insights gained abroad for our events in Japan for local people. Through mutual learning with other countries, we hope to improve our CSR activities across the DOWA group.

We have five core businesses and are aggressively expanding into other countries. We believe diversified human resources will be increasingly important to improve our overall responsiveness to this business environment.
We recognize the importance of diversity. We strive to build and promote a system in which every employee can make best use of their diversity in their workplace. We have implemented the complete flex-time system in which no core time is fixed and the day-off system in which accumulated overtime hours could be converted to days off. These measures are the basis that DOWA uses to empower each employee to work flexibly according to their individual circumstances or job description. We believe that these systems will help employees to choose their working styles more flexibly and to reduce impact on their activities. Through these systems we strive to promote diversification in human resources.
This report is intended to inform people of our efforts as well as to provide an opportunity for our employees to review their individual activities and create new values. We welcome your suggestions and comments in order to continue to be a company preferred by society.