Relations with Society
The DOWA group promotes communication with major stakeholders including our customers, shareholders, investors, partners, local people and employees using various tools in each business entity and department.
Relationship with Major Stakeholders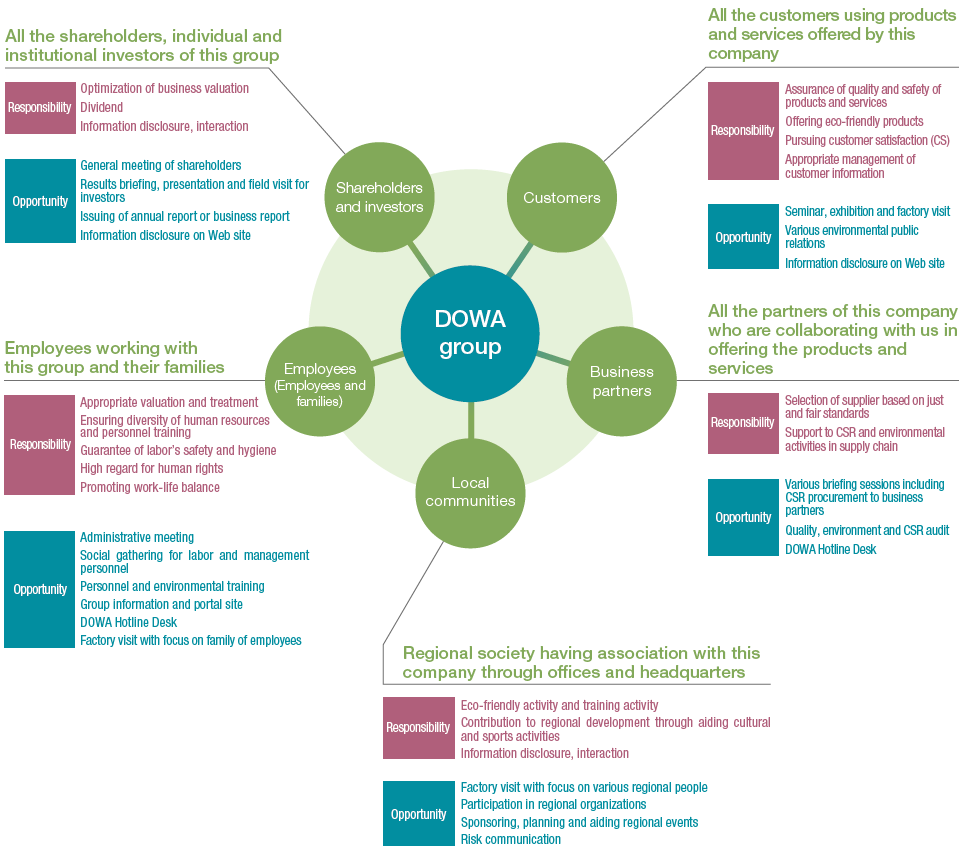 Communication with Shareholders and Investors
In the DOWA Group, we recognize the explanation of corporate and management information to shareholders, investors and other stakeholders as one of the important issues in corporate governance, and we are striving to disclose timely and appropriate information.
IR information
We hold briefing sessions by the management when announcing the quarterly financial results. We also provide opportunities to explain management information directly to domestic and overseas investors. We also publish our reports and annual reports in Japanese, English and Chinese as management policy and management status reporting tool of the DOWA group and are striving to disclose appropriate and highly transparent information.
Dissemination of IR information through website
IR information is sent on our website to help the shareholders and investors understand the business situation and business strategy of the DOWA group. In addition to financial reporting, securities reports, etc., other materials such as annual reports and shareholder correspondence are also posted. Going forward, we shall strive to disclose information in a comprehensible and timely manner.
General shareholders meeting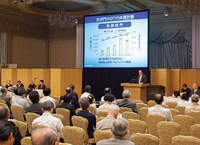 Every June, we hold an ordinary general meeting of shareholders at Hotel Chinzan-so in Tokyo and it is attended by more than 300 shareholders. After the general meeting of shareholders, we hold a social gathering aiming to promote communication with shareholders; we have set up a forum for dialogue with executives and a product exhibition section for each business. In addition, we have set up a separate presentation room in the conference hall where the executives can explain the topics of the DOWA group.
Industry-University Collaboration Initiative
The DOWA group is actively pursuing collaborative research in collaboration with universities and research institutions for the purpose of developing new products and new technologies. In FY2015, we conducted joint research with more than 10 universities and research institutes.
Technical exchange meetings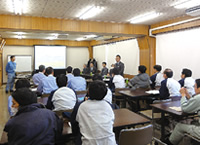 We have concluded a comprehensive agreement with the five universities, Akita University, Tohoku University, Gunma University, Okayama University and Kumamoto University to promote collaborative research and hold result reporting meetings and technical exchange meetings. The technical exchange meeting, which celebrates its seventh year, is a meeting to invite researchers from the universities, who are in line with the theme, three to four times a year, to discuss technical issues and technical research. A wide range of engineers from management staff to young people attend from the DOWA group and it has become a useful arena to improve their knowledge through concrete discussions.
Support for education, research and human resource development
Four employees of the DOWA Group serve as lecturers in Tohoku University, Akita University, and Gunma University in fields such as environmental substance control studies and optical device research and development. It is a part of human resource development at university by conducting practical and professional lectures in line with the field.
---
Together with Our Customers and Business Partners
The DOWA group strives to build long-term relationships of trust with business partners to improve customer satisfaction through the provision of better products and services. We are also promoting CSR efforts by supply chain, including environmental preservation and improvement of the working environment.
Supply Chain Management
The DOWA group is working to further improve CSR while strengthening partnership by helping the partners understand the importance of CSR in the supply chain.
DOWA group CSR procurement guidelines
To enable every partner, understand the basic stance of CSR procurement, we distribute CSR procurement guidelines, explain the background of CSR procurement and our initiatives as necessary. This guideline was formulated in FY2014 with reference to guidelines of the electronics industry that are deeply connected with the supply chain, such as "JEITA Supply Chain CSR Promotion Guide Book" and "EICC Code of Conduct (Electronic Industry Code of Conduct)."
Self-check and CSR audit
In FY2015 we requested our 107 main suppliers to do a self-check using the CSR self-checklist and through the feedback report, we informed responding companies about our expectations and requested improvement. We conducted a CSR audit of the important suppliers to ascertain the actual condition of CSR.
We, being a supplier also, have follow-up by the CSR department and conduct in-house briefings with the aim of understanding the requirements and responding promptly to CSR surveys from the customers.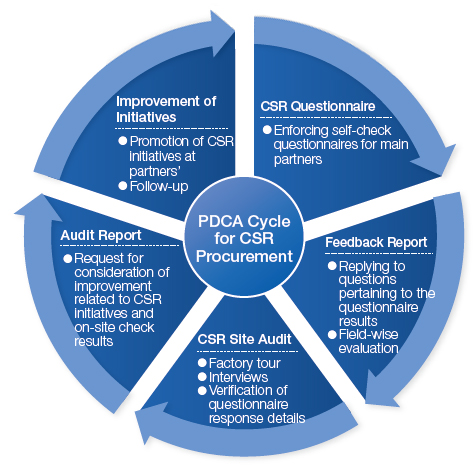 Response to conflict minerals
The DOWA Group dealing with non-ferrous metals as its main product recognizes the responsibility of companies associated with conflict minerals as one of the important CSR challenges and is taking initiatives to ensure transparency of the supply chain in procurement activities and practice responsible mineral procurement. In FY2015, we did a survey for partners and responded to customer inquiries, as per the conflict mineral management policy. Furthermore, to promote responsible mineral procurement, we have taken up a program for certifying a smelter that does not handle conflict minerals (CFS certification system); Two of our companies, namely, Kosaka Smelting (gold and tin), Eco System Recycling (gold) have acquired CFS certification and we are striving to fulfill the procurement responsibility as a material manufacturer.
Quality Management
In the DOWA Group, "Quality" is positioned as an important management axis for manufacturing and the major manufacturing plants have obtained international standard ISO 9001 certification for quality management system. We strive to improve the quality of products and services by continuously operating this quality management system based on PDCA. In addition, as an initiative to strengthen quality control, we collaborate with suppliers and implement supplier surveys and quality audits at appropriate frequencies, from the viewpoint of quality and technology, to ensure the quality of procured products.
Response to Comments and Opinions
We strive to supply products that are satisfactory to the customers by improving the product promptly and appropriately in response to the opinion and inquiries of the customer.
Improving the information sharing and management system, conducting evaluation by classifying and analyzing the information gathered at each business site have been leading to reform, improvement and development of products and services.
---
Together with the Regional Society
The DOWA Group is working on regional contributions as a focus measure in the social field initiatives. In each of our domestic and overseas bases, we are actively developing community-based CSR activities such as factory tours, recruiting interns, hosting sports events, communication with local community, etc. to progress and develop within the region.
Community Contribution Activities
In FY2015, we held events such as Cherry Blossom Festival in Okayama Prefecture, Junior Cross Country Tournament in Akita Prefecture in which many local people participated.
Kojima Lake Blossom Corridor Cherry Blossom Festival, Okayama prefecture
Lake Kojima in Okayama City is a freshwater lake made by Kojima Bay reclamation developed by Denzaburo Fujita, the founder of the DOWA group. In FY2007, the DOWA Group launched the "Kojima Lake Blossom Corridor Project", in which Kawazu cherry trees were planted in and around the coast of Lake Kojima. The local community has joined hands in planting trees and taking care of them with a row of 5,000 cherry blossom trees at present. The Kojima Lake Blossom Corridor, Cherry Blossom Festival started in FY2010 at its time of blossom and is an event rooted in the area in which our employees and local residents operate as staff. Approximately 18,000 people attended the cherry-blossom festival of 2015, the largest number ever and enjoyed early blooming cherry blossoms, stalls and stage events.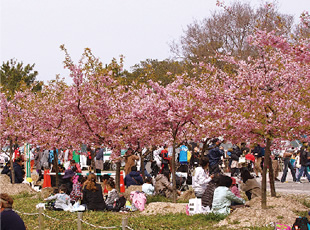 Kosaka Household Town Afforestation Planting Ceremony, Akita Prefecture
In the DOWA group, we are working on creating forests to provide habitat for several creatures, so that forests in the Kosaka area of Akita Prefecture become areas with high biodiversity. Afforestation in this hometown started in 2006 when we started planting with 8,000 saplings in Kosaka Smelting under the guidance of the International Center for Ecological Studies, as part of greening and forestry development activities within the project site. We planted 25 kinds of trees including beech and Oak which took local ecology into consideration and so far, we have planted across an area of about 6.25 ha (about 1.3 times of Tokyo Dome), with more than 157 thousand trees. In the ninth planting festival held in FY2015, the people of Kosaka Town of a total of 500 participants including employees, OBs, local elementary and high school students planted 5,500 trees.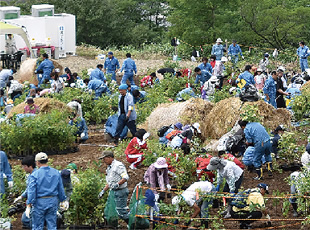 TOPICS

Community Support by Thai Community Fund

ESBEC which is supported by the Thai Community Fund for treating wastes in Thailand has established a fund called "ESBEC/WMS Community Fund" to support local communities and it is doing continuous social contribution. To achieve symbiosis with the local community, this fund reserves a certain amount according to the amount of wastes received by ESBEC and its use is determined by the "Fund committee meeting" consisting of representatives of 13 villages around the factory.
Fund committee meeting
Storage area for categorized products for recycling
Part of the Support Activities of FY2015
Donation of library equipment and books to school (Ban Phan SadejNok School)
Setting up of a separate sorting place for recycling in school (Ban Khao Tabak School)
Setting up of playground facility at school (Ban Khao Hin School, Ban Bowin School)
Setting up of toilets for people with disabilities (Ban Khao Hin Health Center)
Health check and breakfast service for the elderly (Ban Khao Hin Health Center)
Setting up of fall prevention fence in village pond (Ban Hubbon community)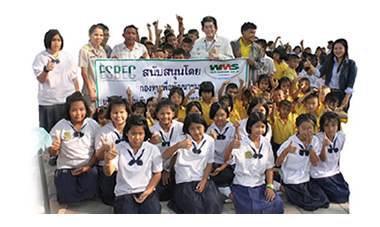 ---
Together with Employees
The DOWA group sets forth in Standards of Conduct that human resources are the basis of business activities and employees should be evaluated with their ability to conduct their jobs regardless of education, age and gender. We have taken various initiatives with the following goals so that employees can exercise their full potential.
Go back to the origin of organization function to create a competitive team.

Make company a place where employees want to work, with their own initiatives.
Employment Status
The DOWA group tries to promote proper allocation of employees, considering our business plan and employ diversified human resources who have talents and capabilities necessary for our business.
As of March 31, 2016 we have total 5,878 employees in Japan, which is an increase of 192 persons compared to previous year. Of those who were employed in Japan, 3,748 persons (92%) are male and 312 persons (8%) are female. The number of employees outside Japan has increased in the recent years due to our global business deployment. There was an increase of approximately 34% in FY2015.
Employment status in Japan
FY

Classification

FY2013
FY2014
FY2015
Male
Female
Male
Female
Male
Female
Regular employees in Japan
Directors
121
0
130
0
121
1
Managers
715
9
735
12
799
9
Ordinary Employees
2,703
296
2,786
306
2,828
302
Non-regular employees in Japan
Dispatched employees
405
479
529
Part-time workers, temporary workers and seasonal workers
859
303
924
314
971
318
Total
5,411
5,686
5,878
Number of employees per region
FY

Region

FY2013
FY2014
FY2015
Japan
5,411
5,686
5,878
Asia (Other than Japan)
2,622
2,903
2,897
Europe
10
16
22
North America
80
92
96
Central & South America
1
3
1
Total
8,124
8,700
8,894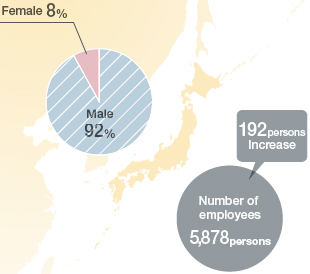 Personnel Training and Utilization
DOWA group takes efforts to continuously conduct training at every workplace from the aspect of personnel training, aiming at "continuing to be a valued personnel team that works hard for global business" and is expanding its personnel training and activity policy through promoting the strengthening plan for young employees as On The Job Training (OJT), expanding practical training opportunities, promoting experience of different professional duties (planned change), planning voluntary staff assignment etc.
Main Achievement of FY2015
Besides step-wise training and specialized training, the DOWA group as a whole conducts extensive training in technology, environment and safety for every office. In FY2015, we focused on efforts to establish a culture that cultivates human resources.
Plan for FY2016
A review of every year's training is taken with focus on making the training more strategic and more patronage-driven for training the personnel who can deal with the frantically changing times and environment. In FY2016 we plan to introduce two new programs with the aim of strengthening the site capabilities of the DOWA group and enhancing individual thinking power. One is an educational program for the supervisor at the production site and the other is a special training program that helps with the thinking ability for problem solving. Along with the expansion of overseas business, we aim to become a strong organization capable of flexibly coping with change by developing educational programs aimed at expanding and training global business staff.
Step-wise education
Targeted at
Training details
Number of participants
(name/FY2015)
Total training time
(hours/FY2015)
* Only training time
Management staff (continued)
Top management training
58
470
Next-term management staff (continued)
Business leader development training
16
1,440
Management staff (continued)
Management training, subordinate training
67
1,590
Mid-level employees (continued)
Leadership training
36
580
Up to 3rd year after joining (continued)
Fresher's training, OJT, follow-up training
(skill improvement, self-establishment within organization)
228
15,000
Just and Fair Evaluation and Treatment
In DOWA group, just and fair evaluation and treatment are practiced based on the following policy according to the idea of "valuation by the ability to take the work forward" which is present in the code of conduct. Initiatives are being taken with focus on circumstances that are utilized for training.
The appraisers and persons being appraised must have thorough understanding of structure and standards of company system and they must continue to put in efforts for utilizing this knowledge for appraising and training.

Sharing of organizational goals and improving of business execution ability has been planned while showing the ability and conduct required for improving personal ranking.
Training for appraisers and persons being appraised is positioned as a group-wide initiative, and by creating ongoing educational opportunities, we strive for fair evaluation, treatment and training. From FY 2015, we have been conducting briefing sessions for appraisers and trainings for persons being appraised at business establishments throughout the country, and we continue to consider training for new managers as priority. Also, in order to evaluate the status of the system operation, a system survey is conducted every year, and we are continually improving based on the tasks we have extracted.
Career Matching System
A system that has been introduced with the aim of developing and supporting career of employees and fluidizing human resources, wherein the subject person conducts a PR (results achieved till now and desire to materialize these results) for his career and a change is made if both agree in the interview with the official of the interested company. The subject person can directly express his desire to change to the recruiting department without going through his superiors and his own department.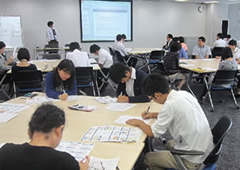 Aspect of briefing session for the
persons being appraised
Promoting Diversity
Amid global expansion or expansion of business areas in the group, employees with multifaceted personality showing their ability is closely linked to the growth of the company.
Expansion of Global Human Resources Pool
DOWA Group is progressing from recruiting stage to planning based on the concept of working globally without depending upon nationality as a part of promoting diversity. While recruiting new graduates, Japanese overseas students or foreign students that have graduated from foreign universities or foreign students from abroad are recruited and recruit result is rising every year. Training is given for making them familiar with the concept and policy of this company with consideration of human rights at the time of recruitment that is happening rapidly with expansion of employment of personnel from various countries and regions.
Training is conducted prior to appointment even for employees that are newly appointed in foreign offices and diversity reception training such as understanding different culture is also conducted. Starting in FY 2015, we are launching a global challenge program including on-site training at overseas offices for the purpose of expanding talented personnel who can be active globally. In future too, we plan to expand our global human resources pool.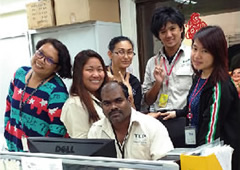 Overseas Training Place Aspect
Training of Overseas Staff
The DOWA group promotes training of the entire group including employees stationed in overseas offices. In FY2015, staff recruited from China, Thailand and Indonesia came to Japan for training on safety, compliance, equipment maintenance etc., and in-house medium and long-term training for executive candidate employees at the headquarters, major business offices, and training centers.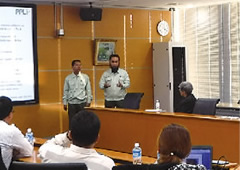 Global Leader Training Aspect
Promoting of Women Activities
No. of women recruited for comprehensive work is 10 to 20 percent of the entire no. of recruits which is not high. However, ratio of women employees is increasing every year with change in business and working atmosphere. Evaluation for recruitment, designation, promotion, etc. is done as per merit and there is no gender discrimination. In FY2015, the women employees who balance both life events and work have been active in various regions both domestic and overseas. Our company was selected for "Stocks of Nadeshiko Brand" for the first time based on these initiatives. In FY2016, we plan to implement an educational program for reforming awareness, aimed at a way of working that enables diverse human resources to fully demonstrate their respective abilities.
[Nadeshiko stocks]
Initiative by the Ministry of Economy, Trade and Industry and Tokyo Stock Exchange to select companies that excel in female success.
Utilization of Veteran Employees
We have revised the re-employment system from FY2013 and we are setting up an environment where employees who have reached their retirement age and who wish to work in the DOWA group even after retirement can work with more motivation according to their role in the reformed system. Further, a seminar is held for employees who have reached retirement age with the goal of providing information on life plan after retirement and in FY2015 it was attended by more than 100 employees.
Employment for Physically Challenged
In FY2015, we were unable to achieve the employment rate across the group for the physically challenged. An easy-to-work environment cannot be materialized at our manufacturing sites for the physically challenged, therefore, rather than aiming at a uniform increase at all business sites, we shall take initiatives to promote a high-quality working environment in employment offices and further workplace experience so that we can work on increasing the employment in parallel with the utilization of the recruitment company that specializes in hiring physically challenged personnel.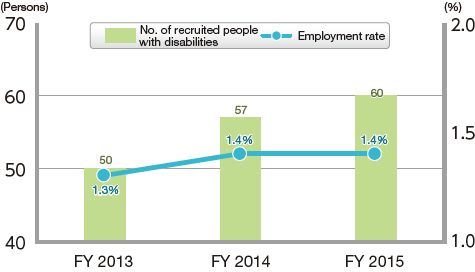 Work-Life Balance
The DOWA group endeavors to improve the workplace for employees. Our work life balance program aims at helping all employees to exercise their abilities to the fullest extent according to their life style both at work and at home. We implemented a more flexible working system like flexible working hours and leave of absence system for raising children and caretaking of family members.
Supporting Diverse Ways of Working
Flextime system with no core timing has been introduced in DOWA group so as to make the working timings flexible. Besides, volunteered holidays or recreational holiday system that can be availed of after a fixed no. of years of continuous service, support policy that is more than legally stipulated for paid paternal leave (up to 5 days) and restrictions on change in case of moving residence due to children has also been put in place.
System Use Status
No. of system users is rising every year and persons taking childcare leave in FY2015 were 25 women and 1 man. There were 13 men and 15 women who availed nursing leave.
As the situation of availing of the annual salaried leave, 60% employees took this leave as against 20 average granted days. We are working towards improving availing ratio through promoting planned annual holidays and asking for feedback on availing situation throughout the year according to the working situation in each of the offices.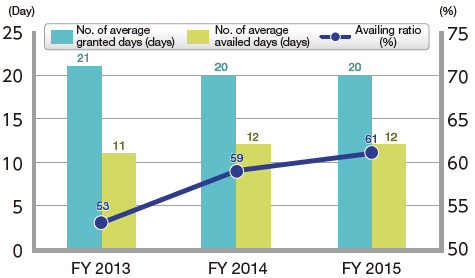 Promoting Measures to Reduce Working Hours
In Japan offices, a labor-management agreement in relation to the overtime work has been made according to the law, which has been submitted to the administrative authorities of the respective jurisdiction. In the Year 2014, diligent management system was reformed whereby a reformation must be submitted to the manager if fixed working hours are exceeded and implemented labor management education for new managers who are the principal part of working hour management. In FY 2016, we plan to further strengthen efforts to reduce working hours by establishing a special committee on working time management. We shall continue working to strengthen the management of working hours from both hardware and software fronts.
Internal Questionnaire
The CSR department conducts a questionnaire on work-life balance for newly joined employees every year. IN FY2015, there was an increased interest about the flexible working time system, where 85% or more personnel wished to use flextime and 75% wished to use short-time work. About 75% of new recruits selected work-life balance as a CSR initiative with increasing importance in the next five years. We obtained the following reasons for the same – "influencing the improvement of occupational safety and work quality", "securing human resources in the era of declining birthrate", "diversity of human resources together with the diversity of working methods, leading to increased corporate value." We shall continue to work on work-life balance while referring to the results of the questionnaire.
TOPICS

Submission of CSR Information by New Employees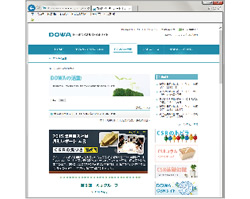 From August 2015 to March 2016, we posted relay column called "CSR awareness" by the new employees in FY 2015 on the in-house CSR portal site. The newcomers introducing once in a month about what they noticed and felt about the CSR activities in their affiliated workplace, they gain their own experience about a variety of initiatives such as risk assessment, energy conservation activities, regional cleaning, and technological development related to renewable energy, etc. In addition to sharing the various initiatives that are being held at business offices throughout the country as a group as a whole, 46 new employees also got the opportunity to reflect upon "What are the CSR activities of my company?"